Interview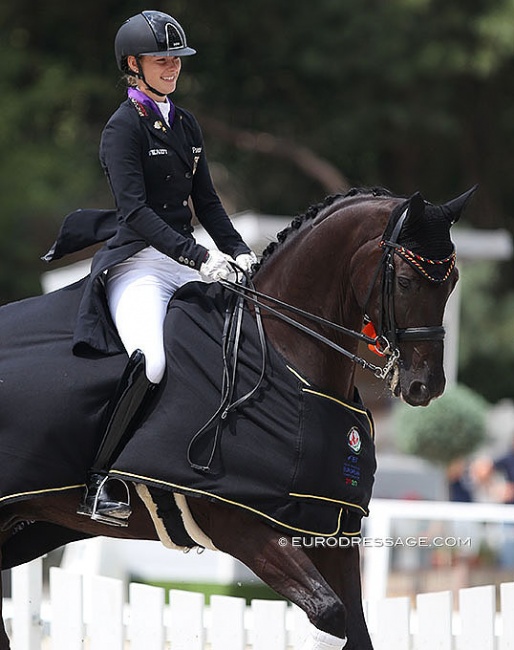 #RoadtoHagen - The 4th part of the interview series posted by the OC of the 2021 European Under25/Senior Dressage Championships takes a look at the training programme of reigning U25 Dressage European Champion Ann-Kathrin Lindner.
You are on the long list for the U25 European Championships for the third time with two horses. Does the pressure mount from year to year? Also the one you put on yourself, especially after your incredible success with individual gold last year?
Ann-Kathrin Lindner: I still think it's really exciting that I won gold last year and I'm still fascinated that we managed to do that, but that's not everything. Every year is new, every European Championship is a new challenge, so you can't pin anything on last year. I have learned to free myself from the pressure. And I have a lot more experience in the arena now, I have ridden the tests more than once — that takes the pressure off.
Flatley and Sunfire are your team partners — what does your training with them look like a few weeks before the Championships?
AKL: With Flatley the routine is always quite similar, practically he has already studied the test (laughs). I just have to keep him relaxed and supple. And Fritz (stable name Sunfire) had a break for a few weeks after the German Championships in Balve. I only started training him again at the beginning of July. There are still a few things I would like to refine and for this I have also included new ideas in my training.
That gets us intrigued. What new ideas are these?
AKL: I work more with visuals. For example, in the piaffe I now think of trotting on the spot, or quick little steps to keep the rhythm. Or I actually count the beat. If you have a different picture of a certain lesson in mind, you automatically give slightly different aids. For me, it is much easier to change the aids when I have an idea, a picture in my head, than when I am just told what to do.
And how is 'your training condition' at the moment?
AKL: I feel totally comfortable right now, very relaxed. And Fritz too (laughs). The other day I just wanted to ride up the hill behind our arena and then turn around but he threw his backside up and wanted to start running. I didn't let him gallop completely uncontrolled, but I got into a forward seat, we cantered off and both had fun. He made up his mind about wanting to go for a gallop. I think it's the best sign when horses have so much fun and that's when it's the most fun for me too.
Flatley tends to be the quieter one?
AKL: Well, I wouldn't say that (laughs again). It's always exciting to go out with 'Flaty'. But since we moved at the beginning of the year, we have fantastic riding trails and I often take the horses out. When one of the farmers recently mowed his field, we were allowed to ride on it. I did several training sessions entirely on the grass. The exercises and movements suddenly don't seem strenuous at all for the horses. Or I look for a long straight track — we have a lot of them here — and practise tempi changes on the narrow strip in the middle. The horses learn how to balance themselves and the rider can look straight ahead. It is best to practise with the reins in one hand. After that, the changes are much easier and secure the next day in the arena. Or I build in a quarter pirouette at turn or… you can do so much cross-country, it is so helpful and makes it easier for the horses.
The European Championships at Hagen — You have competed there a few times. What is the first scene you remember?
AKL: I have competed at Future Champions at Hagen before and always felt really comfortable in the arena, but the best experience was in 2020. I came out of the arena after the international U25 Tour with Sunfire and was really happy with my test. I rode back to the warm-up where Hannah Erbe was already waiting for the prize-giving. She told me that she had been watching my test through the window, that she had liked it so much, that everything had looked so easy. She was really enthusiastic. It made me very happy. She was also a competitor at that moment, and the fact that she told me something like that, just from her, really stuck in my head.
What is your personal routine shortly before an important competition such as the Dressage European Championships?
AKL: I go to the stables an hour before I get on the horse, but by then everything is ready. I am happy if I can do some small things to keep myself busy, like some cleaning here and polishing there. And before that I usually have a short sleep. It's weird, the more excited I am, the more I sleep. I think it's my body's way of distraction. When I'm mounted, it's just the horse and me. I used to study the entry lists before a competition and drive myself crazy. I don't do that anymore. I don't look at other rides beforehand either.
Who absolutely has to be on the sidelines when you are at the start?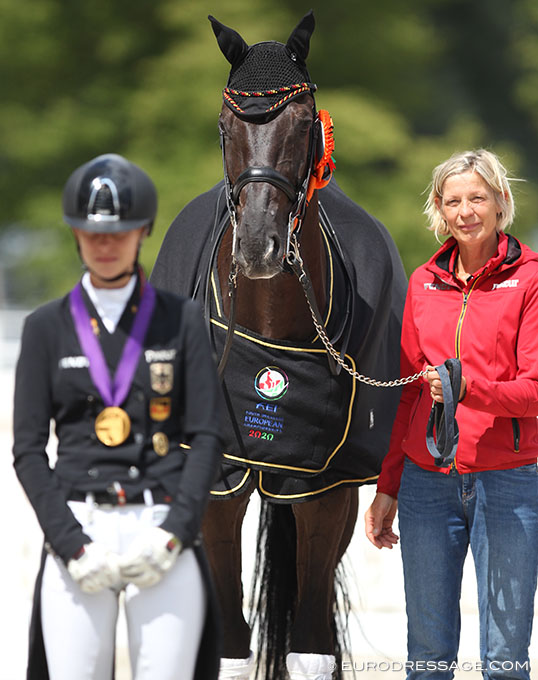 AKL: My mother! My mother always gives me the feeling that she has everything under control, then I am much less nervous. My mother is just as focused as I am. I only have to think that I need this or that, and she is there. She can see it in my face. She is definitely most important at that moment.
Making the U25 Dressage European Championship team for the third time would be...?
AKL: I would be very proud. For Germany in my own country and then in my last U25 year — that would be amazing. But whether I make the team or not, I'm keeping my fingers crossed for the German team. The team will certainly be so strong that the other nations should definitely have respect (laughs).
Photos © Astrid Appels
In 2021, the Dressage European Championship for the U25 age group will be held together with the Senior Championship for the first time. The decision is greatly welcomed by the athletes and federations of all nations. On Tuesday, 7 September, the programme will start with the first team decisions of both age groups.