F.O.C.U.S.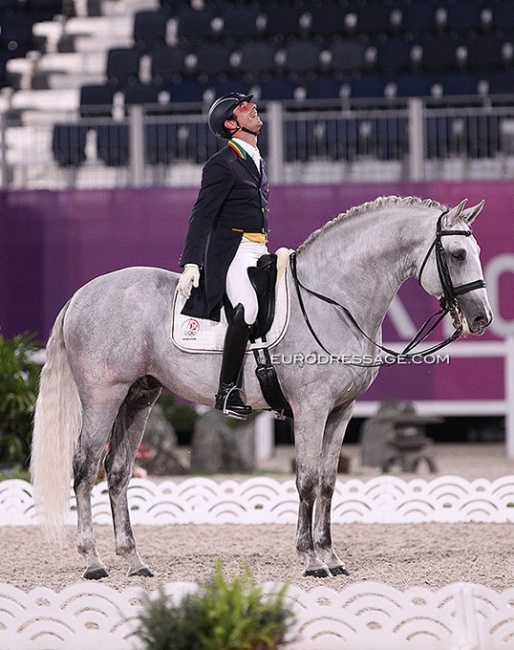 For brand new Portuguese dressage and breeding company "Campline Horses" the 2021 Olympic Games in Japan were an absolute triumph with two of its team riders setting unprecedented records at the Baji Koen equestrian centre for Tokyo 2020. 
Portuguese Rodrigo Torres and Brazilian João Victor Marcari Oliva wrote history by producing the highest scores ever achieved at the dressage Olympics for their country; and this aboard Campline's two Lusitano breeding stallions Fogoso and Escorial. 
Campline Horses, led by Thiago Mantovani, is fuelled by this success and looks forward to the future.
"This has been a phenomenal success, but we will not stand still," said the ambitious entrepreneur. "Our goal is to continue to be a strong player in international equestrian sport and have six athletes representing four continents at the 2024 Olympic Games in Paris."
Game Changer
Campline Horses considers itself a 'game changer' on the market.
"With our professional approach towards the management of both equine and human athletes, we as a team believed strongly in the Olympic dream," Thiago explained. "We have set ambitious goals and put together a team of the best professionals to make it happen. We make it possible for our athletes to deliver such an outstanding results by ensuring their focus was on the horses and the performance in the ring."
Camplines Horses focuses on the Lusitano breed and owns over 130 mares and foals. In addition they stand a string of proven Lusitano stallions, including flagship stallions Fogoso and Escorial.  Campline believes the Lusitano horse has tremendous potential for expansion across new markets and global sport.
Olympic Success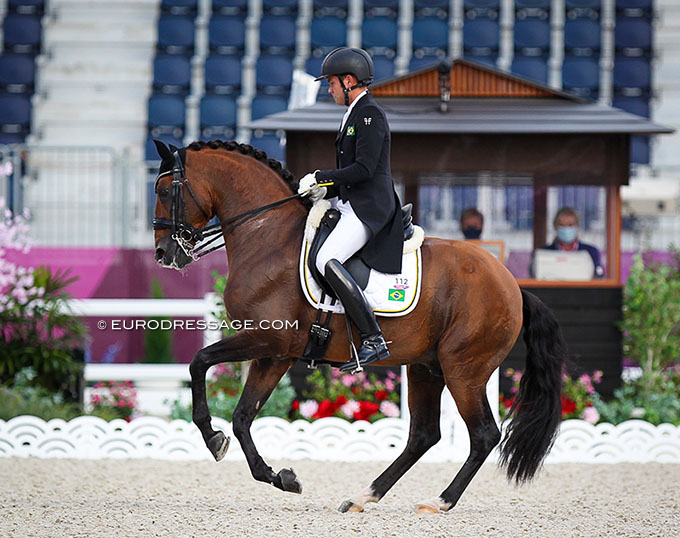 Less than one year after publicly launching their company, Campline Horses fielded two athletes from two continents - Europe and South America - at the Olympics in Tokyo. 
Representing Portugal, Rodrigo Torres and Fogoso Campline achieved the highest score ever produced by a Lusitano in the Olympics. They scored 78,943% and placed 16th in the individual Kur to Music finals. The duo also played a key role in qualifying Portugal for the team competition final, in which the country ranked 8th amongst the strongest in the world.
Brazil's individual rider João Victor Marcari Oliva piloted Escorial Campline to a 26th place in the Grand Prix, posting 70,419%, the highest score ever for a Brazilian rider in Olympic dressage.
Crowd Favourites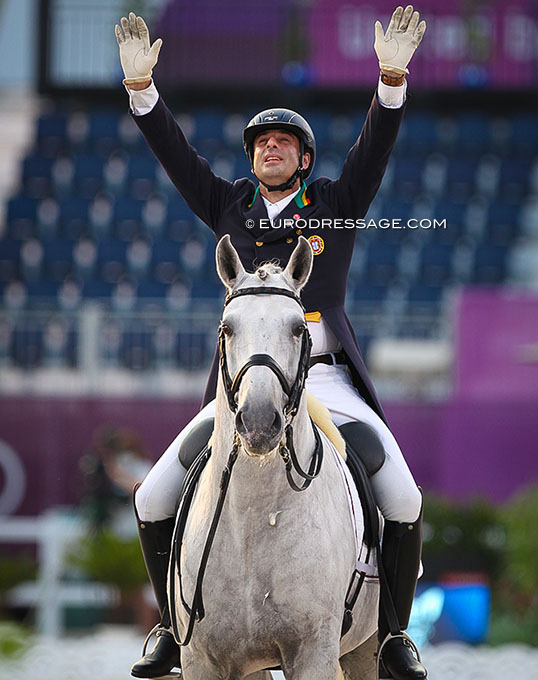 Although no audience was allowed, riders, press, officials and staff gathered near the Olympic arena to cheer for Torres and Fogoso Campline as the crowd favourites of the Games, exceeded all expectations with their three personal best scores.
"Rodrigo Torres and Fogoso are a special pair," Thiago stated. "Their connection speaks for itself and immediately stands out the minute they walk into the ring. Rodrigo has known Fogoso since the day he was born at his family's stud farm, Coudelaria Torres Vaz Freire. They have been connected ever since, building a successful partnership that guided them all the way to the top."
Fogoso, which means "on fire" in Portuguese, stood out with his piaffe, passage and pirouettes, the collected movements for which Lusitanos are known.  "The expressiveness and radiant presence of the Lusitano stallion fill the arena and make the crowd burst with emotion," Thiago said proudly.
Target Achieved
While Fogoso stole the limelight, the 25-year-old rider João Oliva also achieved his prime goal for Tokyo 2020: to surpass his own personal best from 2016 Rio Olympics.  João succeeded as he finished 20 places higher than in Rio.
Aboard the 12-year-old stallion Escorial Campline, João produced a polished ride in which lightness and harmony stood out.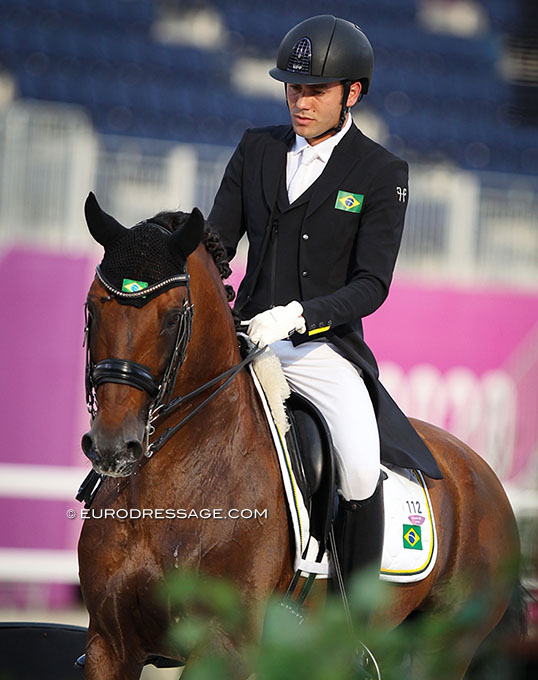 Matched less than one year ago in September 2020, the pair made its CDI debut two months later, at the CDI3* in Alter do Chão in Portugal, where they achieved their first Olympic qualification score. In April 2021 they got their second of two required MER scores.
Future Goals
Tokyo 2020 marks history for the Lusitano horse. After stallion Rubi blazed the trail for the Lusitano at the 2012 Olympics with a 77.607% Kur score, Fogoso stepped it up 9 years later in Tokyo as rising stars in the equestrian sport, upgrading that Lusitano freestyle record score to a 78,943%.
"Campline Horses believed in this dream, set the goals and made it happen," Thiago concluded. "Our eyes are already set on the future, the 2024 Paris Olympics. We took a strong start and there is much more to come. We want to make a statement in the dressage world with a profitable business and the creation of a future talent hub that will guide upcoming super stars to the competition scene."
Photos © Astrid Appels - No Reproduction Allowed
Related Links
Scores: 2021 Olympic Games