Great Britain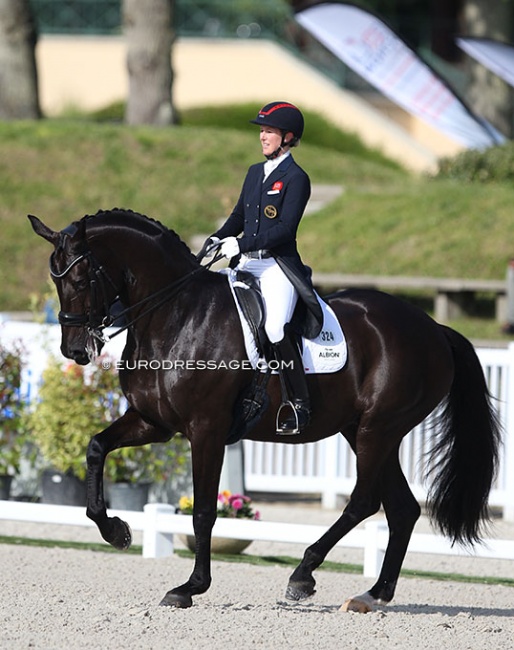 British Equestrian and the British Dressage Selectors  confirmed the eight senior and six Under 25 athlete-and-horse combinations that will form their long list of entries ahead of the 2021 European Dressage Championships on 7–12 September 2021. 
The 2021 Europeans, which were scheduled in 2021 in case the Olympics would be cancelled or postponed again, are set to take place at Hagen, Germany,
The British long list senior entries are:
Fiona Bigwood (45) with Penny Bigwood and her own Hawtins Delicato (bay, gelding, 13yrs, 16.2hh, Diamond Hit x Regazzoni, Breeder: Judith Davis GBR)
Charlotte Dujardin (35) with Renai Hart, Carl Hester and her own Gio (chestnut, gelding, 10yrs, 16hh, Apache x Tango, Breeders: H J de Jong, A Valk NED)
Emile Faurie (57) with Theodora Livanos and his own Dono di Maggio OLD (chestnut, gelding, 14yrs, 17hh, Dimaggio x Santander H, Breeder: Gabriele Heinisch GER)
Charlotte Fry (25) with Van Olst Horses and her own Dark Legend (dark bay gelding, 17hh, 13yrs, Zucchero x Tango, Breeder: Fam. Nobus-De Potter NED) and Everdale (black stallion, 17.2hh, 12yrs, Lord Leatherdale x Negro, Breeder: P Kluytmans NED)
Carl Hester (54) with Sandra Biddlecombe, Charlotte Dujardin, Lady Anne Evans and his own En Vogue (dark bay, gelding, 12yrs, 17hh, Jazz x Contango, Breeder: A Van der Goor NED)
Gareth Hughes (50)  with Judy Firmston-Williams and his own Sintano Van Hof Olympia (bay, gelding, 16.3hh, 11yrs, Sandro Hit x Silvano, Breeder: Hof Olympia NED)
Laura Tomlinson (36) with Ursula Bechtolsheimer and her own Rose of Bavaria (black mare, 11yrs, Bordeaux 28 x Florestan I, Breeder: Dr Heuschmann GER)
Two reserve combinations have also been named:
Richard Davison (65)with Gwendolyn Meyer and his own Bubblingh (bay, gelding, 15yrs, 16.3hh, Lingh x Picandt, Breeder: Richard Davison GBR)
Susan Pape (58) with Harmony Sporthorses and her own Eclectisch (black, stallion, 16.3hh, 12yrs, Zenon x Olivi, Breeder: Fam Andeweg NED)
The British Under 25 Long list entries are:
Lucy Amy (23) with Richard Amy's Rudy (bay, gelding, 12yrs, 16.2hh, Breeder: Dr Bartjen Konrad GER)
Lewis Carrier (24) with his own Diego V (bay, gelding, 13yrs, 16.2hh, s. Spielberg, Breeder: Janssen NED)
Dylan Deutrom (23) with Matt Hicks and Sarah Warry's Sunlit Uplands (chestnut, gelding, 13yrs, 16hh, Don Henrico x Hitchcock, Breeder: Hinrich Lohden GER)
Alex Harrison (24)  with his own Diamond Hill (chestnut, gelding, 15.2hh, 10yrs, s. Don Diamond, GBR)
Alicia Lee (22) with her own Bonita 466 (dark brown, mare, 16.1hh, 12yrs, Benetton Dream x Prince Thatch, Breeder: Carston Kuls GER)
Ellie McCarthy (24) with Spencer McCarthy's GB Londero V Worrenberg (dark bay, gelding, 16.1hh, 12yrs, Londontime x Calypso II, Breeder: Ferdi Hodel SUI)
Selection decisions are subject to the athletes and horses maintaining fitness and performance, and this list may be amended at any stage.
The selected squad of three or four combinations, plus reserves, will be announced on or around 20 August.
Related Link
Eurodressage coverage of the European Dressage Championships - U25/Seniors