Westfalian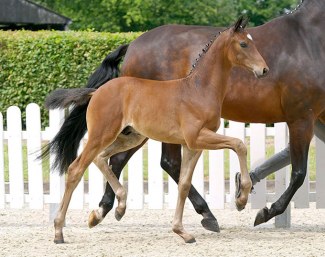 Zauber became the best seller of the 2021 Westfalian Hybrid foal auction which took place on 31 July 2021. The colt by Zauberlehring x De Niro sold for 62,000 euro. 
He will move to a stallion breeder and trainer in North Rhine-Westphalia.
53 of the 60 foals changed hands at an average price of 11,160 euro. With a knock-down price of 62,000 Euros, Zauber advanced to the top priced foal.
The second most expensive foal was Live Music (by Life Time x Sir Heinrich), which sold for 30,000 euro. 
Three foals sold for 28,000 euro: Sinatra (by Secret x Benetton Dream), Ferrero Kusschen (by Feinrich x San Amour), and Le Lion (by Le Marron x Diatano). The latter sold to the Baumgurtel family. 
Valsterbo B (by Valverde x St. Schufro) fetched 27,500 euro. First Edition (by Fynch Hatton x Fineliner) sold for 20,500 euro, Day Dream (by Danciero x Jazz Rubin) sold abroad for 17,000 euro. 
The most expensive filly was Fantasy (by Franziskus out of St.Pr.St. Ratina B (by Rock Forever), the 2017 Westfalian champion mare of the Elite Show. Local customers bought her for 18,500 euro. 
Mary Poppins (by Moreno x Furst Wilhelm) sold for 17,000 euro, Angelo (by A Kind of Magix x Vincent) for 13,500 euro.