F.O.C.U.S.
In 1980 the young blonde Dutch dressage rider Francis Verbeek-van Rooij was close to riding at the Olympics in Moscow, but due to the boycot she ended going to the alternate Olympic Festival of Goodwood, where she finished 8th on Ivar. Forty-one years later, the 5* judge Verbeek achieved her Olympic dream for a second time as member of the ground jury for Tokyo. 
"It's a very special experience, also for me, just like for the athletes, grooms, trainers and all involved," said Verbeek in an interview she gave to the Dutch Equestrian Federation (KNHS). "I missed the Olympic feeling though I also judged Athens and then I spent the week before dressage with my family as tourist visiting other sports. Athens was completely decorated and it was one big party. In Tokyo you hardly noticed the Games were happening. It has its political reasons, the Japanese people are not so happy with this event."
Rising Level
Verbeek was thrilled with the level of dressage at the 2021 Tokyo Olympics. 
"The global level has risen so much," she said. "Is this surprising to me? After a year of hardly any shows there are many young horses who barely have competed internationally. A few of these Olympic horses I had never seen in the ring before. It's wonderful to judge these horses with a fresh mind."
Different Preparation
Normally the ground jury for an (inter)continental championship practices as a panel at a few shows before they judge the actual big event. This time it was slightly different due to the corona pandemic. 
"Normally all Olympic judges get together in Aachen. We work together one time and discuss a lot," Verbeek explained. "This year that didn't happen because Aachen was postponed. The CHIO Rotterdam I did with three Olympic colleagues, but for the rest we didn't judge together in one setting. I didn't worry that this would be a problem though. We all have championships down our belt. The judging went very well. Together with the JSP (Judging Supervisory Panel) we revisited a few videos to discuss the differences. They inserted changes of 0.07%, which is very little."
The ground jury at TOKYO 2020

Digital Development
Paperless dressage judging has taken over the competition world and scribes need to have digital skills to enter  scores and comments on a tablet instead of on paper. Three Dutch ladies served as scribes in Tokyo: Andrea Vos, Monica Drohm and Hilde Homand. 
"The time of paper protocols is over," Verbeek commented. "We had paper protocols as well as computers for a long time, so that a provisional (digital) score was produced, but now we only work with computers and that makes the scores final straight away."
Important Task
Judging and scribing at an Olympics are an important task with much responsibility.
"These ladies know exactly how I judge. I want to fully concentrate on my task and I'm not in for chit chat in between. Some judges do that sometimes. A wrong insert can have a lot of impact. It happens that the scribe only hears a five, when I said 7.5. Since recently we see our scores appear on an iPad in front of us and like this I can follow what the scribe enters. We work together as a nice team.
Unique Experience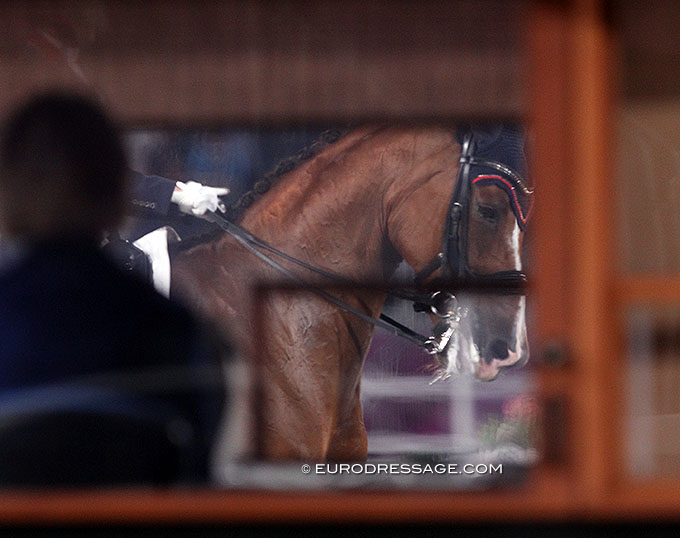 Looking back on the Tokyo 2020, Francis was happy that she pursued to officiate at the Games despite the limitations due to COVID-19.
"Before Tokyo there was so much insecurity," Verbeek admitted. "First I was thrilled to get the invitation to judge. Then there was a one year postponement and next there were so many restrictions and paperwork that I wondered if I really wanted to go. My children told me that it's very special to be there and they were right. It was a unique experience at all levels."
Source KNHS - translated from Dutch by Eurodressage - Photos © Astrid Appels - No reproduction allowed
Related Link
Eurodressage Coverage of the 2021 Olympic Games