Canada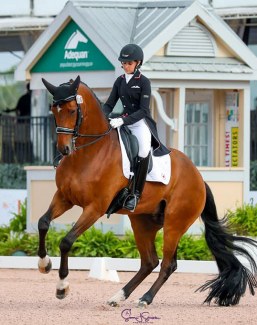 Canadian young rider Brooke Mancusi had to say goodbye to her top ride, Grand Amour, who sadly had to be put to sleep after developing laminitis.
Grand Amour was a 10-year old Dutch warmblood gelding by United out of Upendo (by Jazz x Wolfgang). He was bred by J. van Oort in The Netherlands.
Wellknown and Grand Amour
Mancusi is originally from Winnipeg, Canada, but has been residing in Montreal, Quebec, and Wellington, Florida. Brooke has won numerous Manitoba Provincial Championships up to junior level.
Aboard Wellknown (by Wynton x Havidoff) she made her international show debut in 2018 and competed in the 2018 North American Junior Riders Championships. They won team bronze and were 7th in the individual test and 16th in the Kur. In 2019 Mancusi moved up to Young Riders level with Wellknown.
Mancusi purchased Grand Amour as a second iron in the fire from Dutch horse dealer Judy de Winter early 2020, but due to COVID-19 the horse only arrived in June that year. The he bay gelding had been competed by Dominique Filion at Fourth Level in The Netherlands in 2019.
Florida Time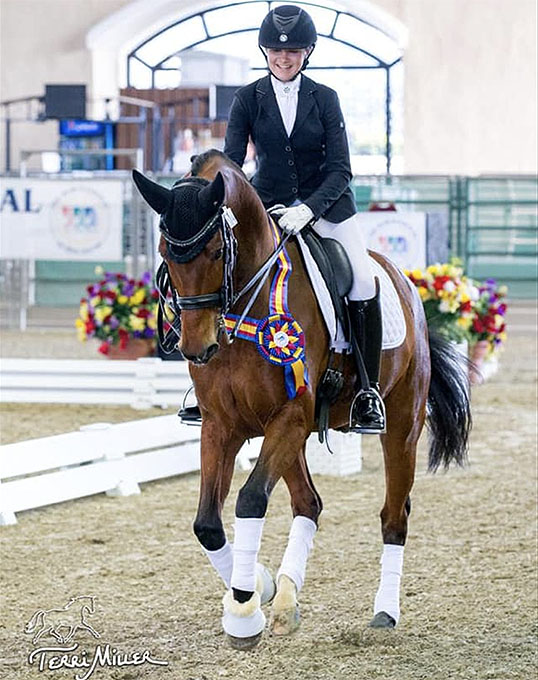 While in 2018 Mancusi opted to spend a winter training and competing in California, her switch to coach Brittany Fraser-Beaulieu made her decide to join the Canadian Olympian in Wellington, Florida, for the 2021 Global Dressage Festival with Grand Amour. 
The new partnership florished in Florida. They made their debut on 29 January 2021 with a third place in the YR team test (66.970%) and competed at a further four CDI's in Wellington and at the inaugural CDI in Ocala, Florida, where they were third and second twice. 
Mancusi and Grand Amour were selected on the only team that Canada decided to send to the 2021 North American Junior/Young Riders Championships in Traverse City, MI (USA) this year. Unfortunately Mancusi never made it to the event.
Tragic Accident
On 4 August, Brooke announced with a heavy heart the passing of her horse Grand Amour. 
"We should have been getting ready to head to North American Championships this weekend, but instead he suffered from a horrible, tragic accident that ultimately took his life," Mancusi shared on social media. "Not all horses are created equally; he was sweet, sensitive, had the biggest heart and was only 10 years old. We had an unbreakable bond and he was a horse I was grateful to have in my life. Thank you to those who have helped me and G these last few days as they have been very difficult. I know G is in a better place without pain and suffering."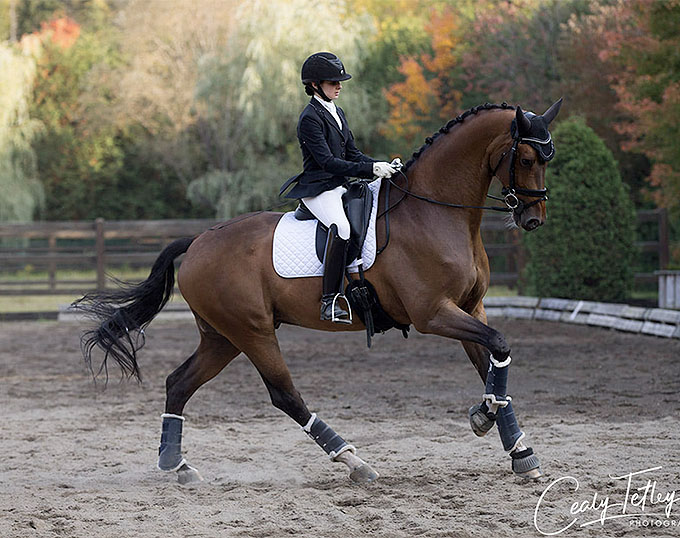 Mancusi explained to Eurodressage that, "after routine maintenance Grand Amour developed severe, rapid laminitis in all four feet. He was transported to the hospital quickly, and they were unable to save him.
Mancusi still has Wellknown with her, as well as foal MSJ Gusto Dolce (by Glamourdale) in Europe as future horse.
"Wellknown is ready to show in the Young Riders division in Wellington this season," Brooke explained. "I can only hope that I can find another horse like Grand Amour that can fulfil my dreams of Pan American Games and one day the Olympic stage."
Photos © Sue Stickle - Terri Miller - Cealy Tetley
Related Links
Christian Simonson Wins Individual Test Gold at 2021 North American Young Riders Championships
Lindsay Kellock Sets Course for Tokyo after Double Victory at 2021 CDI Ocala
USA Region 3 Wins Team Gold at 2018 North American Junior Riders Championships
Canadian Teams for 2018 North American Junior/Young Riders Championships Named
Scores: 2018 North American Youth Riders Championships