U.S.A.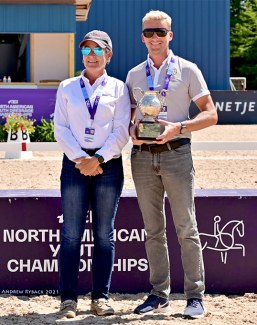 The United States Dressage Federation announces that the Patsy Albers Award Perpetual Trophy was awarded to Region 9 Chef d'Equipe Benjamin Pfabe, at this year's North American Youth Dressage Championships, held during the 2021 North American Youth Championships.
The Albers Award is named in honor of long time USDF Region 1 Chef d'Equipe, supporter, and good friend, Patsy Albers. The award is presented annually at the USDF North American Youth Dressage Championships, to the dressage chef d'equipe who best demonstrates the same level of dedication, enthusiasm, and team spirit shown by Patsy, throughout the years.
The award is open to all the dressage chefs d'equipe, and any competitor or chef d'equipe can nominate a candidate by submitting a written explanation as to why that chef deserves to win the Albers Award.
"Benny's calm, quiet demeanor was the perfect foil to the challenges that Mother Nature unleashed on competitors at this year's NAYC. Benny dealt with each curve ball, keeping the best interest of his team in front of him and that is what makes a great chef," stated Roberta Williams, USDF FEI Jr/YR Committee Chair.
Related Links
Fodor, Burt-Jacobs, Largo Honoured with Special Trophy at 2019 North American Youth Championships
Jennifer Williams Receives TDF's 2018 Patsy Albers Award
Sue Bender, Recipient of 2017 Patsy Albers Award Perpetual Trophy
Joan Clay, Recipient of 2016 Patsy Albers Award Perpetual Trophy
Leslie Steele Presented with 2015 Albers Award Perpetual Trophy
Debbie DelGiorno Recipient of 2014 Patsy Albers Award Perpetual Trophy
Patsy Albers Passed Away