Danish Warmblood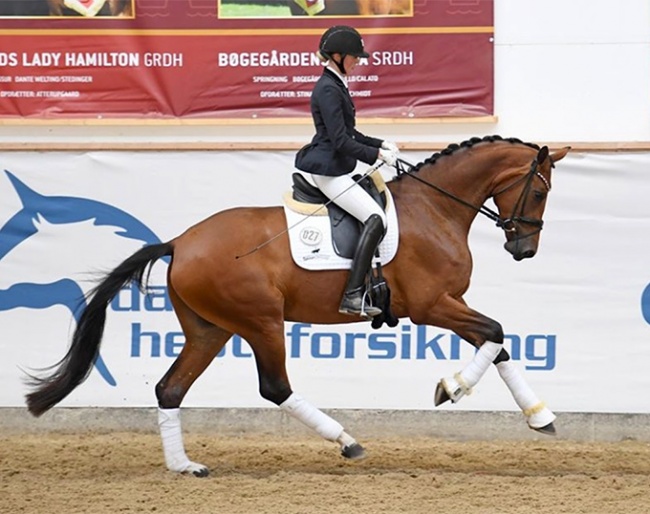 Valerie B was named the champion of the 2021 Danish Elite Mare Show which was held in Vilhelmsborg on 2 - 4 September 2021. 
Three mares out of a group of 35 were decorated with the "gold medal," the highest distinction within Danish warmblood for mares. One received the title of Mare of the Year. 
Thirty-five mares were shown under saddle on Sunday. The judging committed rewarded 17 of them with the bronze medal and 15 got silver.  Three mares were selected to the premium ring and got the gold medal.
The 3-year-old Valerie B (by Revolution x Blue Hors Zack), bred Karin & Peer Gudbrandsen, claimed the title as DWB Dressage Mare of the Year 2021. Andreas Helgstrand bought the mare after the mare performance test this summer.
The two other Gold Medal mare were Faretti (by Franklin x Don Frederico), bred  by Henrik Hansen and owned by Havgaard Horses, and Roxette (by Revolution x Quite Easy), bred by Stutteri Sorgenfri and owned Nordentoft.
"She is from Stenvang dam line, which produced many medal mares. The grand dam is a gold medal mare," said the DWB breeding consultant . "She could very well be a good choice to become a future WCYH medal winner. She is energetic and cadenced, she has an absolutely impressive walk and in both trot and canter she's off the ground with a powerful push."
Photo © Ridehesten
Related Links
Atterupgaards Lady Hamilton Named 2019 Danish Warmblood Elite Mare Champion
Grevens Fakina Named 2018 Danish Warmblood Elite Mare Champion
Skovens Tzarina Named Champion of the 2017 Danish Warmblood Elite Mare Show
Sezuanna Named 2016 Danish Warmblood Mare of the Year 
Delicious, Mildura, Schwarze Schwalbe, Tebaldo Winners of 2015 Danish Warmblood Elite Show
Lillevangs Pari-Diva Named 2014 Danish Warmblood Mare of the Year
Stigma Named 2013 Danish Warmblood Mare of the Year
Tirana Named Danish Mare of the Year 2012
Prima Donna Named Danish Mare of the Year 2011
Sirikit, 2010 Danish Warmblood Mare of the Year
Fabrix Miss Ésandri, 2009 Danish Warmblood Mare Champion
Bøgegaardens Don Romina, 2006 Danish Warmblood Mare of the Year