Danish Warmblood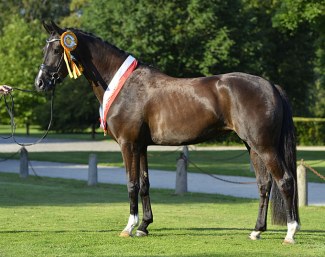 Atterupgaards Lady Hamilton was named champion of the 2019 Danish Warmblood Elite Mare Show held in Vilhelmsborg on Sunday 25 August 2019. 
The 3-year old Atterupgaards Lady Hamilton (by Dante Weltino x Stedinger) is bred by stuteri Atterupgaard and owned by Hamilton Horses from Sweden. 
The other three gold medal mares were 2016 Danish warmblood filly foal champion Francisca Lightfoot (by Franklin x Michellino), bred by Annette Lungs and Torben Damsbo and owned by Helgstrand Dressage; Polka Fascination (by Furstenball x Sandro Hit), bred and owned by Sanne Mathiesen; and Feine Galicia V (by Grand Galaxy Win x Gribaldi), bred and owned by Iben Leere Kamp.
These four exceptionally beautiful and functional young dressage mares made up a very interesting final and made it hard for the judges to make their final decision as the mares, despite their differences, are of equally high quality and all of them out of strong performance dam lines.
The champion Atterupgaards Lady Hamilton the judges described as a feminine, expressive and extremely pretty mare with a very supple topline. She has an excellent trot and canter, and she radiates rideability and capacity. 
The dam of Atterupgaards Lady Hamilton is competing at international small tour, and among her siblings are a Grand Prix horse, an approved stallion, a gold medal mare, two silver medal mares and two bronze medal mares. Owner Charlotte Hamilton said that she is proud to continue the excellent breeding of Danish Warmblood stud Atterupgaard in Sweden, and for next year she is expecting an embryo foal by Vitalis out of Atterupgaards Lady Hamilton who herself is destined the dressage sport.
Eight mares got the silver medal and fifteen the bronze medal. 
Francisca, 2-year old Filly Champion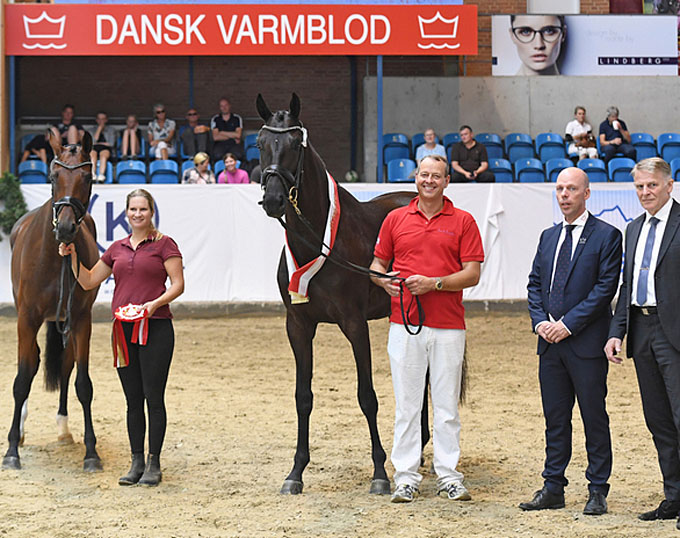 The Danish warmblood elite mare show also holds a 2-year old championships with 16 fillies making it to Vilhelmsborg. Six were selected for the champion's ring and the winner was Francisca (by Franklin x Romanov)
Bred by Henrik Hansen, Francisca was described the judges as a well-developed and noble filly of outstanding type and with great expression in all three paces. Her walk is rhythmic, the trot is excellent with very active hindlegs and uphill tendency whilst the canter is ground covering and good impulsion.
For breeder Hansen it was a great success in Vilhelmsborg as he also bred the 2019 Danish Warmblood Jumper Foal Championa and two years ago he had the 2017 Danish Filly Foal Champion in Faretti (by Franklin x Don Frederico).
Related Links
Grevens Fakina Named 2018 Danish Warmblood Elite Mare Champion
Skovens Tzarina Named Champion of the 2017 Danish Warmblood Elite Mare Show
Sezuanna Named 2016 Danish Warmblood Mare of the Year 
Delicious, Mildura, Schwarze Schwalbe, Tebaldo Winners of 2015 Danish Warmblood Elite Show
Lillevangs Pari-Diva Named 2014 Danish Warmblood Mare of the Year
Stigma Named 2013 Danish Warmblood Mare of the Year
Tirana Named Danish Mare of the Year 2012
Prima Donna Named Danish Mare of the Year 2011
Sirikit, 2010 Danish Warmblood Mare of the Year
Fabrix Miss Ésandri, 2009 Danish Warmblood Mare Champion
Bøgegaardens Don Romina, 2006 Danish Warmblood Mare of the Year