KWPN Foal Auctions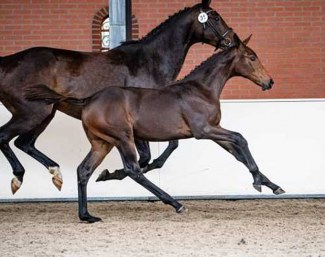 Rharzar (by Glamourdale x Jazz) became the top selling foal in the fifth edition KWPN Online Foal Auction of 2021. 
32 talented dressage and jumping foals went under the digital hammer on 13 September 2021. It was the fifth edition of the KWPN Online Foal Auction. Both internationally and nationally there was much interest in the collection.
One of the most striking foals was the Glamourdale filly Rharzar. This Glamourdale daughter shows a lot of movement qualities and that did not go unnoticed. The counter finally stopped at 9,000 euro and she will move to Spain. 
Rudie (by Blue Hors Liviusx San Amour II) was the second most expensive foal of the auction and sold to Russia for 8,500 euro.
 The most expensive jumping foals were Rouglas Ryal K (by Douglas) and Radiena-T (by Diarado). They sold for 8,000 euro and both will stay in the Netherlands.
Royalty ventura (by Dimaggio Black x Armani- and Ragazzo (by Kjento x Tuschinski) both fetched 7,000 euro. 
In total nine foals will cross the border, besides a Russian buyer buyers report from Germany, Belgium, Spain, England and Sweden.
Richella BB (by Jukebox x Cassini Gold) goes to Belgium for 6,500 euro, while Rolex (by San Amour II x Florestan) stays in Holland for the same price.