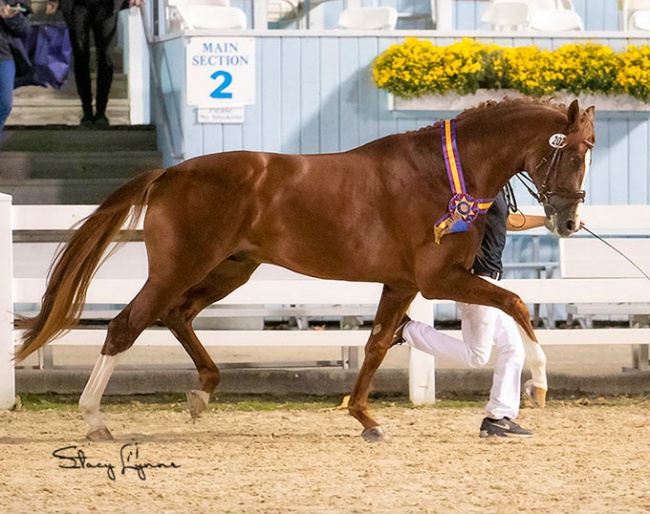 The 5-year old Oldenburg stallion Fortunato H20 became the Grand Champion of the 2021 Devon Breed Show on Thursday 30 September 2021.
Devon, a suburb of Philadelphia, annually hosts one of the biggest sport horse breeding shows in the U.S.A. The event takes place the three days of a week of dressage action on the Devon show grounds which culminate in the international dressage competition CDI-CDI-W.
 The Devon breed show takes three days and includes breed classes as well as under saddle materiale classes. The horses are divided into groups by breed and age.
Fortunato H2O, 2021 Devon Grand Champion
The 2021 Devon Breed Show Grand Championship was contested by the four champions of the Mature and Young Horse Championship: Fortunato H20, Fherrari, Ice Princess and Fienna. 
Judges Anne Moss, Janine Malone, Susan Graham White, and Gwen Ka'awaloa favoured Lehua Custer's 5-year old Oldenburg stallion Fortunato H20 for the Grand Champion title.  The stallion is bred by Kendra Hansis of Runningwater warmbloods and owned by Custer. The liver chestnut is by Floriscount and out of Raleska WF (by Rascalino) and was handled in Devon by Bruce Griffin III and Rebecca Arnold.
This wasn't the first time that Fortunato H20 made it to Devon. In 2016 he competed in devon as a foal to finish fourth and in 2019 he was the reserve champion in the Colts/ Geldings Championship as a 3-year old, scoring a 10 for his walk.
"I enjoy buying North American horses because I was mentored by such a fantastic breeder, trainer and judge Hilda Gurney," Custer told Eurodressage. "I dreamed that he'd perform well at DAD but couldn't have imagined he'd dominate in this way. I think the world of Tuna and mostly just love his character. He can be stabled across from mares, be in cross ties next to them and we of course ride with mares in the ring every day. He is incredibly rideable with an easy character. It blew me away to see the judges appreciate his quality. Tuna won every class we entered in hand and under saddle. He was the highest in hand score on Wednesday and Thursday. He was also the highest score in the materiale on Thursday."
A Real Adventure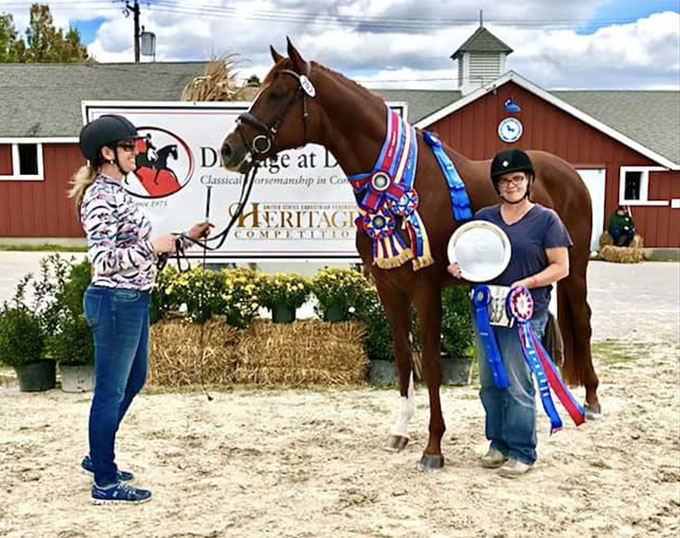 Entering in the 2021 Devon Breed Show this year was a last minute decision for Custer. 
"Wwe entered literally at the last second," she said. "I didn't know if we'd made it into the show at all until I saw times on Sunday so I packed up everything and rode all the horses at home before hauling up from Florida on Monday."
Custer discovered "Tuna" as newborn foal on Facebook and purchased him 30 days old directly from the breeder in New Jersey. He was reared at her base in California, before moving to Wellington, FL to which Lehua relocated to in 2020.
Fortunato H2O was licensed for Oldenburg and Westfalen at the 2020 Hilltop Farm stallion performance testing. Custer will continue to develop Fortunato H20 as a dressage horse as well as stand him at stud.
"My primary focus is on performance but he has already caught the interest of NA breeders and has foals on the ground in 2021 with more to come for 2022," she explained. "He will attend the East coast stallion testing this month and will have down time before the next breeding and show season. I hope to train Tuna to FEI and allow breedings to interested mare owners. He has such an easy character for breeding which is such a blessing."
Fherrari Reserve Grand Champion
The reserve grand champion is the 3-year old Oldenburg mare Fherrari (by Foundation out of Elite mare and 2011 Devon Grand Champion mare Rheporter (by Royal Prince). He is bred and owned by Maurine Swanson and presented by Jocelyn Kraenzle.
"My feet hurt," said Mo but with a big smile on her face. "I'm so excited to have done so well with a fourth generation of my breeding program."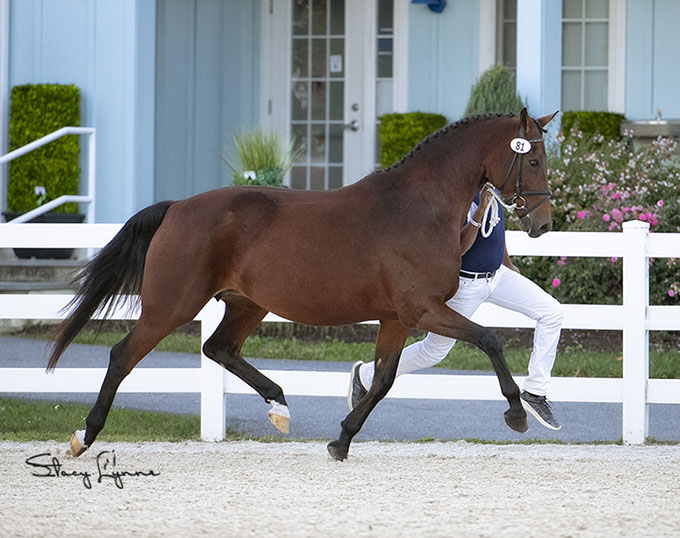 The other two finalists for the Devon Grand Championship were Alice Tarjan's 3-year old Oldenburg mare Ice Princess (by Ibiza x Don Schufro), bred in Denmark by Vicki Nedergaard; and Mary Alice Malone's 11-year old KWPN mare Fienna (by Sir Sinclair x Paddox), bred by Belinda Nairn and owned by Iron Spring Farm.
Mature Horse Classes
The Stallion Championship featured three stallions and the pack was led by Fortunato H20, followed by the 7-year old Oldenburg stallion Floristdanzo (by Floriscount x Sir Donnerhall), bred and owned by Cara Kettenbach.
The Mare Championship featured six pairs and was won by Mary Alice Malone's Fienna, while Hannah Salazar's 5-year old Hanoverian mare Gina (by Gentleman x Ballybo H) was the runner-up. Gina is bred by Hartwig Holten-Stuven and owned by Corwin Sport Horses. 
The Mature Horse Championship included the top two of the Mare and Stallion Championship, but it was won by Fortunato H20 and had Fienna as runner-up. 
Youngster Classes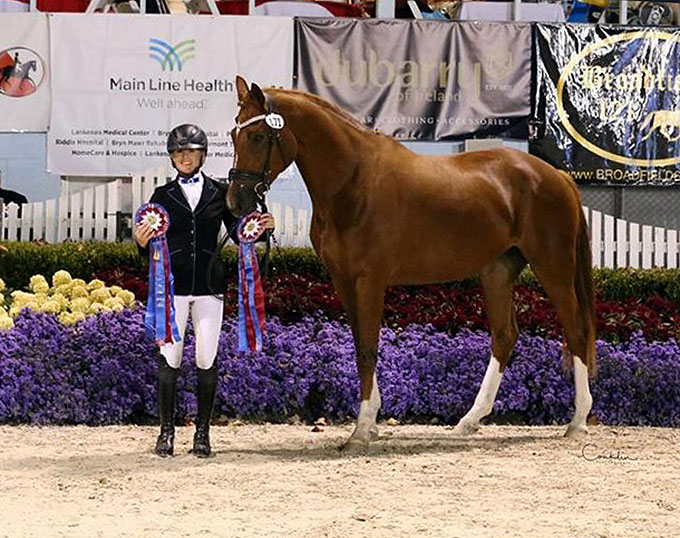 The Colt/Geldings Championship had six participants listed and was won by the 3-year old Westfalian colt Biltmore (by Bernay x Harvard), bred by Paul Theis and owned by Melany Lipar. The horse was presented by Benjamin Albright. The reserve Colt/Gelding champion's title went to Susan Hagaman's yearling KWPN colt Poseidon (by Gaudi out of Jesire), bred at Dutch Central Stables. The yearling was presented by Danielle Sintoni.
The Filly Championship had six young mares contesting for the title and the title was won by Mo Swanson's Fherrari, while Alice Tarjan's Ice Princess was second. 
The four highest placed youngsters from those two championship divisions were  invited to fight for the Young Horse Championship title. Kraenzle's Fherrari was named the Young Horse Champion and Tarjan's Ice Princess became the reserve champion. 
Photos © Stacy Lynne Photography - private - Conklin Photographic
Related Links
Gjenganger Named Grand Champion of the 2019 Devon Breed Show
Summersby II, Grand Champion of the 2018 Devon Breed Show
Danae MF, Grand Champion of the 2017 Devon Breed Show
Stenagers Welina Reclaims Title, Named Grand Champion of the 2016 Devon Breed Show
Stenagers Welina, Grand Champion of the 2015 Devon Breed Show
Danseuse MF, Grand Champion of the 2014 Devon Breed Show
Sanibelle, Grand Champion of the 2013 Devon Breed Show
Beatrice VDL Named 2012 Devon Breed Show Grand Champion
Rheporter Claims 2011 Devon Breed Show Grand Champion's Title
Rabiola Renews Grand Champion's Title at 2010 Devon Breed Show
Rabiola Scores Hattrick at 2009 Devon Breed Show
Quarterback Offspring In the Ribbons at 2009 Dressage at Devon
Coverage of 2001 Dressage at Devon