2021 Belgian Dressage Championships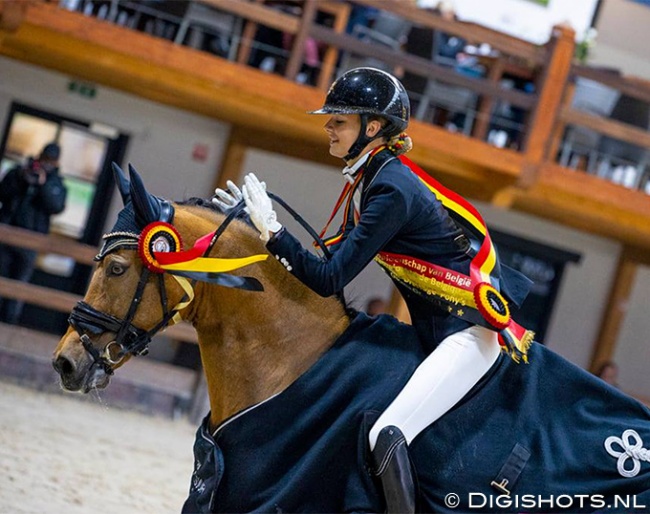 Pony rider Liezel Everars, children rider Amber Hennes, junior rider Jette de Jong, young rider Amber Van den Steen, Under 25 rider Lore Vandeborne, and senior Grand Prix rider Larissa Pauluis became the winners in their respective age divisions at the 2021 Belgian Dressage Championships. 
The Belgian Championships were held indoor as well as outdoor at equestrian centre Azelhof in Lier on 7 - 10 October 2021. 
Pony Riders: Liezel Everars
Twelve combinations lined up for the title competition in the FEI pony division and 14-year old Liezel Everars reigned supreme on her 10-year old Rhinelander bred FS Capelli de Niro (by Champion de Luxe x Don't Worry). The combination, who trains with Belgian U25 rider Suraya Hendrickx and Nicolette van Lierop, won all three rounds, scoring 73.314% in the team test, 75.324% in the individual and 79.425% in the Kur to Music. They lead with a 9% point difference to the runner-up.
The silver medal went to Emilie Herweyers on the Weser Ems bred Don't dream (by Don't Worry x Dressmann). Coached by Delphine Meiresonne, they were second in the team test (70.828%) and individual (72.757%) and third in the kur (75.555) to place second overall. 
Anna Peeters, daughter of international show jumping rider James Peeters, piloted the German bred Balotelli (by Benetton S x Sweet Dream SF) to bronze. Coached by Wim Verwimp and in her first year at FEI dressage pony, the 14-year old produced three consistent rounds that earned her 70,371% and 70,486%, and 75,905%. 
"I'm super happy with the freestyle I rode and I'm very proud of my pony," said Everars. 
Children: Amber Hennes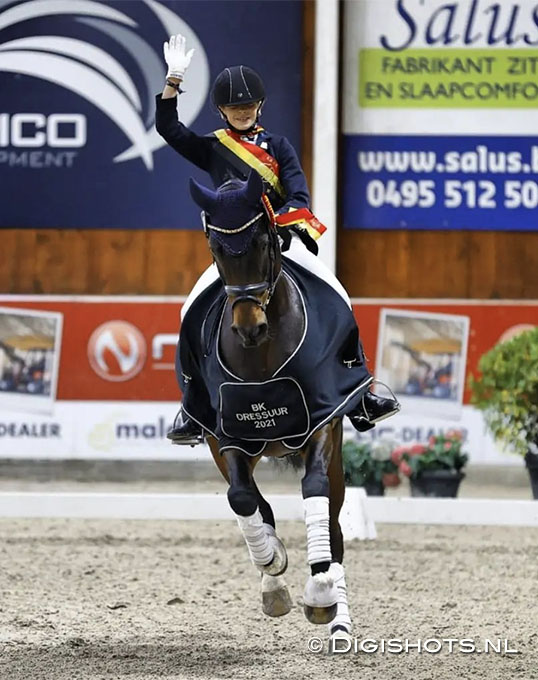 The children category for 12 to 14-year olds, usually on horses, featured seven pairs and the title was won by Amber Hennes. She rode the Belgian bred and NRPS registered Allegro van het Trichelhof (by Apache van het Trichelhof x Utharin van het Wolfharthof), who is born at the horse milk farm Trichelhof. The duo made its international debut at children level this year and rounded off 2021 with the Belgian Children Champion's title.  Hennes and Allegro won the preliminary test with 77,411%, were second in the team test (73.475%) and topped the individual test (78.468%) for gold. 
The silver medal went to pony rider and pony silver medal winner Emilie Herweyers who made her show debut on her horse, Kalegra C-Two DVB (by Negro x Charmeur) this summer. Herweyers collected her second silver of the weekend on her black mare after scoring 76,518%,  76,625%, and 75,268%.
New comer Lavinia Cox and the 10-year old Rhinelander stallion Luis Gustavo (by Lord Carnaby x Fidertanz) got bronze. The bay stallion was previously shown in Germany by Beatrice Buchwald, Marlene Usbeck and Daniel Oster before becoming Cox' ride. This brand new combination scored 71,250%,  71,800%, and  71,005% in the three rounds.
"I'm very happy. I never expected that it went this well. I'm very happy with my three tests, one went better than the other but I'm very happy with the final test and I'm very proud of it," said Hennes. 
Junior rider Jette de Jong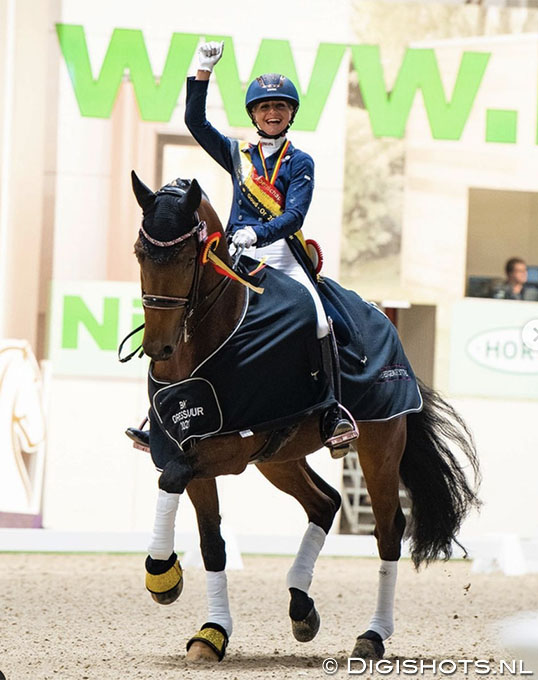 Thirteen combinations were entered for the junior title match and in the absence of probably her greatest rival and team mate Clara Collard on Escape, Jette de Jong had open range to freewheel to the gold medal. Aboard her KWPN bred Heavenly Charming (by Charmeur x United), she easily won all three rounds, scoring 73,667% in the team test,  73,059% in the individual, and 78,320% in the Kur. Jette is coached by her mother Marielle Hoefsmit. 
De Jong's two team mates from the 2021 European JR Championships, Michiel Nevelsteen and Louise Brauwers, got silver and bronze. Nevelsteen steered Lars van het Kristoffelhof (by Florencio x Gribaldi) to an overall second place with 69,667%,  69,706% and  73,350%. He trains with Els Michiels. Wim Verwimp's student Louise Brauwers did not campaign team ride Esprit, but newest acquisition, the KWPN bred 7-year old Jerveaux de Baian (by Ferdeaux x Jazz). They were second in the team test (70.242%), dropped to 66.294% in the individual, but they finished second in the Kur with 74.975%
"Incredible. It's super special to win each time," said de Jong, who won her third Belgian title in a row. "He also does his best for me. I can only be happy. I was nervous because it can still go wrong, but it was super fun."
Young rider Amber Van den Steen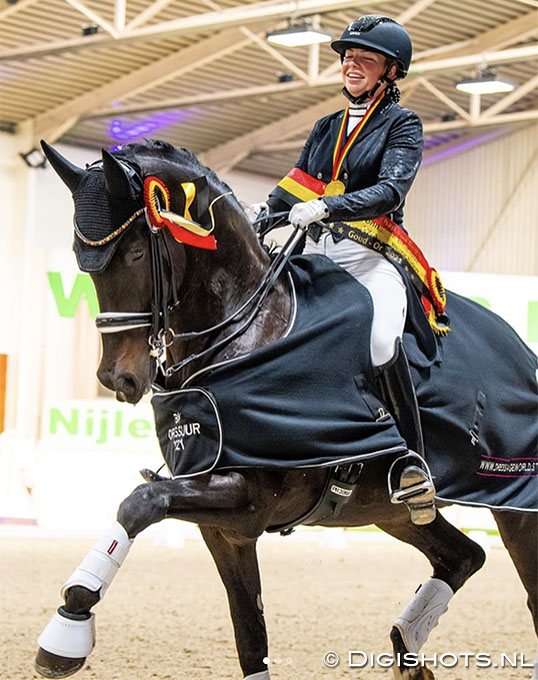 Just eight pairs lined up for the Young Riders division and one Belgian team rider (Charlotte Richmond) was absent from the Nationals. Belgium's strongest performing YR duo at the Europeans - Amber van den Steen and Fame (by Ampere x Sultano) - bested the field in Lier and ranked first with four percentage points ahead of the silver medalist. Coached by Jeannette Haazen, Van den Steen scored 72,677% in the team test,  74,294% in the individual test, and  77,190% winning all three rounds. 
The silver medal went to Danish born Belgian Karoline Sofie Vestergaard  on Junior Hit (by Sandro Hit x Calvani). She cracked the seventy percentage barrier three teams, scoring 71.265% in the team test, 72.384% in the individual and 76.445% in the Kur. 
Maud Adriaensen and Mrs Hermans 13-year old KWPN mare Diva Noir SVB (by Alabastro S Extra x Don Primaire) rode to bronze. The mare was previously shown at international small and big tour by Delphine Meiresonne and now helped Maud to her first national medal. The pair scored 68.412%, 68.941% and 73.055% to place third overall.
"I'm very happy of course. It's the icing on the cake after a very nice season to become Belgian champion. It's of course a lot of fun to win all three rounds. I can only be happy if you perform like this and get such scores. of course there are always little things that can improve. Fame now gets a long break from showing because it's been a very long season. We'll continue to train and compete internationally only next year. 
Under 25: Lore Vandeborne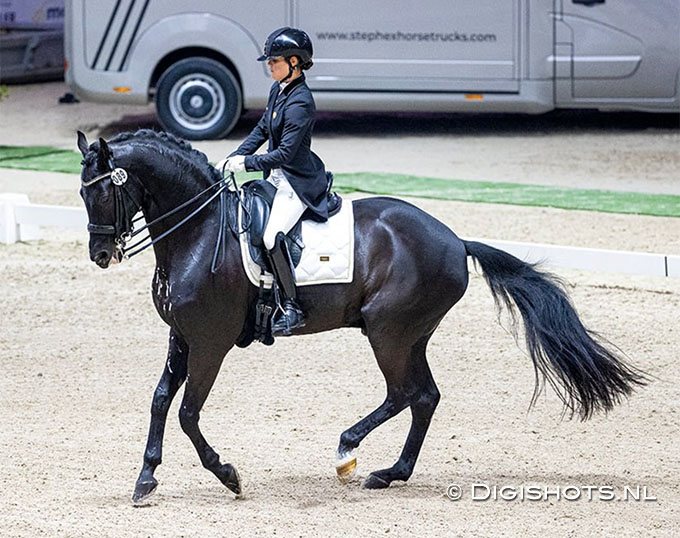 The Under 25 division featured five combinations with Belgian team rider Laura de Graeve opting for her 2019 Belgian European Championship team ride Feuertanz instead of Charlie. 
U25 routiniers Lore Vandeborne and the Belgian warmblood bred Ikke Pia van de Bergerhoeve (by San Amour x Donnerhall) were the only pair to score over 70% three times. They won the gold with 70.294% in the Inter II, 70.410% in the short grand prix and 73.290% in the Kur to Music. The combination is coached by Philippe Jorissen, whose father Hugo bred Ikke Pia out of Philippe's international Grand Prix mare Pikante Pia van de Bergerhoeve. 
Suraya Hendrikx and the KWPN mare Black Beauty (by Gribaldi x OO Seven) finished with silver. Trained by Nicolette van Lierop, Hendrikx posted 70.059%, 66.898% and 73.405%.  Earlier in the weekend Hendrikx also won the 2021 Belgian small tour Championship on her former young riders' horse Dear Friend (by Danone x Dollmann), ahead of former YR team mate Laura Luyters on Lamborghini (by Bon Bravour x San Remo). 
Lauranne Lammens and Belgian warmblood mare Hilcara van het Vijverbos (by Don Renoir x Feinschnitt van de Richter) ended up with bronze after scoring 67,735%,  65,103% and  68,865%.
Senior Grand Prix: Larissa Pauluis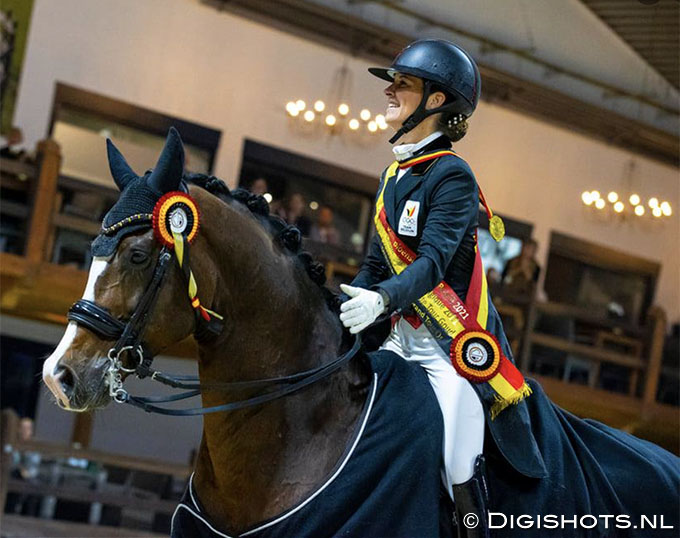 Ten combinations competed in the senior big tour championships, which is one more than in 2020 (9), five more than in 2019 (5) and the same as in 2018 and 2017 (10). 
Belgian shooting star of the year, Larissa Pauluis and her KWPN bred Flambeau (by Ampere x Zeoliet), crowned their already unexpected Olympic year with the Belgian Grand Prix Champion's title. Pauluis' last FEI title dates back to 1997 when she became the junior riders' champion on Clark and not considering the young horse championships she won. This year as a senior in the big tour, she won all three rounds, posting 72,609% in the Grand Prix,  73,979% in the Special, and 77,625% in the freestyle.
Carmen de Bondt's two students - Thibault Vandenberghe and Domien Michiels - captured silver and bronze. Vandenberghe's 14-year old Rhinelander (by Sir Donnerhall x Larome) made his international show debut at Grand Prix level this year and was Olympic second reserve and team member at the European Championships. They finished the season with national silver after scoring 70.087% and 70.106% in the Grand Prix and Special,  and 74.235% in their first ever GP Freestyle. 
Domien Michels and the Belgian warmblood bred Intermezzo van het Meerdaalhof (by Gribaldi x Balzflug) had a busy summer, competing at the Olympics, the Europeans as well as the Belgian Nationals. They slotted in third for bronze with 68,891%,  69,830% and  75,420%. 
Photos © Digishots
Results - 2021 Belgian Dressage Championships - Lier
Pony Riders
1. Liezel Everars - Fs Capelli De Niro - 73,314 75,324 79,425 --- 228,063
2. Emilie Herweyers - Don't Dream - 70,828 72,757 75,555 --- 219,140
3. Anna Peeters - Balotelli - 70,371 70,486 75,905 --- 216,762
4. Clara Collard - Orchid's Borneo -  68,571 69,757 73,650 --- 211,978
5. Elisabeth Leduc - Campsterhoven's Baldato - 70,457 70,351 68,545 --- 209,353
6. Helena Theeuwes - Caspar w -  66,485 66,054 68,025 --- 200,564
7. Angelina Hermans - Djamila - 68,257 66,838 63,810 --- 198,905
8. Sophia Leo - Dandy Lion -  64,086 64,514 67,710 --- 196,310
9. Helena Colling - Donaldson - 66,114 63,892 64,150 --- 194,156
10. Zita Vanhoyweghen - Miss Don't Worry -  64,371 63,432 64,045 --- 191,848
11. Zita Vanhoyweghen - 't Gold'n Hamrik's Darco -  64,172 59,486 63,145 --- 186,803
Rhune Van Laeken - Drops - 63,771 - DNS - DNS --- 63,771
Children
1. Amber Hennes - Allegro v/h Trichelhof - 77,411 73,475 78,468 --- 229,354
2.  Emilie Herweyers - Kalegra C-TWO DVB -76,518 76,625 75,268 --- 228,411
3.  Lavinia Cox - Luis Gustavo -z 71,250 71,800 71,005 --- 214,055
4.  Isabeau Vercammen - Cinderella Kwikaard - 70,804 71,800 71,287 --- 213,891
5.  Elise Verwimp - Delyse Van Het Bergenhof -69,107 68,725 73,282 --- 211,114
6.  Léa Pirlot - Luna Levanta- 70,357 70,225 69,921 --- 210,503
7.  Charlotte Macken - Bentley - 67,679 67,875 73,819 --- 209,373
Junior riders
1.  Jette De Jong - Heavenly Charming - 73,667 73,059 78,320 --- 225,046
2.   Michiel Nevelsteen - Lars Van Het Kristoffelhof - 69,667 69,706 73,350 --- 212,723
3.   Louise Brauwers - Jerveaux de Baian - 70,242 66,294 74,975 --- 211,511
4.   Zara Van Rijckeghem - Omg Quaterhit - 67,242 67,206 69,190 --- 203,638
5.   Maxine Nicasi - Estival - 66,091 64,471 69,360 --- 199,922
6.   Britt Gellens - Karnival Zee T -  63,424 66,794 67,435 --- 197,653
7.   Nicolas Josse - Wait and See - 65,455 64,441 65,225 --- 195,121
8.   Chabelli De Graeve - Sandro's Diamond - 61,212 63,206 64,275 --- 188,693
9.   Robin Robert - Divin Weltino -  63,030 64,882 60,250 127,912 --- 10988417
Julie Opsomer - Parodie - 66,697 - 65,177 - DNS --- 131,874
Mayté Herregodts -  Achilles uphill X clavecimbel 58,167 - 59,470 - DNS --- 117,637
Claire Krier - Arthur De Jovey X 59,303 - 57,765 - DNS ---- 117,068
Clara Berode -  Seniorita AAC - 66,758 - DNS DNS 66,758
Young riders
1. Amber Van Den Steen - Fame - 72,677 74,294 77,190 ---- 224,161
2.  Karoline Sofie Vestergaard - Junior Hit - 71,265 72,382 76,445 ---- 220,092
3.  Maud Adriaensen - Diva Noir SVB - 68,412 68,941 73,055 ---- 210,408
4.  Clara Mourlon Beernaert - Furst Dior-  68,059 67,647 71,005 ---- 206,711
5.  Britt Baranyai - Buffon - 67,324 67,265 69,260 ---- 203,849
6.  Beaudine Pieters - Donovan Magnum - 66,824 65,441 71,065 ---- 203,330
7. Lisa Arcq - Quantum of Solace  -  63,294 63,971 66,170 ---- 193,435
Yinthe Van De Ven - No-limit Cv - 65,324 66,412 - ---- 131,736
Under 25
1. Lore Vandeborne - Ikke-pia V/d Bergerhoeve - 70,294 70,410 73,290 ---- 213,994
2.  Suraya Hendrikx - Black Beauty - 70,059 66,898 73,405 ---- 210,362
3.  Lauranne Lammens - Hilcara Van Het Vijverbos - 67,735 65,103 68,865 ---- 201,703
4.  Laura De Graeve - Feuertanz - 66,265 62,820 66,610 ---- 195,695
5.  Xanthe De Backer - Batiqar -  60,500 60,846 63,510 ---- 184,856
Seniors
1. Larissa Pauluis  - Flambeau -72,609 73,979 77 ,625 ---- 224,213
2. Thibault Vandenberghe - Santiago Song -  70,087 70,106 74,235 ---- 214,428
3. Domien Michiels - Intermezzo Van Het Meerdaalhof - 68,891 69,830 75,420 ---- 214,141
4. Alexa Fairchild - Dabanos D'o4 - 67,957 70,489 72,530 ---- 210,976
5. Kevin Van Ham - Eros Van Ons Heem - o 64,652 64,532 70,425 ---- 199,609
6. Sylvie Van Der Borght - Rubert Redford -  64,609 65,553 68,135 ---- 198,297
7. Anne Ponsaerts - Carrera -  64,956 66,617 65,455 ---- 197,028
Larissa Pauluis - First- Step Valentin - 71,305 70,915 - DNS ---- 142,220
Nicky Peeters - Condiblesse v/d Kempenhoeve -  62,783 61,319 - DNS  ---- 124,102
Marc Peter Spahn - Elias 494-  60,391 - DNS - DNS ----  60,391
Related Links
Van de Weyer, Hennes, De Jong, Luyten, Nyssen, Roos Win 2020 Belgian Dressage Championships
De Jong, Goovaerts, Van den Steen, Buelens, Defalque, Roos Win 2019 Belgian Dressage Championships
Colling, Richmond, Hendrikx, Defalque, Devroe Win 2018 Belgian Dressage Championships
Hendrikx, Beckers, Brison, Verwimp Win 2017 Belgian Dressage Championships
Jeroen Devroe Wins 2016 Belgian Grand Prix Championships
Meyssen, Morosini, Kielenstijn Win 2016 Belgian Youth Riders Championships
De Schepper, Verberne, Kielenstijn, Devroe Win 2015 Belgian Dressage Championships
Antonia Arl Succeeds Sister and Wins 2014 Belgian Pony Championships
Verberne, Verwimp and Vanommeslaghe Win 2014 Belgian Dressage Championships
Arl, Defalque, Verwimp, Missiaen Win 2013 Belgian Dressage Championships
Arl, Verwimp, Waelkens, Devroe Win 2012 Belgian Dressage Championships
Jeroen Devroe Prevails at 2011 Belgian Dressage Championships
Jeroen Devroe Captures Sixth Belgian Grand Prix Champion's Title
Goris, Mommen, D'Hoore and Devroe 2009 Belgian Champions
Van Olst, Mommen, Vandenberghe Win 2008 Belgian Youth Riders Championships
Stefan van Ingelgem, 2008 Belgian Dressage Champion
Van Olst, Mommen, De Souter, De Deken and Devroe, 2007 Belgian Dressage Champions
Arlette Holsters and Faible Win 1998 Belgian Dressage Championships
Meiresonne, Pauluis, Smits, 1997 Belgian Youth Riders Champions