2021 CDI-W Thermal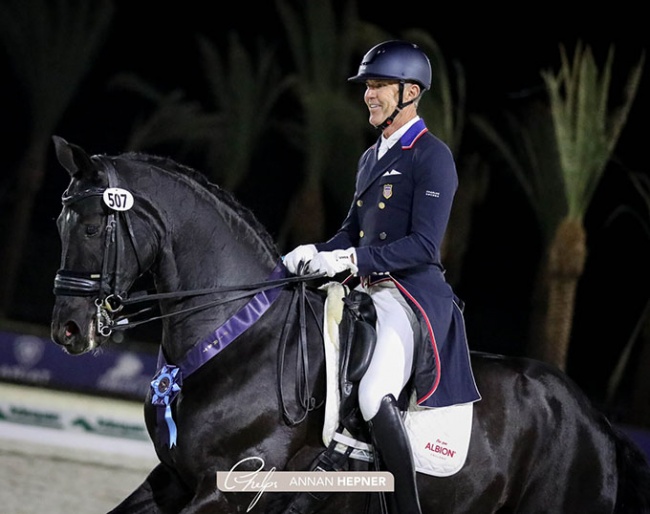 The classes took center stage under the lights on the second day of competition at the Desert Dressage I CDI-W and Spooktacular National Dressage Show on Saturday 23 October 2021. Spectators and competitors alike dressed in their favorite costumes and enjoyed an action-packed night of competition ringside.
Guenter Seidel emerged at the top of the leaderboard in the Grand Prix Special riding Leatherdale Farms' Equirelle, while Jan Ebeling and Status Royal OLD, owned by Ann Romney, took home first place honors in the Four Winds Farm CDI-W Grand Prix Freestyle.
Seidel and Equirelle Win GP Special
The Grand Prix Special kicked off Saturday evening's action. After finishing in second place during Friday's Hof Kasselmann Grand Prix, Seidel and the 12-year-old Dutch Warmblood mare Equirelle (by Florett AS  x Donnerhall) made their way to the winner's circle. The duo rode to a score of 71.490% to earn their spot at the top of the leaderboard, receiving high marks for their collected trot and pirouettes. Seidel and Equirelle will return to Thermal in November for Desert Dressage II before heading to Wellington, Florida for the winter show season.
""I thought the trot work was good with nice impulsion," said Seidel. "The passage is a highlight — easy and loose enough, and the rest of the test was pretty good. I can't complain about much! Last year during the Special she spun around each time in the piaffe and this year it has become much more settled because there is so much more experience in her now. I'm super happy with that. She is such a goer and she wants to do it so badly and that's a good thing. It's teamwork, the grooms, the owners, everyone together makes it work."
Coming off of a personal best score of 71.391% in Friday's Grand Prix, Carly Taylor-Smith and Nikki Taylor-Smith's Rosalut NHF (by Rosenthal  x Salut) finished out Saturday evening in second place after receiving a score of 70.979%. Rounding out the top three was Ebeling aboard Vantage Equestrian Group II LLC's Indeed (by Hofrat x De Niro 6) for their score of 67.234%.
Ebeling Wins CDI-W Grand Prix Freestyle
The CDI-W Grand Prix Freestyle immediately followed to cap off Saturday's competition. Marking back-to-back victories, Ebeling and Status Royal OLD claimed the blue after riding to a score of 71.065%. Just the day prior, Ebeling and the 11-year-old Oldenburg gelding (b Statesman x Rubin Royal) took home the win in the Short Grand Prix.
"This is really not a freestyle designed for him — it was borrowed from a different horse [Indeed], but it seems to work for him quite well," said Ebeling. "The lines are really good for him, and it's relatively easy. My degree of difficulty is a little over seven which isn't really all that high but it's his first year at the Grand Prix. He did a couple of Grand Prix classes last season so I like to keep it really straightforward for him. I think the one and a half pirouette and the piaffe pirouette is enough of a challenge. He is really good at piaffe, so it's a challenge but for him it's relatively easy."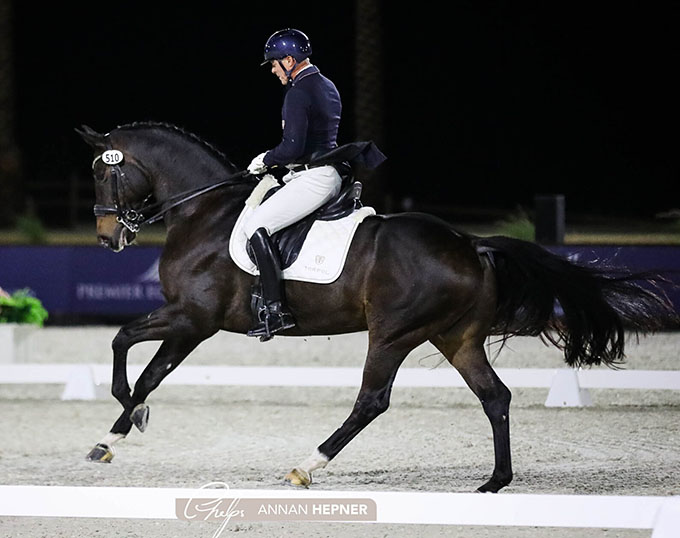 Ebeling started the test off strong with one tempis into a one-and-a-half canter pirouette directly in front of the judge at C. Adapting the freestyle routine from his other mount, Indeed, Ebeling was able to use the choreography to showcase Status Royal OLD's strengths through a challenging piaffe pirouette. The pair was rewarded for their harmony and unique interpretation of the music choice, ultimately emerging as the clear winner for the class.
"At the end I have a 360 pirouette at the piaffe and that is really hard," said Ebeling. "Usually I will do that to the right, but in the warm-up it really didn't work to the right so I figured we would try to the left. [Status Royal OLD] was a bit distracted with the wind and I don't think he has ever been to a horse show at night, so there were a bunch of firsts. I am pretty happy, I got a lot of things accomplished I wanted to, like the ones. I've been working with Karen Robinson for many years and she choreographed this routine with me."
Taking second place was Missy Gilliland riding her own Toledano XXXI. She piloted the 14-year-old Andalusian gelding (by Ambicioso XV  x Osado XIV) to a score of 66.555%. Her choreography featured two tempis on a curved serpentine line straight into a double canter pirouette. Gilliland only recently made her international debut with Toledano XXXI in the fall of 2020 at the DIHP.
Text by Annan Hepner, edited by Eurodressage. Photos © Phelps Media Group
Related Link
Scores: 2021 CDI-W Thermal
Taylor-Smith and Ebeling Win Big Tour Classes on Opening Day of 2021 CDI-W Thermal