2021 CDI-W Ocala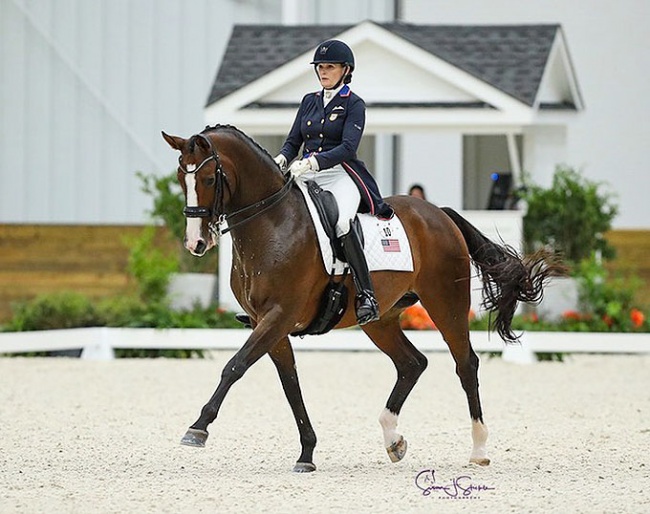 Jessica Howington and Ashley Holzer rode themselves into the winner's circle in the four big tour classes at the 2021 CDI-W Ocala on 22 - 24 October 2021. Held at the grand World Equestrian Center in Ocala, Florida, this World Cup qualifier and CDI competition was the first international show this autumn in Florida. 
World Cup Win for Holzer
1988 Olympic team bronze medalist Ashley Holzer (USA) and Diane Fellows' Hanoverian mare Havanna  were victorious in the Grand Prix Freestyle CDI-W on Saturday 23 October. 
Holzer and Havanna (by Hochadel x Rodgau) stepped into the ring to perform their freestyle for the first time in over two years, having practiced it once at home to music. Holzer was pleased with the outcome and the score of 76.480%.
"I had a great time," she said. "I was honestly a little nervous. She's hotter in this venue than she is normally at home. I was a little worried about the timing exactly, getting her quietly from movement to movement with inner tension going on and getting her relaxed, but it worked out."
Holzer said that the passage and piaffe stood out to her, especially with her music that was put together by Tom Hunt.
"I felt that today her half passes in trot were much more rhythmical and uphill, and that's a big breakthrough for her, so I was really happy with that too," she pointed out. "The third canter pirouette wasn't as quietly balanced as I wanted it to be, but the other pirouettes felt really, really nice. In general, I think she was a bit nervous and tense, and she still came out and performed to her best. I would say that is the most important thing for me, that I felt her really trying hard in there and giving it a little bit more power than in the past and still quite comfortable."
Holzer has had Havanna in her barn for six years, and while owner Fellows had been working with the mare earlier in the summer, Holzer took back the ride when Fellows was away. The pair also won the Grand Prix on Friday with  71.132%.
Harrison Makes Her Mark as a Senior
Slotting behind Holzer in second place was former Under 25 rider Codi Harrison (USA) on her own 14-year old Danish warmblood Katholt's Bossco (by Don Schufro x Michellino). They scored 75.040%, which was a personal best for them. It was even more impressive knowing that it was their first open grand prix freestyle test at a CDI.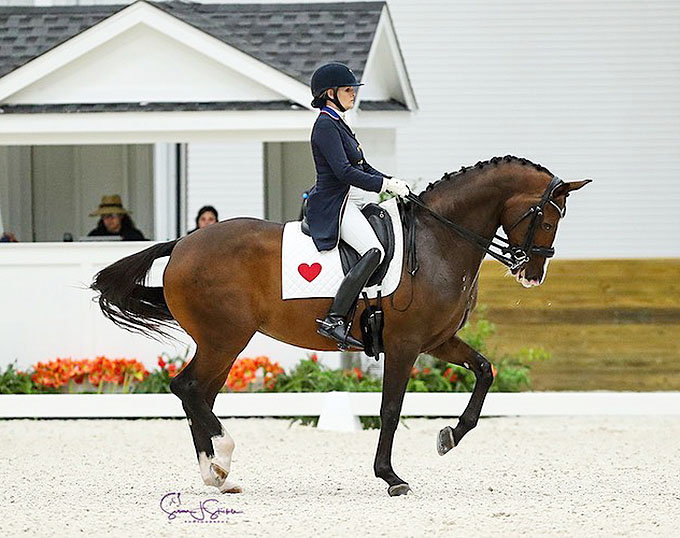 Harrison grew along with her horse, having purchased him six years ago at Blue Hors in Denmark. They started at the young rider level and moved up to the Under 25 division. As Harrison turns 26 next year, she decided to move up again to the open grand prix.
"It's been so fun to learn with him in the process and learn in the grand prix together," she said of the 14-year-old Danish Warmblood stallion by Don Schufro x Michellino. "I wasn't sure if he was going to be a big tour horse; I wasn't sure if he'd ever do the U25. This is really exciting for me."
Harrison, who is from Wichita, Kansas, but is based in Wellington, Fla., also had a brand-new freestyle for this show, with music by Boy de Winter and choreography she designed with Karen Pavicic. "I ran through it for the first time last week and prayed for this week," she laughed. "It's a little bit more difficult but nothing too crazy for our first open grand prix freestyle."
When she saw her score come up at the conclusion of her freestyle, she was "shocked." She added, "I wasn't expecting that. I was thrilled. I'm really happy with him, and it's definitely our highest score, even in a freestyle. It's been six years of barely getting through a Prix St. Georges to now, so I'm very proud."
Gomez Molina Moving Up
Another newcomer to the open grand prix freestyle was third-place finisher Pablo Gomez Molina (ESP) riding Cristina Danguillecourt's 12-year old PRE bred Ulises de Ymas (by Seni Indio x Superior II). They scored 73.605% in the first-ever grand prix freestyle for the horse and the rider.
"I'm really happy with him," said Gomez Molina. "This is our first year doing grand prix, and I cannot ask for more. I was a little bit disappointed yesterday because since our last show, he's got much more strength. He was a little bit scared yesterday, so I was unable to show how he is. Today he was much better, more with me, and I was able to ride him more. That was the best part; I could ride him and give him trust and he was really with me."
Gomez Molina describes Ulises de Ymas, an 11-year-old PRE gelding by Seni Indio x Superior II, as "a really introverted horse" and "really shy." The pair have been together for six years, and Gomez Molina feels that he has built a very trusting relationship with his horse.
"It's so nice to see him developing and to improve," he said. "I feel like he can get much stronger and show what he really is. For me he's always amazing but he can still get better. We can both get better."
Double for Howington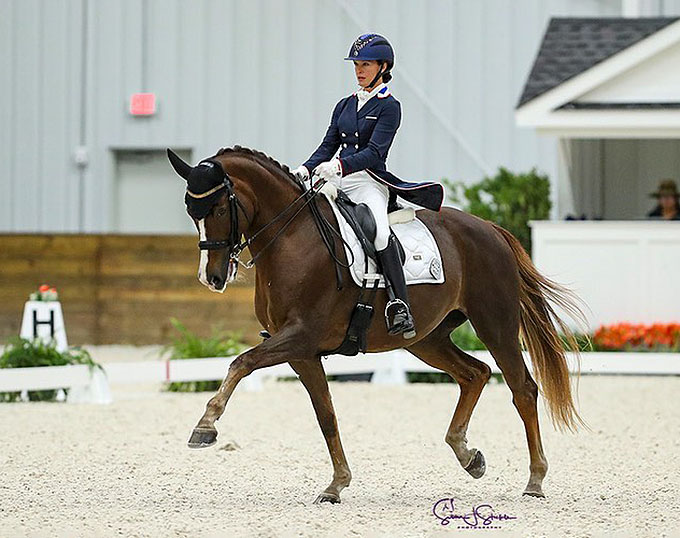 Jessica Howington, who recently moved to Ocala in May, took home her second win of the show with her own Cavalia in the Grand Prix Special CDI3*. The pair won the Grand Prix to Special on Friday with 70.609% and Howington felt that her test in the Special was an improvement. They finished the Special with a score of 71.574%.
"My goal was to have a little more energy, and I think we managed that three-fourths of the way through," said Howington. "I was happy with that; it was improvement in my mind. She was a little more with me tonight. Overall, she was just ready to go. I was definitely happier with my ride tonight."
Howington pointed out the passage, extended trot, and half passes as highlights of the Special test, which is a longer test than the grand prix. While Howington has had Cavalia for almost two years, she feels that they are still working on their partnership. The mare was competed by her previous owner, Australian Jessica Greelish, at the 2013 World Young Horse Championships in Verden (8th in the consolation finals).
"I feel like right now we're still at the very beginning," she said of her partner, a 14-year-old KWPN mare by Sir Donnerhall x Gribaldi. "I will be blessed if I can get two or three more years out of her, because I feel like the next year and next year after that we will get better and better as our partnership develops. I'm really happy and proud that we've gotten to where we are, but I think there's a lot more in the tank if we can get there."
It was a special competition for Howington to take home two victories at World Equestrian Center – Ocala. "It's amazing, and I'm over the moon about it," she acknowledged. "I want to just continue to improve every test for me and Cavalia. There are amazing riders here, and the facility is absolutely incredible, the best of the best. It's an amazing experience. Every single person I talk to, whether it's someone in the stands who doesn't know horses, or the top FEI riders, they all just rave about this facility."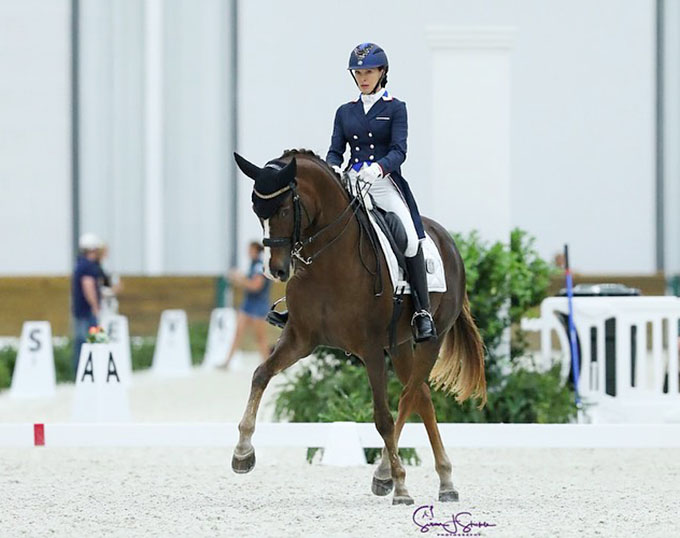 Second place in the Grand Prix Special went to Susan Dutta (USA) and her own Don Design DC with a score of 69.085%. Kerrigan Gluch and Mejorano HGF, owned by Hampton Green Farm, finished third with 68.723%.
Who is Jessica Howington?
Howington started out as an eventing rider before switching to dressage. She was based in Wellington and worked with Andrea Woodard when she was nominated on U.S. Dressage Olympic Shortlist Mandatory Observation Event. In the spring of 2021 she bought a farm in Ocala, moved there and turned pro, although she still combines it with her job of nurse practitioner.
With the support of her parents, the 41-year old bought a 150-acre property in Ocala to establish her breeding and training business, CrownView Dressage. They recently purchased the 3-year old licensed stallion Fire Jazz (by Furst Jazz x Sir Donnerhall x De Niro) in Denmark.
- Ocala press release, edited by Eurodressage - Photos © Sue Stickle
Related Links
Scores: 2021 CDI-W Ocala