KWPN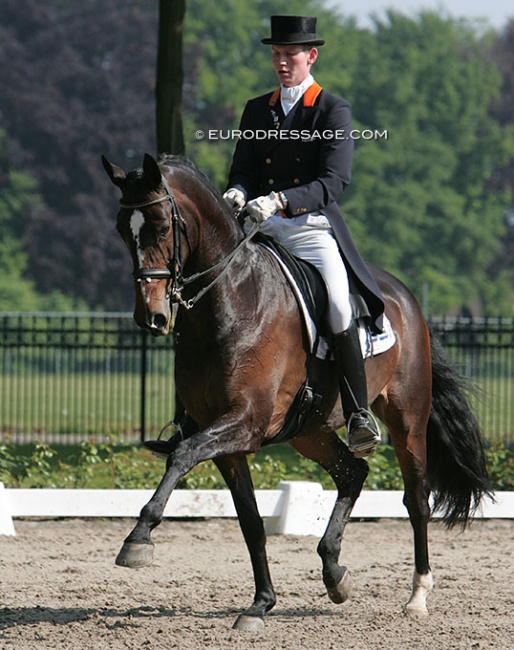 Unlike most German studbooks, the KWPN breed society asks breeders to name their foals upon registering them in the foal book. KWPN published that "Ruby" is the most popular name of 2021. 
While in Germany the name of the sire decides the first letter of the name of a horse, the Dutch warmblood society follows the alphabet by year. 2021 is the year of the letter "R" and all foals born this year should have an R-name. 
"Hundreds of names have been used, from beautifully original ones to somewhat 'special' names," the KWPN said with a smile. 
Ruby
The most popular name of 2021 was "Ruby". No less than 140 foals have been named Ruby this year. 
The second most used name was Rocky. 107 breeders named their foal after Sylvester Stallone's career making movie character.   Luxury products are always fashionable for name giving. This year 90 foals were named "Rolex". 
The top 10 of most popular names also includes Rose (88), Rebel (85),  River (77), Roxy (77), Remember (67), Racoon (65), and Rhapsody (63)
However it must be said that in fact the prefix "Royal" was most popular. At least four hundred breeders gave their foal a name starting with Royal, but then following with a second name. 
History of Most Popular KWPN Foal Names
KWPN has been releasing a list of most popular foal names since 2017. That year the letter was M and the most used named was "Maestro" (87 x), followed by Macho (55), Max (43), Magnum (38) and Miss Montreal (34).
In 2018, Nashville (119) turned out to be the most loved named, followed by Nikita (94), Nirvana (91), Nelson (90), Napoleon (78), Nevada (65), Nacho (64), Nero (62), Nairobi (47) and Nadal (46). The pre-fix "Nova" was used no less than 297 times!
In 2019 the girl's name "Olivia" was the most used (246 times!), followed by Orlando (159), Olympia (118), Odessa (91), Odin (90), Olympic (87), Oscar (84), Onana (82), Olivier (81) and Ocean as well as Orion (80).
In 2020 KWPN did not post which name was most used.
Photo © Astrid Appels
Related Links
Kjento Most Popular KWPN Breeding Sire of 2019 - 303 Foals Born in 2020
Just Wimphof Most Popular KWPN Breeding Sire of 2018 - 348 Foals Born in 2019
Just Wimphof Most Popular KWPN Breeding Sire of 2017
Toto Jr Most Popular KWPN Breeding Sire of 2016
Glamourdale, Most Popular KWPN Breeding Stallion in 2015
Charmeur Most Popular KWPN Breeding Sire of 2011
Uphill Most Popular KWPN Breeding Stallion of 2009