Oldenburg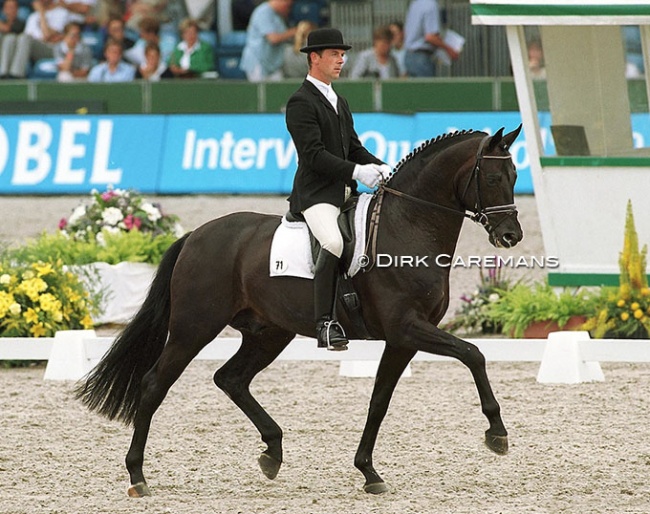 In the year that he passed away at age 28, Sandro Hit has finally been able to climb up to the number 1 spot on the WBFSH Dressage Sire Ranking. He moved from third place in 2020 to first place in 2021. 
Sandro Hit was by Sandro Song out of a Ramino mare. He was bred by Reinhold Harder and owned by Paul Schockemöhle He has been in the Top 3 of the WBFSH Dressage Sire Rankings since 2016, but this is the first year he is ranked at the top.
Sandro Hit's Olympic Impact
As one of the most used dressage stallions on the planet until a late age, it was just a matter of time that his progeny would surface at the top with the black stallion having had access to the best brood mares in the masses, as well as his offspring trained by the leading dressage riders in the world. 
This year Sandro Hit had 5 direct offspring competing at the Olympics: Showtime (Dorothee Schneider), Salvino (Adrienne Lyle), Scolari (Shingo Hayashi), Sebastien (Lindsay Kellogg) und Sir Donnerhall II (Morgan Barbançon).  He also had three (great) grandsons in Tokyo: Suppenkasper (by Spielberg), Sanceo (by San Remo) and Samhitas (by Sir Donnerhall I). 
Sandro Hit Sons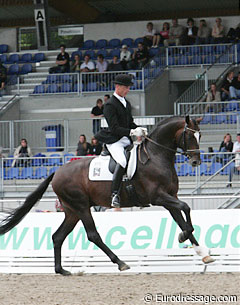 Sandro Hit's son Sir Donnerhall captured fourth place on the ranking with 14,956 points and Spielberg (by Sandro Hit x) 8th place with 10,038 points. 
Most successful Sir Donnerhall I offspring competing internationally this year are Samhitas (Kelly Layne), Sheeran (Jacob Sorensen), Cavalia (Jessica Greelish), Hot Chocolate van de Kwaplas (Isabelle Pinto), Santiago Song (Thibault Vandenberghe), and Sangraal (Stella Hagelstam).
Spielberg (by Sunny Boy x Rosier) made an impact with Suppenkasper (Steffen Peters), Illuster van de Kampert (Benjamin Ebeling), Farant (Timna Zach), and Dior S (Aniko Losonczy).
Johnson and Jazz Make Top Three
The KWPN bred stallion Johnson (by Jazz x Flemmingh) captured second place on the 2021 WBFSH Dressage Sire Ranking, after topping the ranking in 2020. 
Johnson's most successful get in the Grand Prix arena are Hexagons Double Dutch (Thamar Zweistra), Meggle's Boston (Matthias Bouten), Boston STH (Denise Nekeman), Don John (Nick Wagman), Esprit Dond D (Jordi Domingo)
KWPN foundation stallion Jazz (by Cocktail x Ulft) continues to dominate Grand Prix dressage horse breeding. He led the ranking in 2008, 2009 and 2010, and continued to be a dominating influence over the past decade.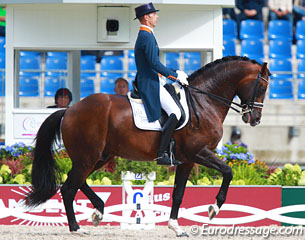 Jazz' most successful offspring competing at the top, at the moment, is Carl Hester's En Vogue, and Jill Irving's Arthur. 
"As the official and reliable source of verified rankings based on FEI performance data, the WBFSH Sire Rankings have long been the barometer of the global sport horse breeding industry," Eva-Maria Broomer of the WBFSH stated. "The rankings provide an invaluable resource to breeders in identifying breeding trends and sire lines who have proven themselves again and again in breeding the top performers in the sport."
Documents: 2021 WBFSH Sire Ranking - Top 100 with progeny
Photo © Dirk Caremans
Related Links
Johnson Storms to the Top of 2020 WBFSH Dressage Sire Ranking
De Niro Tops 2018 WBFSH Dressage Sire Ranking
De Niro Tops 2017 WBFSH Dressage Sire Ranking
De Niro Tops 2016 WBFSH Dressage Sire Ranking
De Niro Tops 2015 WBFSH Dressage Sire Ranking
Gribaldi Leads 2014 WBFSH Dressage Sire Ranking
De Niro Leads 2013 WBFSH Dressage Sire Ranking
De Niro Tops 2012 WBFSH Dressage Sire Ranking
Jazz Continues To be the Number 1 Dressage Sire on WBFSH Ranking
Jazz Tops WBFSH Dressage Sire Ranking for 2009
Jazz, Most Successful Dressage Sire on the 2008 WBFSH Ranking
The Inaccuracy of the WBFSH Ranking