Oldenburg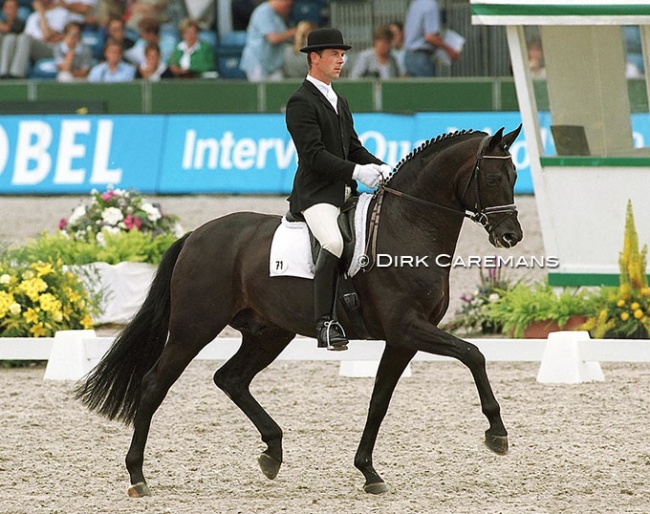 The legendary breeding stallion Sandro Hit has passed away at age 28. Sandro Hit created a totally new bloodline for dressage horse breeding and gave new impetus to the dressage wing of Paul Schockemöhle's stallion station in the 2000s.
"At the blessed age of 28 year the foundation stallion and line creator had to be let go of with a heavy heart," Schockemöhle communicated. "Due to a brief infection, his general condition deteriorated. The painful treatment was something we didn't want to put him through out of respect for him, because according to the vet team, there was no prospect for improvement."
Licensed but not Immediately a Breeding Star
Bred by Reinhold Harder, Sandro Hit was by Sandro Song out of Loretta (by Ramino x Welt As x Luciano). He was born in 1993 and discovered by Paul Schockemöhle as a foal.
He was licensed at the 1995 Oldenburg Stallion Licensing in Oldenburg and only did his 100-day stallion performance test two years later in 1997 in Medingen. He scored 115.72 points for dressage and 82.17 points for show jumping, to finish with an index of 99.80 points (16th out of 33 participating stallions).
Although Sandro Hit was licensed, the stallion's breeding career only took flight in 2000 after his under saddle successes in 1999.
World Champion, Bundeschampion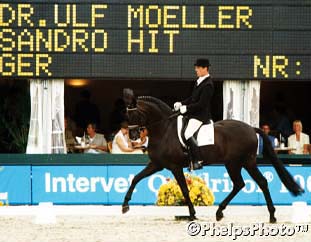 Under Dr. Ulf Möller the black stallion made a whopping impression at the 1999 World Championships for Young Dressage Horses in Arnheim, The Netherlands, where he won the 6-year old champion's title. The duo won every class with the sky high notes of 9.3, 9.7 and 85.94 points.
A month later Möller and Sandro Hit also won the 1999 Bundeschampionate in Warendorf. 
Sandro Hit not only put himself on the map as the most hyped stallion of the moment, but he also launched Ulf Möller's career as a young horse rider.
The stallion's competition career quickly came to an end. In January 2000 he was competed one final time at the Zwolle International Stallion Show and as of them breeding was his daily business. 
Most Hyped Breeding Stallion
While the 1990s were dominated by breeding legends Donnerhall and Rubinstein, the 2000s were dominated by Sandro Hit and his offspring. 
The black beauty was tremendously popular with the breeders for his good looks and model makers, although his offspring was known not to be the easiest.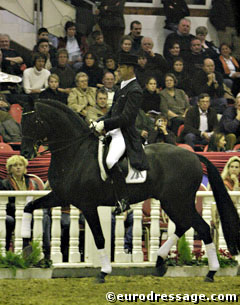 For a long time Sandro Hit offspring failed to make a break through at Grand Prix level, with many unable to properly take the weight behind and collect. However Sandro Hit had been bred to such a huge amount of mares, he had easy access to top broodmares that produced high quality offspring easily making it to international Grand Prix level. 
In the 2000s Sandro Hit had a full breeding book, year after year, even when his sons Sir Donnerhall and San Amour began taking over the lead role in Schockemöhle's stallion station, which they later shared with Furstenball and now Vitalis. 
In 2011 Sandro Hit was officially retired from making public appearances under saddle. 
Foundation Sire
Sandro Hit is a clear foundation sire who has become the name behind the S-line. 
The German equestrian federation has recorded no less than 191 sons as licensed stallions 297 daughters as state premium mares. Schockemohle counts the amount of licensed sons over 200.
From his first crop of foals comes licensed stallions Sunny Boy, Sandro Ace and Sommerlier, the next year Samba Hit I, Sandro King, and Show Star followed amongst others. Sandro Hit's most famous licensed sons are of course Sir Donnerhall, San Amour, and Stedinger, but names such as Sancisco, Samarant, San Remo, Serano Gold, Blue Hors Soprano, San Schufro, and many more are well known.
In 2017 and 2019 Sandro Hit ranked second on the WBFSH Dressage Sire Ranking, in 2019 he was third. 
Sandro Hit became Paul Schockemohle's flagship dressage stallion that heralded a new age of commerce for his stallion station.
Offspring in Sport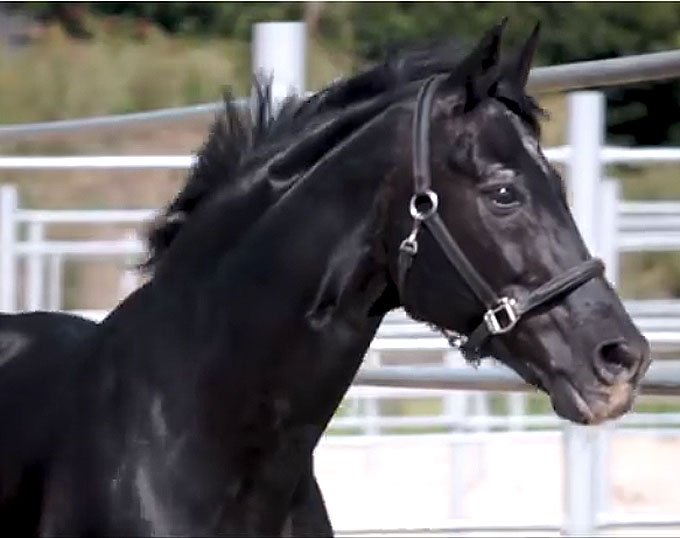 Sandro Hit sired numerous offspring that won titles, medals and trophies in sport. 
At the 2021 Tokyo Olympic Games Showtime FRH (Dorothee Schneider) won team gold and Salvino (Adrienne Lyle) team silver. Several Sandro hit grandsons competed in Tokyo, amongst them Sir Donnerhall II (Morgan Barbancon), Sanceo (Sabine Schut-Kery), Sambuca (Heike Holstein), Suppenkasper (Steffen Peters), Scolari (Shingo Hayashi), Sebastien (Lindsay Kellock), and Samhitas (Kelly Layne).
Sandro Hit sired eleven Bundeschampions, including Sisters Act von Rosencarree (Dorothee Schneider), Sir Donnerhall (Ulf Möller), San Rubin (Ulf Möller), San Francisco (Kira Wulferding), Silberaster, and Poetin (Kathrin Meyer zu Strohen), as well as medallists at the World Young Horse Championships: Poetin, Polka Hit Nexen, Soliere, and St. Emilion. Other championship offspring that excelled in sport are Santana (Minna Telde), Selten HW (Anders Dahl), Statesman (Naima Moreira Laliberte).
A Legend
Sandro Hit was Paul Schockemohle's flagship dressage stallion in the 2000s and he heralded a new age of commerce for his stallion station.
"I am very happy to have quality sons by Sandro Hit at my station, which preserve his wonderful genes," Schockemöhle commented. "It was a hard goodbye."
Photos © Dirk Caremans - Mary Phelps - Astrid Appels - private
Related Links
Eurodressage Photo Database: Dr. Ulf Möller - Sandro Hit
Video of Sandro Hit in His Paddock in Honour of International Day of Friendship
Dr. Ulf Möller and Sandro Hit Retire from the Show Scene
Sandro Hit Euphoria At One of the Best Oldenburg Stallion Licensings Ever
Sandro Hit's Dam Loretta Passed Away
Sandro Hit, 2011 Leading Dressage Sire in the U.S.A.
Sandro Hit, USEF Dressage Sire of the Year 2010
Sandro Hit: Example of the Perfect Dressage Horse
Sandro Hit Hits Heaven in Second 6-year old Qualification Round
Roval Investment and Sandro Hit World Young Horse Champions