2021 USDF Dressage Finals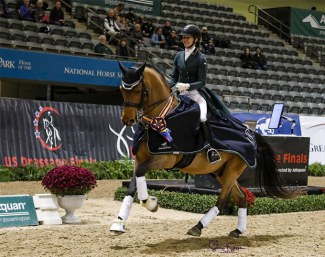 Lucy Tidd, Kristen Wasemiller-Knutson, Katherine Abrams, and Anartz Chanca won the FEI level freestyle titles on day three of the 2021 USDF Dressage Finals in Lexington, KY, on 13 November 2021. 
Storybook Ending for Tidd in Grand Prix Adult Amateur Freestyle Championship 
When the US Dressage Finals first debuted in 2013, Lucy Tidd of Poolesville, Md. (Region 1) was one of those competitors who couldn't wait to be a part of the brand new event. Taking a break from her busy practice as a small animal veterinarian, she traveled to Kentucky with her then four-year-old Dutch Warmblood gelding Ellert HB (Johnson x Alanda-B by Sydney) and came away with both the Training Level and First Level Adult Amateur titles. "I look back at the photos from that year and I just can't believe how he's changed – he was such a baby back then," she remembered.
Tidd has come back to the Finals every year since as her horse grew up and rose through the levels, and this time the story came full circle when the pair found themselves in the winner's circle for the Grand Prix Adult Amateur Freestyle Championship as the only combination in the hard-fought class to earn 70% and claim the Calaveras County Perpetual Trophy (presented by Olva Stewart Pharo). 
After a fifth-place finish in the previous day's Grand Prix class, Tidd was determined to improve on her performance for the freestyle. "I was super excited about today and wanted to get him to be a little bit sharper and more expressive, and just really go for it out there," Tidd explained. "And he rose to the occasion and was just a super good boy. I feel like his collected work and piaffe are very strong, plus he's a solid citizen and really does not have any big holes. 
"He's my first Grand Prix horse and he's so talented," Tidd continued. "We're learning all of this together and now I'm just trying to fine-tune things and get out of him what he is truly capable of. I remember thinking on the drive here that it would be such a wonderful storybook ending for us to win this year, and here we are. Plus he's only 12 which is relatively young for a Grand Prix horse, so hopefully we have a long way to go and many more trips back to the Finals."
Family Tradition for Vashti in Winning Grand Prix Open Freestyle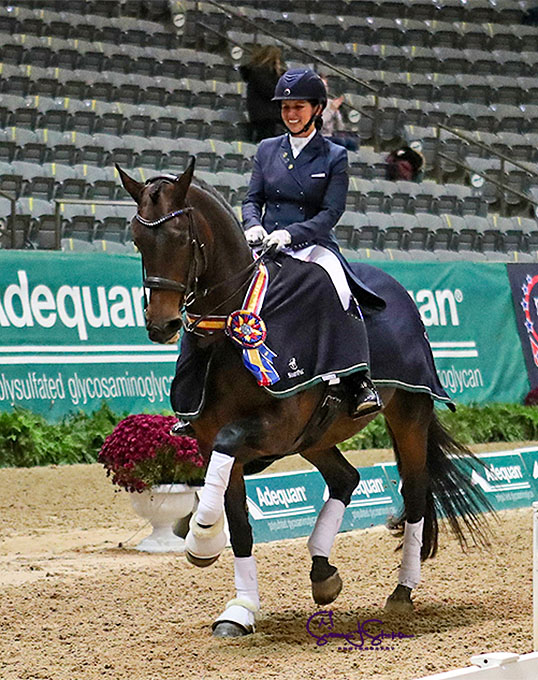 The Grand Prix Open Freestyle Championship was a fight to the finish as 23 of the country's top horse and rider combinations sought to have their names engraved on the Jazzman Perpetual Trophy (presented by Donna Richardson). As one of the last exhibitors to enter the Alltech indoor Arena, Kristen Wasemiller-Knutson of Oklahoma City, Okla. (Region 9) brought the crowd to its feet aboard her 12-year-old Friesian/Warmblood cross mare Vashti (by Nico x Thekla by Onassis, bred in the U.S. by Sherry Koella) as the pair earned 74.275% for their "The Grinch That Stole Christmas"-themed freestyle.
The victory was the continuation of a family tradition in the Finals Grand Prix Open Freestyle division as Vashti's half-sister Adiah HP won the last three editions (2017-2019) with rider James Koford. After finishing second to Adiah HP in 2019, this year was Vashti's time to shine.
"It is a fantastic feeling to win this and I have not stopped smiling.  Everyone is sending me texts and emails and it's so exciting," said Wasemiller-Knutson. "Over the last year with COVID, we really worked on polishing our basics to get a solid, clean test. She is a great showman in the arena, but in the beginning of the year she would get a bit tense going into the arena. Now we've gotten over that and she really gets into the performance, staying soft and happy while still having that feeling of a little extra excitement. Tonight she was super with the crowd and the atmosphere of the arena, and I couldn't be more proud." 
Persistence Pays Off for Abrams in Intermediate I Open Freestyle
After unfortunately finishing out of the ribbons in her first class at the US Dressage Finals, Katherine Abrams of Pembroke, Va. (Region 1) was "shocked and delighted" to find herself leading the victory lap for the Intermediate I Open Freestyle aboard Terry Abrams' 12-year-old Oldenburg mare Reina after earning a top score of 72.633% for their Madonna-themed performance. When the final scores were tallied, the top nine finishers all scored over 70 percent.
"I've come to the Finals a couple of times before with a Lusitano and a Quarter Horse but have never even placed, and now I'm here for the first time with Reina but once again didn't get a ribbon in yesterday's Intermediate I test," said Abrams. "So I'm in a state of disbelief to see today's results, but I guess I shouldn't be because she is amazing and is the most trainable horse I've ever had. Because of COVID we couldn't show last year so we spent all of our time just training at home and now it's paid off. Every day she just gets better and better and I feel so lucky to have a horse of this caliber. She's just like a dream horse for me."
Chanca Stays the Course to Win Intermediate I Adult Amateur Freestyle Championship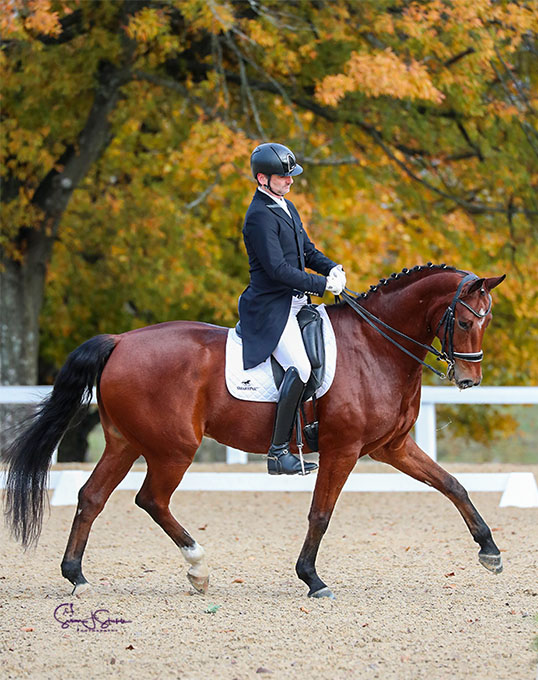 A slight bobble at the start of their test did not deter Anartz Chanca (Region 9) and his nine-year-old Oldenburg gelding Dazzle from trotting into the winner's circle in the Intermediate I Adult Amateur Freestyle with a top score of 69.942%. 
"Yesterday in our Intermediate I test in the Rolex Arena, and it was very windy with the judges' tents flapping a bit so he was a little worried about his surroundings, but still really tried to listen to me," Chanca explained. "Then again today he was a little distracted at first so we missed one of the changes at the start, but he just kept looking to me for direction as if to say 'okay, what do I do now?', so I am very proud of him. He's such a fighter and has a very big heart."
Working as business executive in Houston, Texas when not in the saddle, this was the first trip to the Finals for Chanca and his wife, who also competed in the open divisions as a professional. "We have three young children at home, a one-year-old and seven-year-old twins," Chanca noted. "It takes a lot of work to balance work and family with riding and competing, and we are so thankful to have such a great support system to be able to do this."
Text by Yellow Horse Marketing for the US Dressage Finals - Photos © Sue Stickle
Related Links
Crumbaker, Kohmann, Tarjan, Mason Win FEI Titles on Day Two of 2021 USDF Dressage Finals
Alice Tarjan and Heather Mason Take Inter II Titles at 2021 USDF Dressage Finals