Australia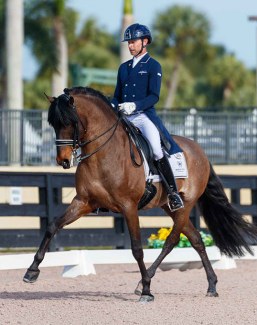 Wellington based Australian dressage rider Nicholas Fyffe has to say goodbye to his PRE stallion Fiero HGF. He was 13 years old. 
Fiero HGF was an American bred PRE stallion, sired by Spanish Olympic team stallion Grandioso III out of Ibiza (by Galan XVI). He was bred by Kimberly van Kampen at Hampton Green Farm in Michigan. 
Robert Dover
In the autumn of 2010, Fiero sold as a 2.5 year old to U.S. Olympian Robert Dover in Wellington, Florida. The bay stallion was first backed and trained by Nicholas Fyffe, who was just in his first months living in the U.S.A. and worked for Oded Shimoni, who at the time was based at Stillpoint Farm just like Dover.
Two years into training Fiero, Fyffe became part owner of the horse and as he gradually developed the stallion to FEI level he became full owner of the horse. 
CDI Grand Prix Debut in 2020
Fiero was gradually produced up the levels and shown nationally. In 2016 he won the USDF P.R.E. All Breeds Award at Grand Prix and got listed on the Australian National Dressage Future Squad. The pair also regularly rode exhibitions at US. PRE Week during the Global Dressage Festival where they showcased their training and were a flagship for American PRE breeding.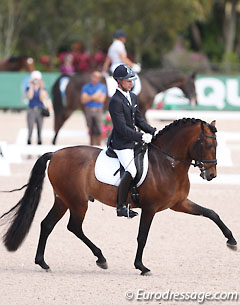 Unfortunately laminitis began to mar with Fiero's health and show career. Between 2016 and 2018 the bay was sidelined close to two years. 
Fiero recovered and in 2020 the duo made its long-awaited international show debut at Grand Prix level at the CDI Wellington in January 2020. They competed at three CDI's that winter, which turned out to be both Fiero's and Fyffe's last international starts.
Untimely Passing
Two weeks ago, Fyffe announced the untimely passing of his beloved stallions. 
"I've been married to Fiero longer than my actual husband," he once said about the partnership with Fiero. In his memory, Nicholas also wrote, "a decade together living life's ups and downs. The downs were more up just having you around. A born performer, character impossible to fault. Cursed by Laminitis, bringing your life to a halt. Your stall may be empty but your spirit remains."
Photos © Astrid Appels - Lily Forado
Related Links
Eurodressage Photo Database: Fiero HGF
A Magical Week for PRE Lovers During 2017 USPRE Week in Wellington
Winners of the 2015 Copa USPRE and Final Rankings
Meet the USPRE 2015 Dressage Team
Australian Dressage Squads for 2016 Announced
Australian Dressage High Performance and Recognition Squad for 2015 Updated
2014 USPRE Night Leaves a Lasting Impression