Canada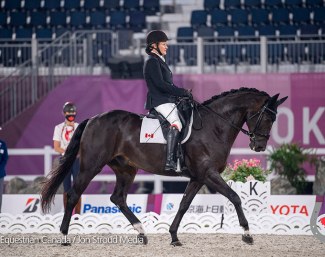 Equestrian Canada (EC) would like to introduce and invite Para-Dressage athletes aged 18 and over to apply for the Bridging the Gap Training Bursary with Lauren Barwick.
"The sport of Para Equestrian has given me an abundance of opportunities over the years. My pursuit of equestrian excellence has allowed me to develop a business based in the heart of horse land Ocala, FL," said Barwick.
Barwick, Canada's most decorated Para-Dressage athlete with two Paralympic Games and two World Equestrian Games medals to her credit has joined forces with EC to provide this unique training and development opportunity to Canada's next generation of Paralympic athletes.
"Our developing riders need more opportunities that are friendly, supportive but guided from a performance standpoint I am really excited to be able to share my 22 years of Para equestrian experience and be able to help shape our sport for the future," said Barwick. 
Earlier this year, the five-time Paralympian Barwick closed out the final equestrian event at Tokyo 2020, finishing sixth in the Grade III Individual Freestyle. She has graciously opened the doors to her training facility in Ocala, FL for this annual bursary. "It's important to me to help keep our sport strong and progressing forward with competitive riders," said Barwick.
The purpose of the 'Bridging the Gap Training Bursary' is to develop the next generation of Canadian Para Dressage athletes. Throughout the week, you will receive expert instruction on a variety of horsemanship topics in addition to intensive training sessions.
"The bursary with EC is an exciting new project in the development of Para Dressage in Canada" said EC, Para-Dressage Technical Advisor, Clive Milkins. "An opportunity to train with one of the best clinician's and horse women in the world to improve both your dressage skills, and an understanding of practical natural horsemanship in a wonderful environment of Ocala, FL, I look forward to working with the successful applicant and watch their para dressage journey".
Selected athletes will receive
Two weeks (5 lessons per week) of private training with Barwick
Accommodations
Horse board
EC $5,000 financial bursary to support with transport and meal expenses
The selected athlete will organize directly with Barwick the schedule for these sessions. More info here. 
Photo © Jon Stroud