2021 CDI-W London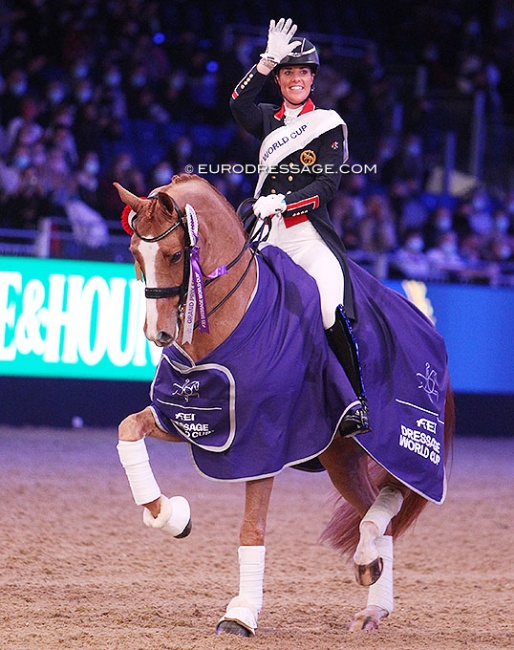 Great Britain's Charlotte Dujardin and the fabulous little 10-year-old chestnut gelding, Gio, stole the show at the fourth leg of the FEI Dressage World Cup™ 2021/2022 Western European League in London (GBR) tonight.
Already victorious in yesterday's Short Grand Prix, the pair who took team and individual bronze at the Tokyo 2020 Olympic Games in July and team silver and Freestyle bronze at the FEI Dressage European Championships in Hagen (GER) in September posted a massive Freestyle score of 89.040 to put the result beyond doubt when last to go of the 15 starters.
And it was a British one-two when compatriot, Charlotte Fry, produced a fabulous test for a mark of 81.945 and second place, while Germany's Fredric Wandres and Duke of Britain FRH slotted into third when putting 80.260 on the board. 
Different Roof, Same Roaring Crowds
The London leg of the FEI Dressage World Cup™ Western European League may have been under a different roof whilst Olympia undergoes renovations, but the atmosphere and Christmas vibe was as pumped as ever. Those who travelled to the Docklands venue, as well as those watching from home, were treated to a thrilling evening of competition.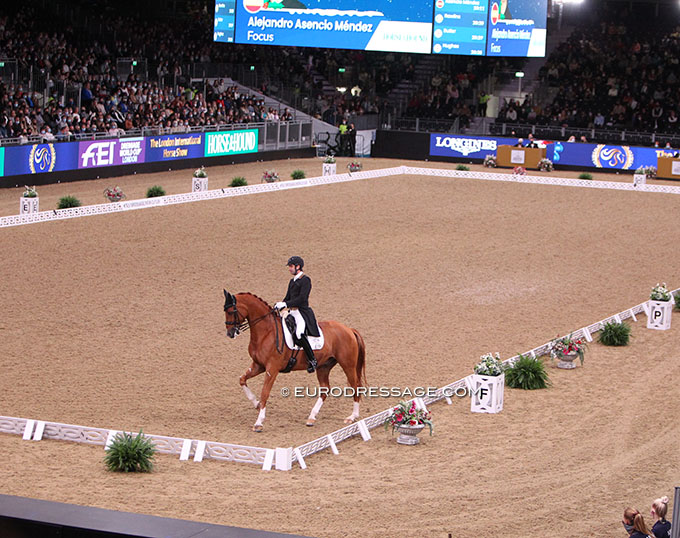 It was an action packed second day of The London International Horse Show at ExCeL London. In addition to spectacular international competition in three FEI disciplines; Driving, Dressage and Jumping, the Show hosted a dedicated Medal Parade to celebrate the achievements of the equestrian Team GB athletes at this summer's Olympic Games and European Championships.
Additional achievements were acknowledged across the course of the day, with the British Equestrian Writers Association Lifetime Achievement Award presented to Carl Hester and British Dressage International Champions Trophy awarded to Charlotte Dujardin and her Tokyo 2020 Olympic mount Gio, as the highest placed British combination at this year's championships.
Dujardin ExCels
Charlotte and 'Pumpkin' concluded their fantastic 2021 in the best style at this iconic Christmas show. Adding to yesterday's decisive win in the FEI World Cup shortened Grand Prix, Charlotte and the diminutive chestnut gelding hit the ball out of the park with a phenomenal freestyle for 89.040%.
The judging panel of Peter Storr (GBR) at E, Susanne Baarup (DEN) at H, Stephen Clarke (GBR) at C, Raphael Saleh (FRA) at M and Eduard de Wolf van Westerrode (NED) at B duly declared them unanimous winners.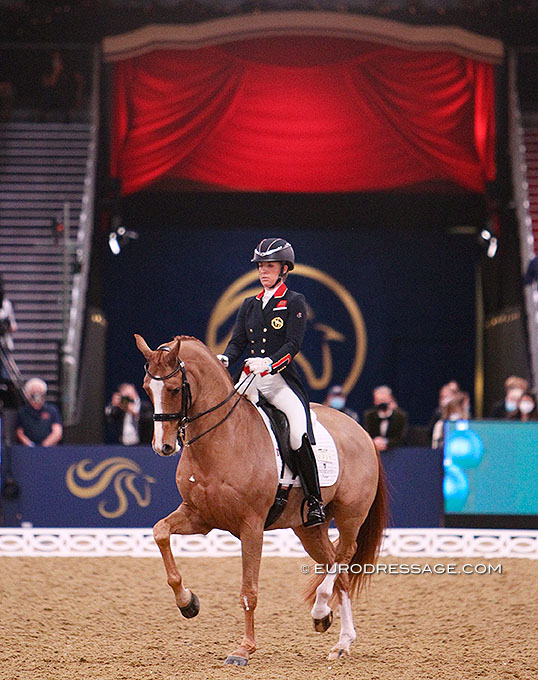 Ten-year-old Gio (by Apache x Tango), now owned by Sarah Pidgley, had until yesterday never been exposed to an indoor competition of this calibre, but again he took it in his stride with his trademark enthusiasm and charisma. Charlotte and 'pocket rocket' Gio, who stands just 16hh, presented another performance of energy, poise and power showing incredible connection through the body.
"Riding with such a huge crowd behind you, I've actually forgotten what it's like," said Charlotte after the prize-giving. "To go in there and just feel that buzz is amazing. Gio has never done an indoor show and not done anything with those vibes. I can't tell you how proud I am of him.
"He's been amazing this year; he's done his first Olympics, his first Europeans and then to finish the year like this. He's come on so quickly," she continued. "To finish my year with two personal bests in that atmosphere is extraordinary. You can't create that sort of atmosphere, except for riding in it. He definitely proved what sort of horse he really is as he took it on like a real showman."
Watching from the crowd this evening, mentor and British teammate, Carl Hester, said: "It's an amazing score and he's an amazing horse who gives his all, they thoroughly deserve it. The programme is extremely difficult as you could see. It's a little bit disturbing when you watch somebody so good and a horse that's so good that you don't realise how difficult the movements that she's doing are, because she spins together these incredible movements and the horse just responds so beautifully, so I'm not surprised at the score."
Fry Finishes Second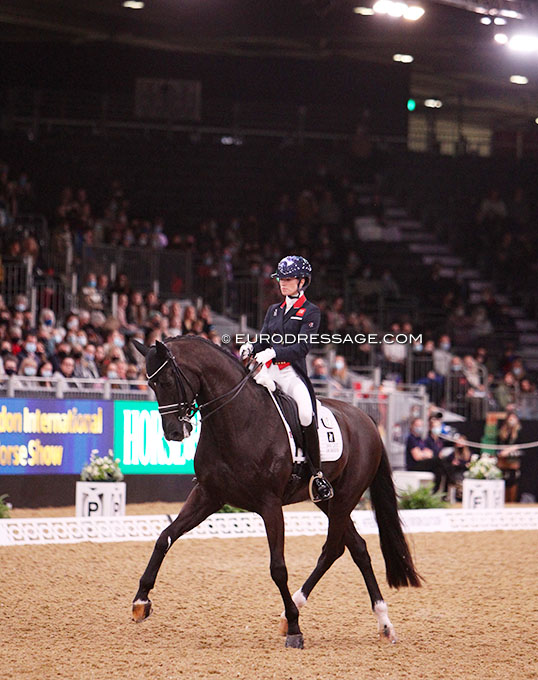 Charlotte's Tokyo teammate, Lottie Fry once again showed her maturity and class to place second with her own and Van Olst Horses' Dark Legend (Zucchero x Tango). Riding to their new-this-year freestyle programme, 'Let me take you dancing', the Yorkshire-born 25-year-old gave a masterclass of precision riding, balance and musicality. Two-time changes into one-time changes on a turning line were stunning, as were canter half passes into pirouettes into half pass. Aside from a loss of rhythm in one of the right pirouettes, the test was immense.
Contemporary music and a well-executed high degree of difficulty was rewarded with 81.945%. "It was incredible in there," said Lottie afterwards. "Even before you start your test they're cheering for you – it's an insane feeling.
"It's so quiet when you're riding your test," she continued. "You can hear a pin drop but as soon as you finish, everyone is just so happy for you. This year couldn't have ended any better, it's really insane – the perfect end to this amazing year."
Wandres Third, Jets to Frankfurt for German Finals
London regular, Frederic Wandres (34), and his aptly-named ride Duke of Britain (by Dimaggio x Rubinstein) were another combination to break the 80% barrier. An Olympia winner in 2018, the young German sporting his trademark bow tie and riding to a compilation of well-known British pop classics delivered a super test for third place. A couple of glitches in the changes was costly for the pair but an overall cracking test was awarded 80.260% for the third place behind Dujardin and Fry.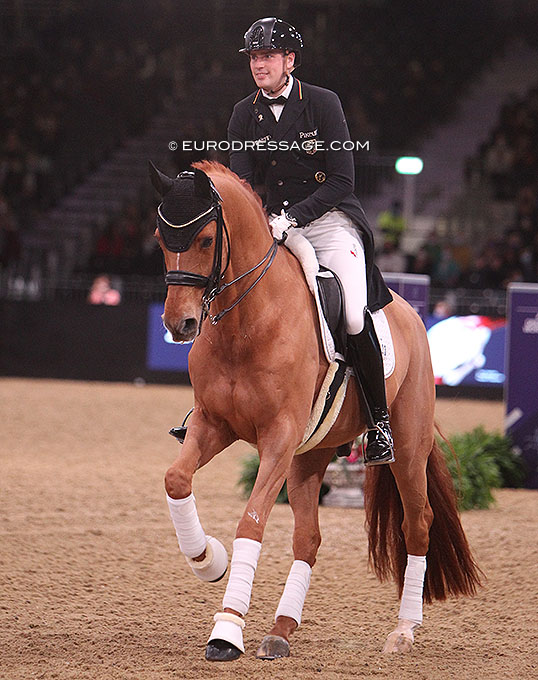 "I'm very happy to have come here – all the paperwork to get here has been challenging but I really wanted to come as I have such special memories of London," said Frederic. "To be so close to both Charlottes is great, I'm really happy with my horse."
Straight after the press conference, Frederic was off to London City airport next door to the ExCel exhibition center for a midnight flight to Frankfurt, where on Saturday he has to compete two horses in the German Nurnberger Burgpokal and Louisdor Cup Finals in Kronberg. 
The first International Horse Show took place in the Olympia halls in 1907. Olympia, The London International Horse Show, was founded by Raymond Brooks-Ward in 1972 and has run annually in December for nearly 50 years.  This year's Show will take place from 16-20 December 2021 at ExCeL London. 
Photos © Astrid Appels
Related Links
Scores: 2021 CDI-W London
Dujardin Sets the Tone in Short Grand Prix at 2021 CDI-W London ExCel
2021 Edition of CDI-W London at Olympia Moves to New Venue, ExCel London
Dujardin and Olympic Partner Gio Headline Stellar Line-Up for 2021 London International Horse Show