2022 CDI-W Wellington - Global Dressage Festival / Week 1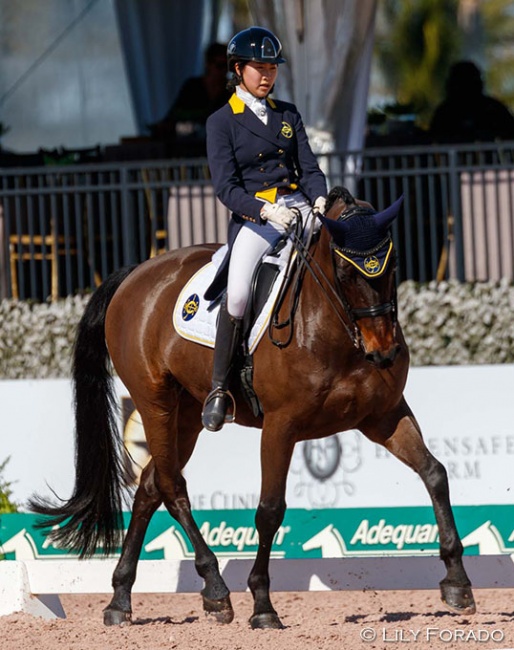 Hong Kong's Samantha Grace Chan made a double premier on 13 January 2022 at the CDI Wellington. On the first day of competition at the 2022 Global Dressage Festival, the 19-year old rode down the international centreline for the first time in her life, debuting a new ride, DSP Fierro, who is a familiar face in Europe. 
DSP Fierro is a 12-year old Saxonian-Thuringian bred gelding by Furst Wettin out of Equisa (by Eskadron).
He is bred by Sabine Bandekow at the Häusliche Kinderkrankenpflege in Vierlinden. He was originally named Friedensreich. 
Linda Erbe
Originally owned by Erbe family as a junior hopeful for pony riding daughter Linda, Fierro was first competed as a 6-year old by David Lessnig before Linda took over the ride. 
Linda made her debut on the youngster in the summer of 2016. Their highlight season was 2017 when they finished second in the Preis der Besten at junior level and qualified on the German team for the 2017 European Junior Riders Championships in Roosendaal, where they won team gold, individual bronze and kur silver.
A year later they won the Preis der Besten and at the 2018 European Junior Riders Championships in Fontainebleau they got team silver and landed a seventh place in the individual test. They finished the year with silver at the 2018 German Junior Riders Championship.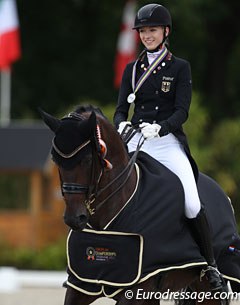 At the end of 2018 the pair moved to Young Riders level and competed at the German team selection trial in Hagen, but were not nominated on the Young Riders team. They were sixth at the 2019 German Young Riders Championships. The duo's last competition was in February 2020 at the CDI Lier. 
Sold to Hong Kong
After Lier, Fierro did not compete for a year and a half.
He returned to the arena in June 2021 with Linda, who is studying real estate, at a local show in Reken. Two weeks later trainer and horse dealer Christina Bender presented him once in an S-level test in Vreschen-Bokel, a month later her husband Jochen rode him once at the same venue. 
In October 2021 Fierro sold to Hong Kong by Hof Kasselmann to a trio of owners comprised by Grace Lin, Man Wai Mark Chan and rider Samantha Grace Chan. 
Wellington Debut
With no international experience at all, Chan gathered her courage and rode down the centerline in the Prix St Georges 1* in Wellington on a brand new horse. They posted 61.6% to place sixth.
Chan has been riding since she was 8 years old, spending five days a week at the Beas River Equestrian Centre in Kwu Tung.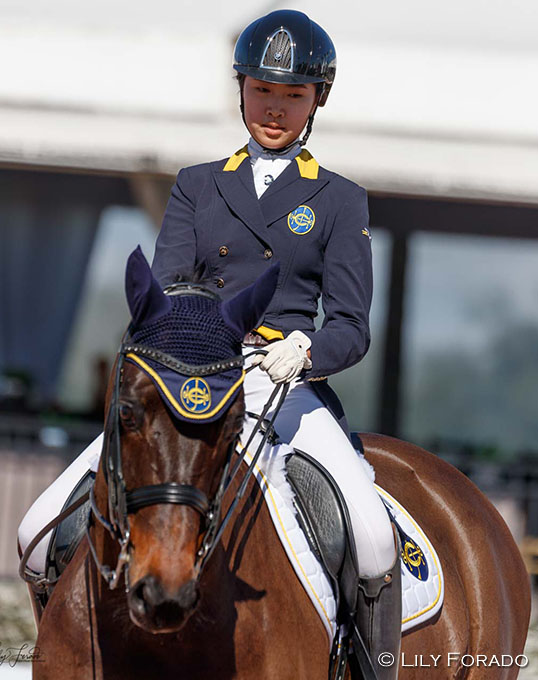 In 2017  she made her first mark in sport by finishing fifth in the FEI World Dressage Challenge in the Youth Class. In 2018 she won the bronze medal in the dressage individual final at the National Youth Games in Hong Kong on a borrowed horse, an 8-year old named Xiao Liang Liang.
In 2020 she graduated from Chinese International School and went on to study science and technology at Cornell University in the U.S.A.
Samantha has now taken a sabbatical though to prepare herself for the 2022 Asian Games in Hangzhou, China in September. She began riding Fierro just two weeks ago and is spending the winter in Florida to immerse herself completely in the competition atmosphere of Wellington and learn under the tutelage and care of the PSI / Hof Kasselmann team.
Photos © Lily Forado - Astrid Appels
Related Links
German U25 Team Medal Winner Hannah Erbe to Move to Hamburg to Pursue Medical Career
Baumgurtel, Schwierking, Erbe, Rothenberger Win 2018 Preis der Besten
Daphne van Peperstraten, Queen of the Kur at 2017 European Junior Riders Championships
Lang and Erbe Sisters Rule the Roost at 2017 Preis der Besten Qualifier in Kronberg