Germany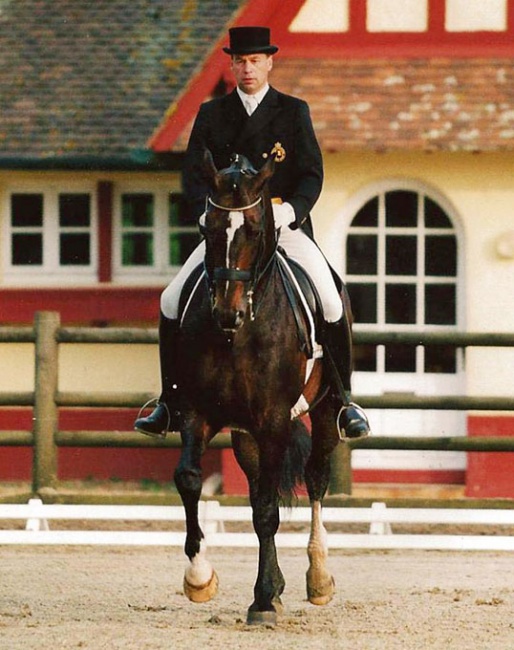 Mio d'Baugy, a Belgian warmblood licensed stallion who competed at international Grand Prix level with Johan Zagers and Andrea Landy-Silling, has passed away mid January 2022. He was 32 years old. 
Mio d'Baugy was by Sheyenne d'Baugy out of Cherry (by Feinschnitt I van de Richter x Istamboul x Dwinger x Allermeist).  He was born in 1989.
BWP Licensed Stallion
Owned by Marcel van Dijck, Mio was a licensed stallion with the Belgian Warmblood society (BWP) and initially stood at stud with Van Dijck in Broechem, Belgium.
He was initially started as a show jumpers but switched to dressage in 1995 when the German based Belgian Grand Prix rider Johan Zagers received the ride on the 6-year old. 
International Debut
Zagers trained Mio d'Baugy up to Grand Prix level. 
"After his switch from being a jumper to a dressage horse, he was successful at M and S level," Johan Zagers reminisced. "In his further training he struggled with the piaffe, but once he understood it, the piaffe-passage tour was his favourite exercise."
The pair made its German national show debut at M-level in Wulfrath in June 1996 and a year later did its first Prix St Georges test in Emmerich-Elten. Their first Grand Prix was in 1999
Zagers and Mio d'Baugy made their international show debut at the 2001 CDI Le Touquet in France on 11-13 May 2001, where he scored 63,535% in the Grand Prix Special.
Andrea Landy-Silling
Immediately after Mio's debut in Le Touquet, the stallion sold to Peter Silling for his then wife, Andrea Landy-Silling, who trained with Zagers at the time.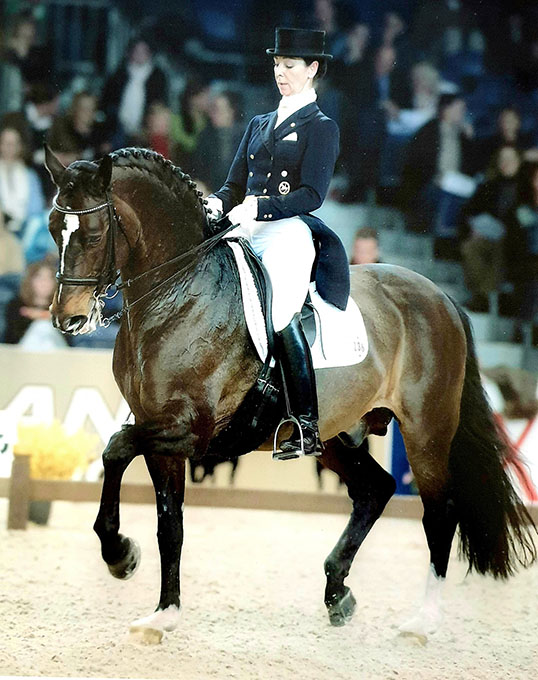 The 12-year old Mio d'Baugy became Andrea's first Grand Prix horse and schoolmaster. She competed him first in July 2001 in Köln-Leverkusen at S-level and in September she did her first Inter II test on him in Mainz. 
Andrea and Mio's CDI debut was in Italy at Pegaso in June 2002, where they were fifth. She campaigned the stallion through 2006 with international starts in Rotterdam, Saumur, Moscow, Pompadour, Zwolle, Lipica, and Piber. Their most active international year was in 2005. At national level they rode in the Hamburg Derby and became the 2003 Rhinelander regional champions.
Their last show was in April 2006 in Hünxe. 
Retirement
As Landy continued her Grand Prix career with Munchhausen TSF and Laverno NRW, her dark bay stallion Mio d'Baugy was retired from sport in 2006.
He spent his days as a pensioner at Volker Eibel's stable Lerchenhof near Cologne.
"In your 35th life year (sic, Mio was born in 1989) you have decided that it was enough to stay amongst the living and decided to change for greener pastures," Andrea Landy wrote. "I let you go, even though there were many tears in my eyes and heart, but knowing you would be fine on the other side. We had a great time together, my dear Mio. You helped me to accomplish the leap into the big tour of dressage."
Photos © private 
Related Links
Scores: 2001 CDI Le Touquet
Scores: 2005 Zwolle International Stallion Show
Scores: 2005 CDI-W Lipica
Scores: 2004 CDI Saumur
Scores: 2005 CDIO Rotterdam
Scores: 2005 CDI Saumur
Scores: 2005 CDI Pompadour