2022 CDIO Wellington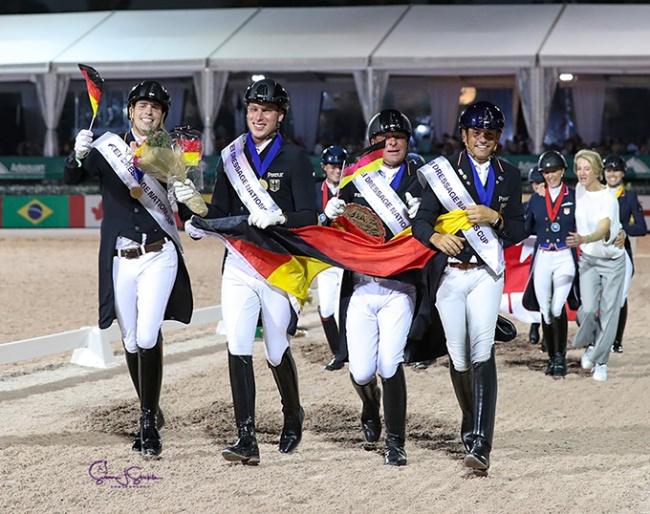 The opening leg of the 2022 FEI Dressage Nations Cup™ series hinted at a competitive season to come, as defending series' Champion Germany bested the United States by just over a percentage point in Wellington (USA).
Germany took the win with a final team score of 433.337%, while the team from USA were just behind in 432.265% for silver. Canada won the bronze medal with 409.091%. This was the second year in a row that Germany took the Nations' Cup victory in Wellington. 
"Last year it was a really big surprise, and it motivated us for this year. We all had a top day yesterday, and today it got very close again," said Michael Klimke.
Second Title for Germany
The Nations Cup format in Wellington is different from the legs in Europe, as the American instalment allows for mixed small and big tour teams. The nations' ranking is decided over two rounds (PSG+ Inter I - GP + GPS).
Strong starts defined the weekend at the Global Dressage Festival in Wellington, Florida, as the opening day results from Michael Klimke (Harmony's Sanrino RHP), Christoph Koschel (Dünensee), Lars Ligus (Soccer City) and Frederic Wandres (Dolciario) could not be caught by the American contingent, who were the first official series champions in 2016.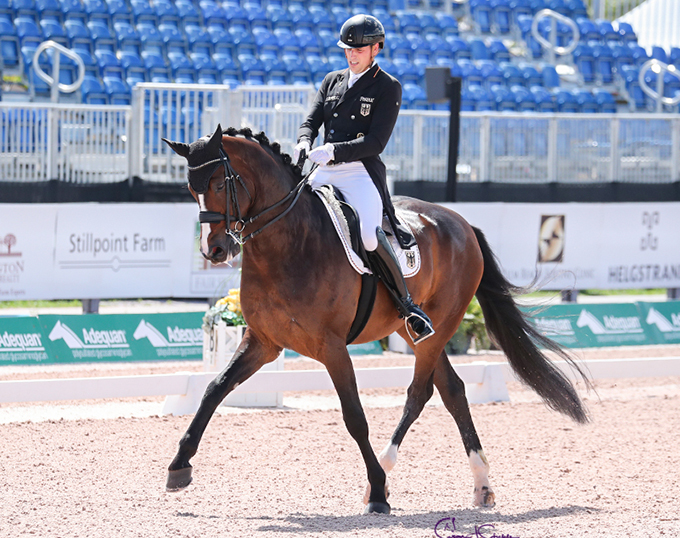 Klimke and Wandres each pulled weight for their team, with Klimke winning Thursday's Grand Prix. He piloted Harmony Sporthorses' Sanrino RHP, a 13-year-old Oldenburg stallion by San Remo OLD to scores of 72.652% in the Grand Prix CDIO3* and 70.755% in the Grand Prix Special CDIO3* (both scores including the +1.5% for competing in the big tour classes).
"Yesterday I had a really good and clear test. I was very happy," said Klimke, who said Harmony's Sanrino RHP is competing in only its third CDI. "He's a little bit nervous. Today I must say I was also really happy until the half-pass to the right; I lost it a little bit in the change to the right. I was a bit disorganized. He's already 13, but he has not much experience. I was more happy with my horse today than with me."
Koschel's score of 72.202% was enough to give Germany the win. He and Dünensee, a 13-year-old Hanoverian gelding by Dancier, also contributed a 72.522% in Thursday's Grand Prix class.
"I'm really happy with my horse. We are a very new combination," he said of the horse that he only ridden in one previous CDI. "I have to say a big thank you to Terri and Devon Kane and Kevin Kohmann and the whole team from Diamante Farms who are letting me ride this horse. It's really a fantastic horse. We are very new together, so we have to find the buttons a little bit. That will come. Overall I'm very happy. There was team spirit and I'm happy that we won."
German small tour combination Wandres and Dolciario gave Germany its best Day 2 score in winning the Intermediate I, receiving 73.176 from judges Stephen Clarke (GBR), Carlos Lopes (POR), Michael Osinski (USA), Mariette Sanders - van Gansewinkel (NED) and Knut Danzberg (GER).  Wandres and the eight-year-old Hanoverian gelding Dolciario (by Danciano de Malleret) that he owns with Hof Kasselmann, gave a fantastic performance in their first Intermediate 1 test with a top score of 73.176%. They received a 72.030% in the Prix St. Georges.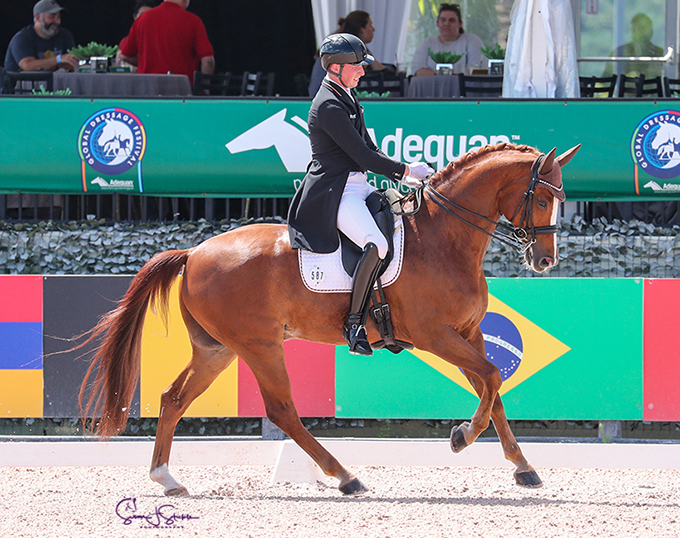 "The team can only be successful if all of us are fighting until the end, and we really did that," Wandres said. "[Dolciario] is just 8 years old, and this is his first CDI tour this season. I was already very happy yesterday, but today was his first Intermediate 1."
Frederic added how special it was to compete with Lars Ligus on the German team. "He is always next to my side during all of the big CDIS," expressed Wandres. "He is my partner, my groom, my mental coach; everything all in one. This time he had the chance to compete here also, and he did it very well. The team can only be successful if all of us are fighting until the end, and we really did that."
Ligus was competing not only in his first Senior Nations Cup, but in his first CDI and small tour competition. He and and PSI auction horse Soccer City, a 15-year-old Hanoverian gelding by Sir Donnerhall I owned by Katherine Kuss, scored 65.706% in the Intermediate 1 and 71.530% in the Prix St. Georges.
"I only rode this horse four times before I got here," he said. "I have to say a huge thank you to the owner Katie Kuss. Yesterday it was very good with no mistakes, and I was very happy about that. Today he got a little tired, and I don't know him that much to go through all of this. I'm very happy to have that experience and that opportunity, that I can ride here and also win here in the Nations Cup for Germany."
Silver for Home Team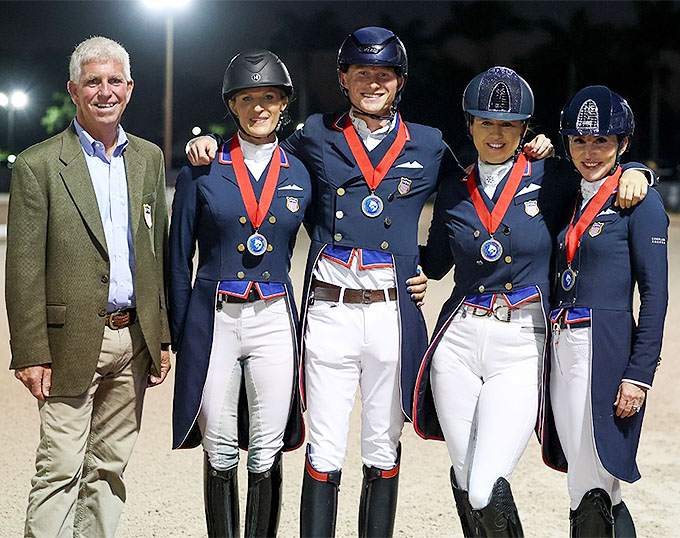 While Thursday's results provided a slight cushion, the United States rallied strongly on Friday in the Grand Prix Special to keep the standings incredibly close. Twenty-two-year-old Benjamin Ebeling took won the deciding event—the Grand Prix Special—receiving 73.649 aboard Indeed, a mount he's only campaigned since the beginning of the year. Bianca Berktold (Imperial) won the Prix St. Georges (72.441) added a 72.676 score to finish second in the Intermediate I in her first senior Nations Cup.
"I think my teammates can be really happy with their rides. I'm certainly very happy with my ride," Ebeling said.  I love riding Indeed. I think it's so much about my riding, but more about my coaching, from Christoph Koschel and also my dad Jan Ebeling, who did a fantastic job training this horse. I'm just lucky that I get to ride her. She's got a lot of power in there and today you could really see it, and I really felt it. For me, that's something that I'm really excited about."
"I was not aware of how close it was. It was very exciting," added Koschel, who finished second to his student in the Grand Prix Special. "There was team spirit, and I'm happy that we won. I have to say big congratulations today to Ben for winning the class, well done."
Canada Third
Canada landed third place in the team ranking.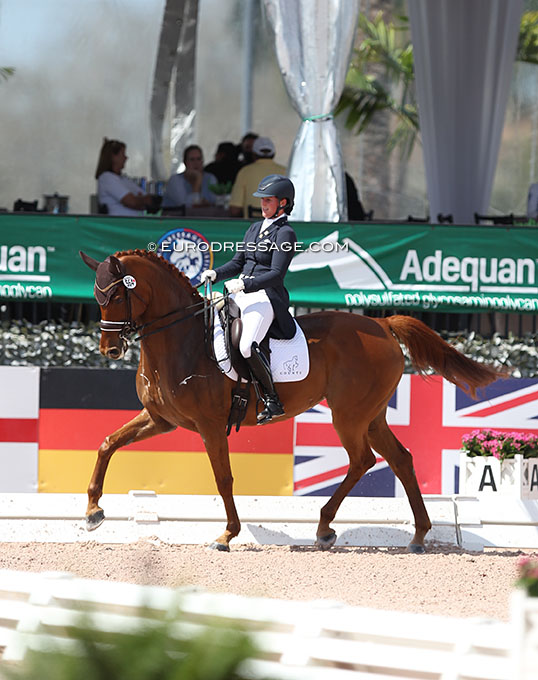 For the Canadian team, it was 24-year-old Beatrice Boucher who led with their high score on Thursday with 69.912% in the Prix St. Georges. She and Summerwood's Limei, a nine-year-old Hanoverian mare by Londonderry owned by Monica von Glahn, returned for the Intermediate 1 for a score of 67.647%.
This was Boucher's first Senior Nations Cup and only her third show back together with Summerwood's Limei, a horse she rode in its four-, five-, and six-year-old years.
"I did the U25 Nations Cup last year," said Boucher. "Moving up to the Senior team, there is an expression in French that is like 'la court de grand.' It's really like you go into the big league, and the spirit of big competition and team work. It's really a big step up, and I like it."
Also competing for Canada were Pia Fortmüller and Frieda, Megan Lane on Zodiac MW, and Evi Strasser with Déjà Vu Tyme.
With just three teams competing, Wellington's leg will not offer series points. The FEI Dressage Nations Cup™ season will resume 5 - 8 May at Mariakalnok (HUN).
Text FEI/GDF, edited by Eurodressage
Photos © Sue Stickle - USEF - Astrid Appels
Related Links
Scores: 2022 CDIO Wellington
Canada Wins U25 Nations Cup, Germany Leads Half-Way, Charlotte Jorst in Command at 2022 CDIO Wellington