The Netherlands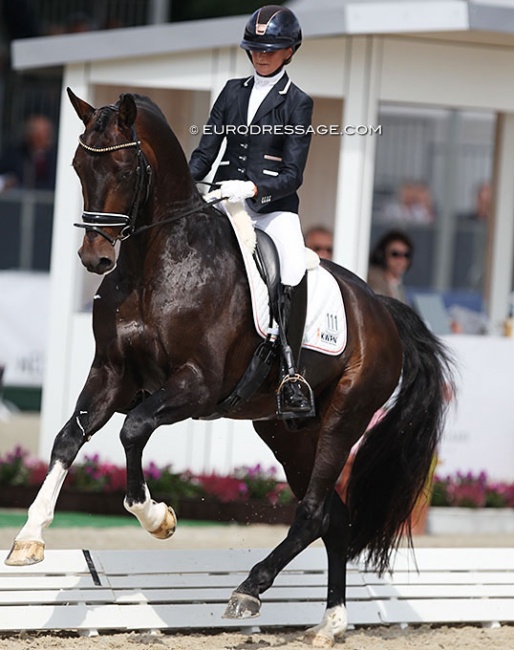 The Dutch Equestrian Federation and KWPN breed society are organizing their first observation and selection trial for the Dutch team for the 2022 World Young Horse Championships. 
The 2022 WCYH will be taking place in Ermelo, The Netherlands, on 8 - 11 September 2022. 
The KNHS and KWPN hosts a series of "observation trials" after which a long and short list are drafted.
The selection process began on 22 and 24 March 2022 in Nunspeet with two "wild card" days where combinations could present themselves who were not automatically qualified for the process via the Pavo cup (15 per age category), the Phryso Cup (6 per age category), or last year's WCYH in Verden. 
The first observation training day and selection trial is in Ermelo on 11 and 12 April 2022. 
The invited combinations are:
5-year olds
Hans Peter Minderhoud - My Toto (by Toto Jr)
Femke De Laat - Maximus-H (by Zonik)
Diederik Van Silfhout  - Mister Maserat (by Toto Jr)
Britt Muis  - It's Britt's Ernst K (by Markus 491)
Martha Van der Meulen - Elbrich fan 'e Herdershoeve (by Jehannes 484)
Renate van Uytert - van Vliet  - My 7th Sunday (by In Style)
Corina van den Bunt - Edon van Groot Altena (by Julius 486)
Wesley Mulder - Mascotte-Strh (by Toto Jr)
Benedek Pachl - Hexagons Gorgeous Black Art (by Toto Jr)
Diederik Van Silfhout - Kenzo (by Glamourdale)
Fleur Prinsen - Messy D (by Dream Boy)
Diana Van de Bovenkamp - Kyando (by Arlando K)
Jessica Thomas - Maddox Mart (by Hennessy)
Kim Noordijk - Medea (by Furst Romancier)
Femke De Laat - Mission (by Eye Catcher)
Dinja Van Liere - Mauro (by Zonik)
Amber Hage - Mercurius ACM (by Dream Boy)
Susan Wind - Diesel Galloper (by Omer 493)
Curro Benitez Sanchez - Magic Johnson Van De Edcohoeve (by Johnson)
Melanie Woutersen - Mi Morena (by Toto JR.)
Annemijn Boogaard - Mr Magnum Bth (by Expression)
Dennis Ausma - Mexpression (by Expression)
Chantal Nijpjes - Macho N (by Toto JR)
Nina Van Mook - Macenta M (by Geniaal)
Kirsten Brouwer - My Precious (by Ferguson)
Kim Leduc - Mystery VDH (by Ferguson)
Vai Bruntink - Minte Lena (by Wynton)
Saskia Van Es - Montrachet (by Toto jr)
Quinty Vossers - Mister Malibu (by Fürstenball)
Charlotte Fry - Maxson (by Johnson)
Franka Loos  - Guiness (by Glamourdale)
Iris Sijtsma - Fedde vân de pôle (by Meinte 490)
Kirsten Brouwer - Magnum (by Furst Romancier)
6-year olds
Emmelie Scholtens - Las Vegas (by Ferdeaux)
Adelinde Cornelissen - Lloyd (by Governor)
Beni Pachl Hexagons - Luxuriouzz (by Johnson)
Dinja Van Liere - Leonidas (by Trafalgar)
Curro Benitez Sanchez - Lord Platinum (by Ferguson)
Nicky Snijder - L'Unique Sth (by Boston)
Esther Postmus - Coco WE (by Hessel 480)
Aitor Escamilla Bravo  - First Lewis (by Ferguson )
Amber Hage - Duval's Limoncello (by Capri Sonne Jr)
Adelinde Cornelissen - Luqiedo (by Aqiedo)
Dinja Van Liere -  Labarron (by For Romance)
Curro Benitez Sanchez  - Le Grand Ayden Hb (by Grand galaxy win)
Kirsten Beckers  - La Luce (by Glamourdale)
Jill Bogers  - Lennox U.S. (by Grand galaxy win)
Kirsten Brouwer - Lightning Star (by Ferguson)
Robin Heiden  - Lakewood (by Jazz)
Christianne Goes - Leonardo Vdt (by Zonik)
Marielle Spierings - Linskymorijke (by Negro)
Astrid Langeberg - Leco Vdv (by Negro)
Lisanne Veenje - Crystal Jede (by Alwin 469)
Kirsten Brouwer - Lennoxwaard (by Elcapone)
Nathalie Van der Endt - Duval's Luciano (by Zonik)
7-year olds
Femke De Laat - Kind Pleasure (by Governor)
Nicky Snijder - Knight Rider Sth (by Wynton)
Thalia Rockx - Koko JR de La Fazenda (by Toto Jr)
Rachelle Seijbel - King Of Diamonds (by Glamourdale)
Thamar Zweistra  - Hexagons Kaygo (by Capri Sonne Jr.)
Marten Luiten - Killer (by George Clooney)
Femke De Laat - Kroonjuweel Bh (by Sir Donnerhall)
Marieke Van der Putten - Kuvasz (by Glamourdale)
Charlotte Fry  - Kjento (by Negro)
Bart Veeze - Kyton (by Ferguson)
Najama Voogd - Kunz (by Ferguson)
Jamy Ummels - Kylian Riche D´Apardi (by Firestone)
Brecht D'Hoore - Kings-Dream (by Everdale)
Miranda Rongen  - Kir Royaal O (by Desperado)
Joy Geerts - Kind Of Magic (by All at Once)
Jessica Leijser - Kashmir (by Glamourdale)
Marieke Van der Putten - Keano (by Governor)
Robin van Lierop - Kardinale-Utopia (by Toto Jr)
Photo © Astrid Appels
Related Link
Eurodressage Coverage of the 2022 World Championships Young Dressage Horses