2022 Bundeschampionate Qualifier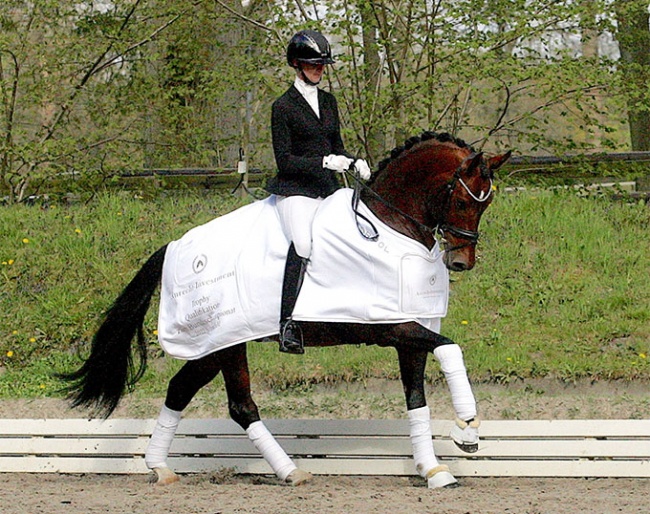 The 5-year old Va' Pensiero and the 6-year old Atterupgaards Barcelo became the winners of the Bundeschampionate qualification classes held at the  regional show at stable Klövenstein in Schenefeld on Saturday 30 April 2022.
5-YO: Va' Pensiero
Hannah Laser and the Felix-Ferdinand Becker's Hanoverian licensed stallion Va' Pensiero won the L-level dressage horse tests for 5-year olds in a modest field of just 8 horses.  Judges Ralph Schmidt, Ute von Platen and Michael Settertobulte rewarded the bay stallion (by Vitalis x Furstenball) with 9 for walk, 9.5 for trot, 8.5 for canter and submissionand 9.5 for general impression to total 9.0 for the victory.
The runner-up was Jacob Schenk on his own Hanoverian stallion Fontane (by For Romance II x Stedinger) with 8.0 points in total. The dark bay got 8.5 for walk, 8 for trot, 7.5 for canter and 8 for submission and general impression. 
6-YO: Atterupgaards Barcelo
In the M-level dressage test for 6-year olds, professional Tessa Frank piloted Maxi Karft's Danish bred Oldenburg stallion Atterupgaards Barcelo (by Bon Coeur x Caprimond) to the trophy with an 8.6 total score. In a field of 9 riders, the pair was the high scorer with 9 for walk, and 8.5 for trot, canter, submission and general submission. Carsten Munk, Peter Olsson and Klauys Storbeck judged the class.
The second place went to Hannah Laser on Klosterhof Medingen's Hanoverian stallion Damaschino (by Danone x Fidertanz) with an 8.5 total. The liver chestnut earned 8.5 for walk, 9.5 for trot, 9 for canter, 7 for submission and 8.5 for general impression.  
Results - 2022 Bundeschampionate Qualifier - Schenefeld
5-year olds
1. Hannah Laser - Va' Pensiero (by Vitalis / Fürstenball) - 9.5 9.0 8.5 8.5 9.5 --- 9
2. Jacob Schenk - Fontane (by For Romance II / Stedinger) - 8.0 8.5 7.5 8.0 8.0 --- 8
3. Malin Weiß - Bea (by Benicio / Sandro Hit) - 8.0 7.5 7.5 7.5 7.5 --- 7.6
.4 Malte Kalus - Montepulciano (by Morricone I / Damsey) - 7.5 8.0 7.5 7.0 7.5 --- 7.5
5. Maren Bentes - Blue (by Buckingham / Locksley II) - 8.5 6.5 7.5 7.0 7.5 --- 7.4
6. Sophie Henke - Bon Ami (by Bon Coeur / Hotline) - 7.5 7.5 7.0 7.0 7.5 --- 7.3
7. Sophie Ludewig - For Memory (by For Dance / Destano) - 7.5 7.0 7.0 7.0 7.5 --- 7.2
8. Mercedes Hönke - Fürst Soleil de la Mer (by For Dance / Dimaggio) - 6 6.5 6.5 6.0 6.5 --- 6.3
6-year olds
1. Tessa Frank - Barcelo (by Bon Coeur / Caprimond) - 8.5 9.0 8.5 8.5 8.5 --- 8.6
2. Hannah Laser - Damaschino (by Danone I / Fidertanz) - 9.5 8.5 9.0 7.0 8.5 --- 8.5
3. Nadine Husenbeth - First Look (by Fürsten-Look / Benetton Dream) - 7.5 9.0 8.0 7.5 8.0 --- 8
3. Anna-Lena Kracht - Quantastica PS (by Quantensprung / Totilas) - 8.0 8.5 7.5 8.0 8.0 --- 8
5. Sarah Waldsperger - Don Matteo (by Don Juan de Hus / Royal Highness) - 7.5 7.5 7.5 8.0 7.5 --- 7.6
6. Malte Kalus - Morricona (by Morricone I / Sandro Hit) - 8.0 7.0 7.0 6.5 7.0 --- 7.1
7. Malte Kalus - So Easy (by San Amour I / Don Bosco) - 7.5 7.0 7.5 6.0 7.0 --- 7
8. Cara Nicolaysen - Sun of my heart (by Sarotti Mocca-Sahne / Rascalino) - 7.0 6.5 6.5 7.0 7.0 --- 6.8
Heiko Klausing - Benóit (by Bordeaux / Hohenstein) - RET
Related Link
Eurodressage Coverage of the 2022 Bundeschampionate