2022 CPEDI Waregem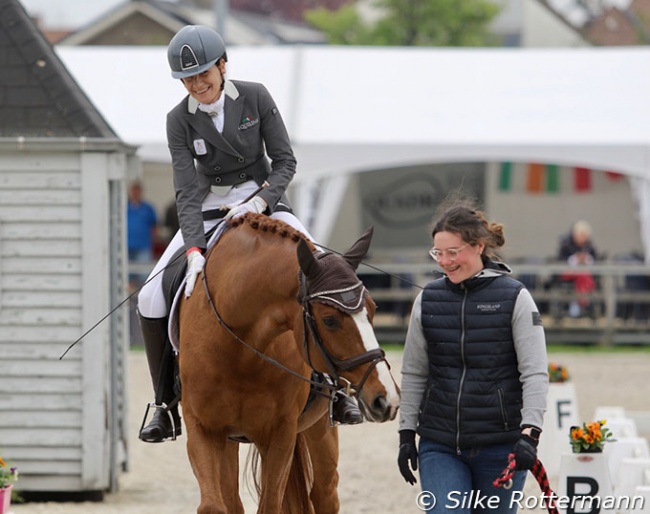 While the number of international para shows has grown over the past decade, the little town of Waregem in Belgium remains the place where the best of the best in para dressage meet each year in spring to contest and earn qualification scores for the upcoming championships.
This year's jubilee edition from 22nd to 24th April 2022 was blessed with sunny and rather warm weather, although a strong wind ruffled manes and hair. More than 60 riders from an impressive number of 16 nations started in the usual five different grades.
I have been the first time to Waregem and after a rather interesting drive from  the South of Germany to the North of Belgium with some unintended crossing of Brussels centre at rush-hour, I arrived early on Wednesday evening in brilliant sunshine. I soon found out that the place has two real advantages: A superb organization with ever friendly and helpful volunteers whose head, show organizer and former international rider Anne d'Ieteren was a true jack of all trades during the show. And there is a really close proximity of warm up and competition rings, office, canteen and accommodation for all officials.
It is truly a blessing when it takes you just 2 minutes to reach your car or even bedroom to change for a warmer jacket or mix and mingle in the canteen with some of the riders to review the days' happenings.
Train and Trot
Thursday morning the weather was already sunny, but slightly chilly when I headed out of the attached sports school where judges, stewards and yours truly stayed for the duration of the show.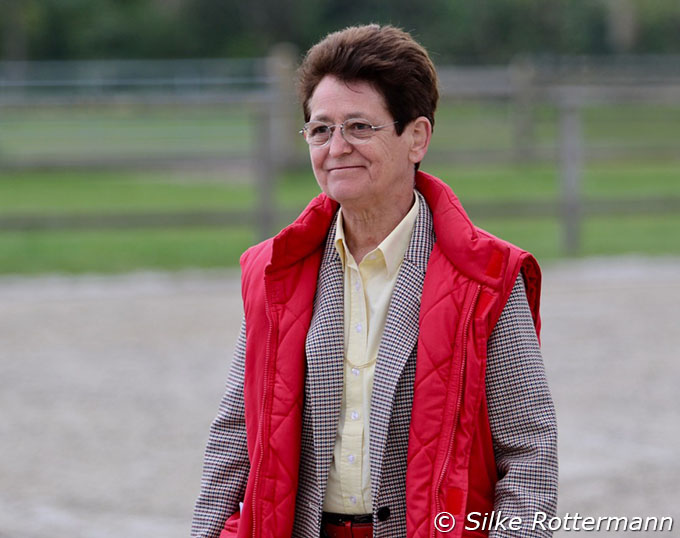 As much as a show is all about the competition, I personally enjoy the training the most. In the majority of cases my job does not allow me to attend a show that early to see the training, but this time I was lucky to have had holidays and so I spent the whole day from 8 am to 6 pm at the arena.
While grade IV and V used the Olympic sized arena, the other three grades trained in the smaller 20x40 m just behind.
I went inside to photograph from all different angles, kneeling down in corners, moving around the arena fencing constantly and changing arenas.
I do not dare not claim all para horses are entirely bomb proof, but the majority did not bat the slightest eyelid, some of them completely resting in themselves and some just being very experienced international horses who have already seen it all.
A younger horse of the German team, a long legged Westfalian gelding, was a bit scared of my lens hood, but after some thorough sniffing considered it harmless and continued his training not taking any more notice.
The horses used in international para dressage absolutely do not differ anymore from the quality of those ridden at the highest level of sport at the able bodied riders.
This does not only apply to the two grades with the highest technical difficulty (IV and V) in which the riders with less severe handicaps start, but also in the other three grades 3-1.
The horse power which is required nowadays to keep in touch with the international top is breathtaking, but on the other hand a challenge for riders lacking sufficient financial assets or sponsorship.
"The times when I was nominated on the national team and be competitive at the Olympics with a pony are gone," said popular Belgian grade 3 Barbara Minneci who rode two Paralympics on the Irish Cob mare Barilla.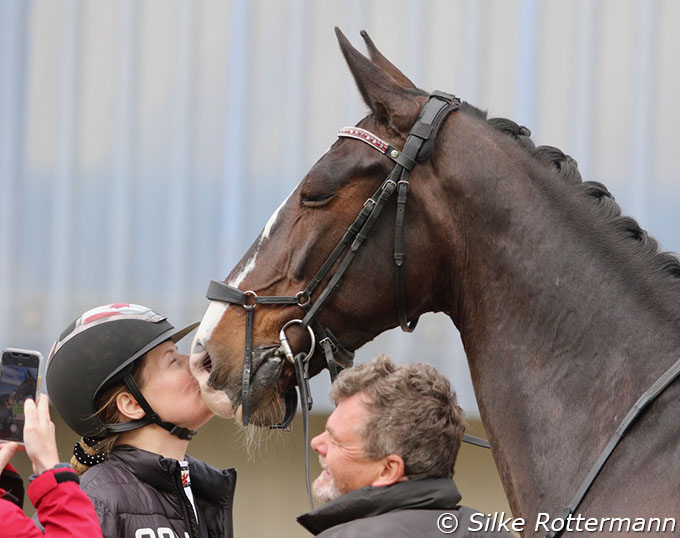 However, two observations could be made on that training day: Having huge movers in lower grades where the riders have severe handicaps like being double leg amputees, paraplegics or suffering from the effects of advanced multiple sclerosis is a twofold sword. While the general trend to gear up regarding the horses used in para sport seems irreversible, there also comes the big challenge for these riders to handle and sit this quality and the big movements that come within.
That the majority does this in a convincing way speaks for their grid and seriousness with which they train and perform their sport.
But even though it might be much harder than in the past, Waregem gave the proof once again that occasionally you can still be competitive with a horse that hasn't cost a five or six numbers sum.
For example British based Canadian Roberta Sheffield who is currently based at Volker Eubel's yard in Germany for training rides a Gelderlander mare she has found in a field in England and purchased for a modest sum, still achieved top placings in Belgium.
Germany's Martina Benzinger even won the freestyle in grade 1 sitting on a small Lipizzan mare who was a driving horse before and whose diligence and bomb proof rhythm in walk could easily equal her taller and more significant looking four legged rivals.
No show without vet-check and in Waregem it took place in front of the spectators' tent at the short side. The horses were all brought out well with manes plated and generally groomed to perfection, paying attention to the importance of this event, this sometimes seems a bit different in the able bodied dressage world…
Grade I
For those who are attending able bodied FEI competitions as spectators Grade I might look like the least exciting of the 5 currently existing grades in para dressage. Riders with the most severe handicaps compete in programs which are entirely composed of walk movements.
I admit when I first got into para dressage I thought exactly the same, but was soon taught otherwise and now got the hang of it.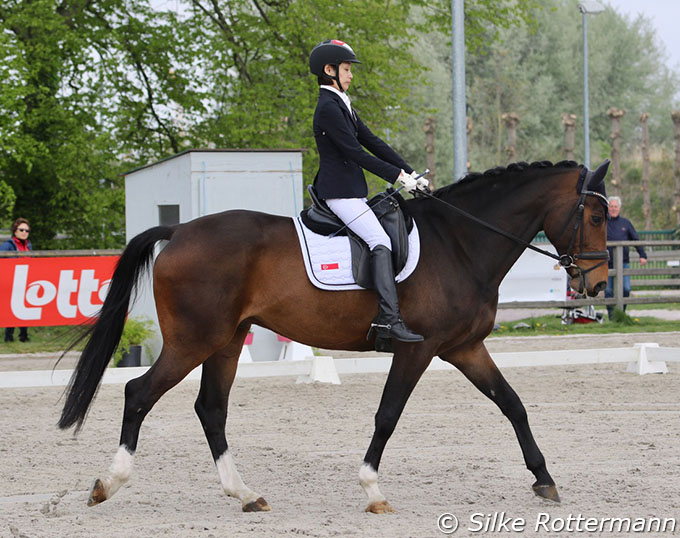 Firstly the relationship between man and animal has to be on a level some able bodied riders can only dream of. There is no strength to force or dominate fully trained horses of which some look like they compete at Grand Prix level. Grade I requires horses with an incredible temperament and attitude, because they have to be calm and relaxed, yet always forward thinking and forward going.
The submission is the centre of the training, but while these horses have to react to the slightest aid, they also have to be forgiving if a rider gives an unintended aid due to his handicap.
Grade I is also perhaps the one grade in which very different types of horses with very different basic quality can still compete against each other, and Waregem was no exception.
Singapore's most decorated Paralympic rider Laurentia Tan brought two horses to Belgium: Hickstead (KWPN by Brainpower x Viseon) and her Tokyo horse, the Hanoverian Banestro (by Bonifatius x Hofrat). They are trained at Volker Eubel's stable in Germany who was also present in Waregem to coach his student. Tan had a really successful show start by achieving the first two places in the first class on Friday. The third placed on Friday, German Martina Benzinger, rides a very different kind of four legged partner with whom she even won the freestyle with almost 78% on the last day. Nautika is a small framed and rather narrow Lipizzan mare with a pink nose who at first look might look less significant than her equine rivals.
But the mare's diligence in walk is outstanding, the transitions smooth and absolutely safe in rhythm.
Compared to their debut in Mannheim a year earlier, the mare has clearly improved and the judges rewarded the rides accordingly.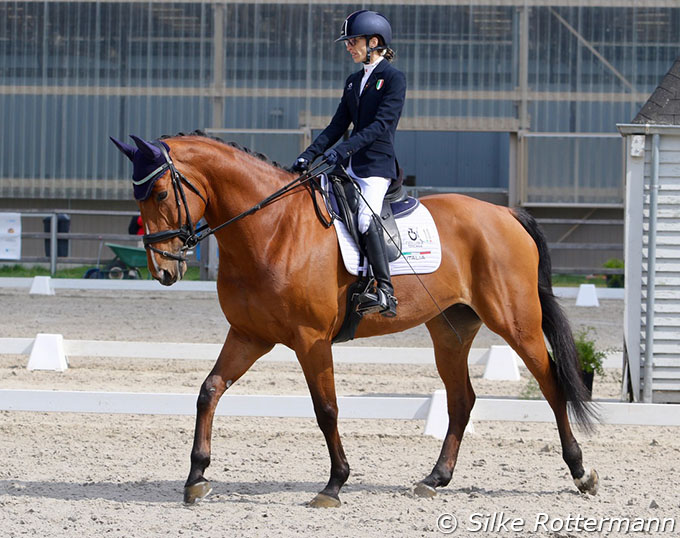 Italys's grade I star Sara Morganti who first competed internationally in 2009, has almost spent her entire international career so far with the incredible Rhinelander mare Royal Delight (by Royaldik) who first won bronze at the Europeans 2011 and continued consistently with gold medals at the WEG 2014 and 2018 and double bronze at Tokyo last year.
However, Sara took Royal Delight's stable-mate, the tall Belgian warmblood mare Mariebelle (by Lissaro van der Helle), to Waregem. The ten-year-old certainly has all the quality to follow in his big hoof prints, taking a 4th and two third places in Waregem, but with the potential for even more in the future.
Danish Line Munk Madsen rode the perhaps most striking horse in grade I, the beautiful Danish warmblood mare Loboss Donya (by Blue Hors Don Schufro - Blue Hors Hertug) with whom she forms a comparatively new and promising combination. After three second places at her home CPEDI in Randböl a month earlier, they know took placings from 4-6.
Grade II
Whereas Grade I had a field of 9 starters, only six riders contested in grade II which also consists of trot elements.
Katrine Kristensen from Denmark managed to win all three classes on the drop dead gorgeous Danish warmblood gelding Goerklintgaards Quarter, a highly refined 10-year-old gelding by Quarterback who is the successor of her Tokyo horse Welldone Dallas. This combination already impressed on home soil at the CPEDI in Denmark a month earlier and might be a serious asset to her team again later the year in Herning.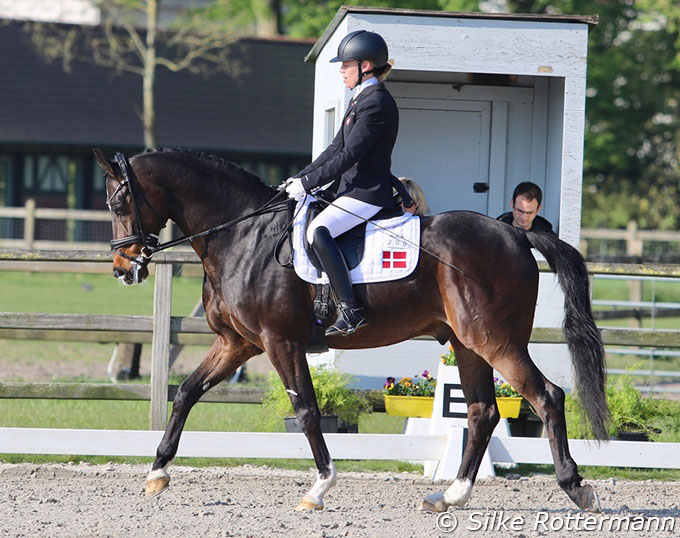 Stabled at the ENE in Saumur and trained by Cadre Noir rider Nadège Bourdon, the 17-year-old Hanoverian mare Rhapsodie IFCE is an experienced para dressage horse. Since a few years the harmoniously built and classically bred (by Brentano II x Weltmeyer) chestnut forms a pair with French Céline Gerny and was also on the team of the tricolore in Tokyo.
Even though Gerny stayed behind the Danish couple in all three classes, two second and a third place were a promising continuation of the international season. The rather long mare is always in a nice frame and contact.
The sole representative of the USA in Waregem, Beatrice de Lavalette, competed a promising new mount.  Having placed 5th with Clarc in the freestyle finals in Tokyo last year, the 2021 FEI Against all Odds winner seems to have a strong back-up in the 10-year-old Oldenburger Sixth Sense (by Sir Donnerhall) who still has the look of a stallion.
After previously good placings at the CPEDI in Deauville (France), de Lavalette brought some more miles on their partnership in the show ring by even achieving place 2 in the freestyle in Waregem.
Another new combination is formed by German Gianna Regenbrecht for who Tryon 2018 bronze medalist Fürst Sinclair (by Fürstenball - Lord Sinclair III) was recently made available as second iron in the fire besides her long-time partner Selma Stromberg. Fürst Sinclair was one of two stallions at Waregem and was previously competed by his owner Elke Philipp.
The debut of the long legged Regenbrecht wit the Fürstenball-son was promising, placing 4th, but on Saturday elimination for repeated error of course meant the freestyle final was out of reach. Nonetheless both are a pair to watch out in future if they get to know each other better in the course of time.
Grade III
A rather large field of 14 competitors from 10 countries contested in Grade 3, among them several Tokyo riders, like bronze medalist Rixt van der Horst. One of the mainstays of the Dutch para dressage team and Worldchampion 2018, Rixt brought her new horse, the sympathetic Westfalian mare Akuna Matata (by Arpeggio). But even without her star Findsley and in absence of Danish Grade III Paralympic champion Tobias Thorning Jörgensen, the elegant 30-year-old proved unbeatable in Waregem, winning all three classes.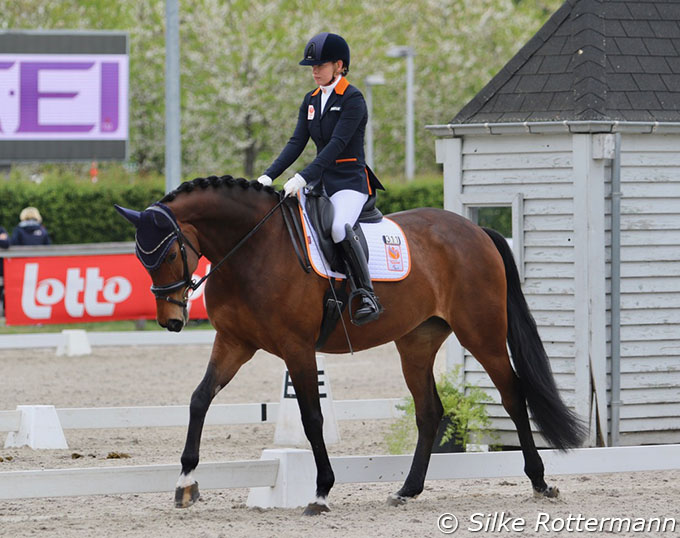 However,  it was only about half a percent separating her in the team test from Canadian Roberta Sheffield and her much improved mare Fairuza.
The dark brown Gelderlander mare might a bit unconventional looking at first, but proves what proper training can achieve in a horse not as born for the job as others. British based Sheffield has recently come over to train in Germany and has already competed in Deauville, before heading to Mannheim at the beginning of May to continue her continental tour.
Whereas Danish Karla Dyhm Junge could surprise in the team test on Miss Daisy with a 3rd place, France's shooting star of the past two years, Chiara Zenati worked her way up the ladder during the show weekend.
The still just 19-year-young fits on Swing Royal IFCE like a glove. The horse who is now 16 years old and was previously successfully shown by her compatriot José Letartre in a higher grade, is trained by Sebastien Goyenheix from the ENE in Saumur who is also coaching Chiara.
On Sunday the future riding instructor and the black Hanoverian by Royal Blend achieved their best placing of the weekend and came 2nd in the freestyle with their Tokyo kur.
Remarkable the performance of Italy's Francesca Salvado and her 16-year-old Danish gelding Oliver Vitz (by Onassis x Cannon Row xx) who came second and fourth on Saturday and Sunday with courageously ridden programs.
They were another pair in Waregem who showed progress since Tokyo.
Belgium's para darling Barbara Minneci, 4th in the freestyle in Tokyo, proved consistency with her Oldenburger chestnut Stuart (by Sir Donnerhall) in all three classes with being 3rd on Sunday as their best result. For her Waregem was a special premier this year as for the first time she was competing astride in a normal dressage saddle. Even though a big step for courageous Barbara, some may miss the unique appearance she gave competing side-saddle over the past ten years.
Grade IV
The remarkable number of 16 riders were at the start of Grade IV, among them former Paralympic champions like Germany's Hanne Brenner or Belgian based South African Philippa Johnson-Dwyer, Belgium's recent Paralympic double medalist Manon Claeys or Renée Igelski from Denmark who won team silver in another century, at the 1983 European championships at Aachen at the able bodied.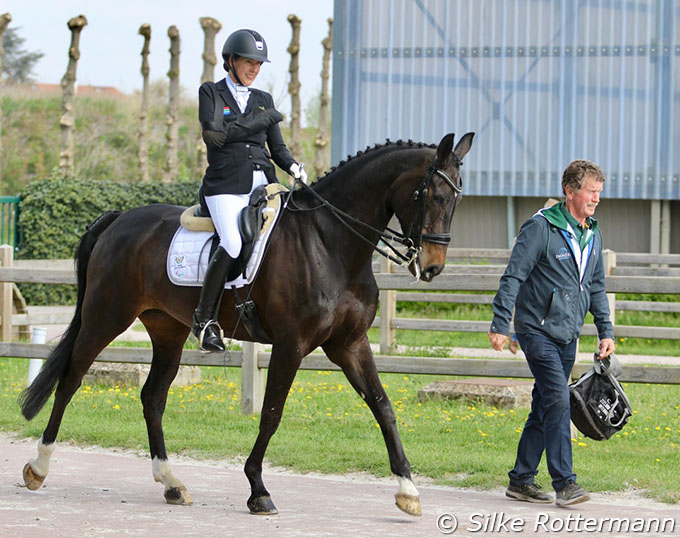 With the quality of the horses generally progressing all the time, former Grand Prix or small tour horses can regularly be found at para competitions for years now.
The 19-year-old, but very fit chestnut gelding Winando RFS (by Jetset-D x Ulft), is no exception. With Dutch Demi Uijtewaal the KWPN bred former international small tour horse did not miss out on anything and won all three classes. Nonetheless Uijtewaal did not seem to take it all for that granted as she punched the air in delight after her Friday ride and flung her arms around the bright chestnut's neck.
Belgium's Manon Claeys brought her second string, the strong dark brown KWPN mare Katharina Sollenburg to her country's most important para show. Having owned the 7-year-old by Electron Sollenburg - Jazz since the age of 18 months, Claeys was ecstatic with her second places on Friday and Saturday. The youngster is indeed on her way becoming an international back-up to Manon's highly elegant Tokyo double medalist, Oldenburg gelding San Dior (by Stedinger x De Niro).
Consistently in third place in all three classes was Dutch Neel Schakel with her tall KWPN gelding Edison. This 13-year-old chestnut is by Vivaldi out of a Ferro dam and his impressive way of going resembles modern Dutch breeding with a lot of shoulder lift and ability to collect, even though the latter isn't required too much in grade IV.
Perhaps a bit as a surprise came the 2nd place of experienced Frenchman Vladimir Vinchon in the freestyle which completed the strong picture the French team gave on that weekend of Waregem. Riding the strong boned 9-year-old Rhinelander gelding with the characteristic name of Fidertanz for Rosi (by Fidertanz x Depardieu), the long time member of the French para dressage team seems on the way to another championships.
The sole Australian competitor of the show, Matilda Carnegie and her liver chestnut Boccelli 6, achieved three good placings between 5 and 6. Her 15-year-old Westfalian gelding was previously internationally competed at small-tour-level by British rider Katherine Bailey and could become an interesting asset to the Aussie's championships team.
Grade V
Internationally Grade V is in the firm hands of local hero Michèle George for some time, while Dutch trailblazer Frank Hosmar is always close at her heels. In Waregem the Tokyo duel repeated itself, with George riding her double gold medalist Best of 8 (by Bonifatius x Maurice), whereas Hosmar chose to compete his second horse Guetta (KWPN by Sandreo x Jazz).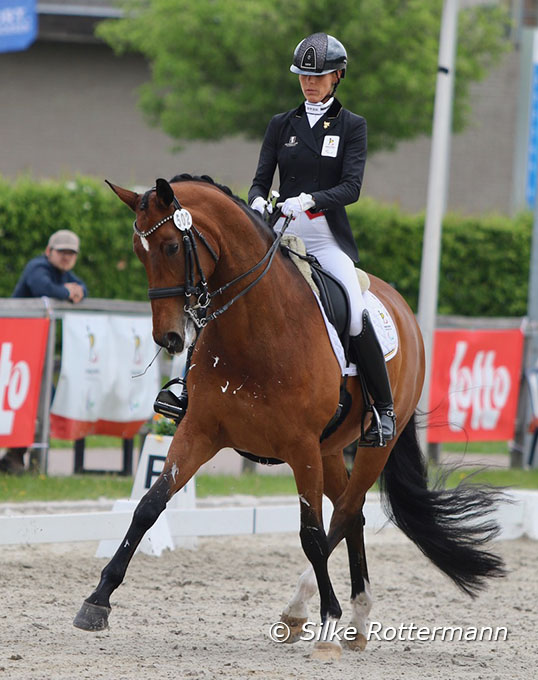 On Friday George showed a polished and safe ride on the brown Hanoverian mare who's very submissive and just doing her job, with Hosmar just a good percent behind. The placings remained the same on the two days that followed.
Belgian Ulricke Dekeyzer who like Hosmar runs her own training stables, was the only one starting two horses: Leopold (BWP by Aaron x Flemmingh) and Sir William (Westfalian by Sir Donnerhall x Brenatno II), both Grand Prix placed horses at national level with Dekeyzer.
Leopold reigned supreme in the intern stable duel with three placings between 3 and 6.
Probably the most striking looking horse came from the French team: The licensed Selle Francais stallion Bretzel des Feeries (by the Hanoverian Worldly), ridden by Peggy Touzard, got his pinto colour from his damn-sire Samber. Being light footed and well ridden, he formed an eye catching pair with his rider who competed in the dark blue uniform of the French national police. With two fourth and a fifth place they are certainly ones to watch out in future CPEDI.
The surprise of the first class in grade V, the team test on Friday, was German Angela Scharpff and her tall long-legged Westfalian gelding Sir Conhos (by Sir Heinrich x Fleurop). Trained by Alexander Brenninkmeijer, both were a bit the greenhorns of the German contingent, with Waregem having been their first CPEDI. The judges apparently liked the talented chestnut and put him 4th, despite a few small wobbles. In the individual test on Saturday they came 12th and narrowly missed out the freestyle final the day after.
Ireland, Belgium and Sweden had three riders each in the 18 riders strong field of grade V. The Scandinavian ladies stood out with their solid and correct riding. All competed on Swedish bred horses, of who Christina Berg-Overgaard's dark brown gelding Kiwi (by Zardin Firford x Krack C) might have been the tallest horse of the whole CPEDI***, standing 182 cm.
The most successful of that trio to which also Amalia Jobs and Lady Evelin  (by Sir Oldenburg x Bocelli) belonged to, was the cute liver chestnut mare Fabulous Fidelie (by Floricello x Don Romantic) with Lena Malmström. The couple who already started in Tokyo last year, impressed with the harmony and classical correctness in which they executed the programs, earning them two third places.
Bits and Pieces from Waregem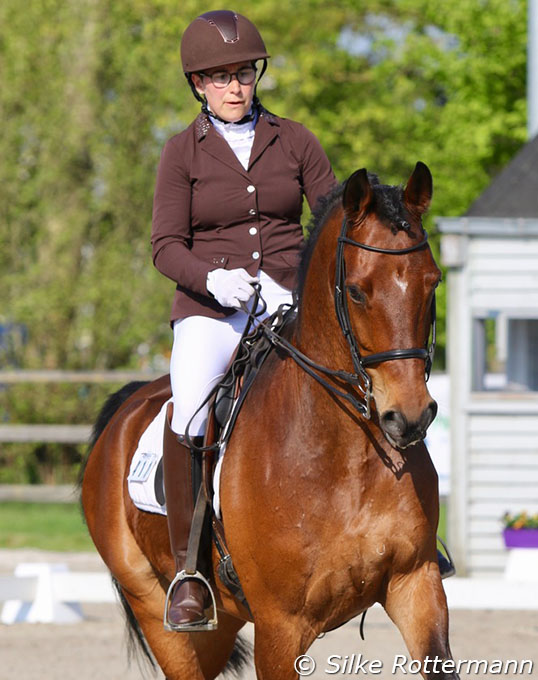 This year's show was a jubilee for the organizing riding club Quadrille: 40 years running they organized dressage events, the 20th in Waregem where in 2003 the World championships in para dressage and in 2011 the European championships had been hold.
While in dressage modern saddles with deep seats and huge knee blocs rule the roost, German grade V rider Anika Hölken competed her 14-year-old Zangersheide gelding Printings Paul (by Potential x Gervantus) in a simple flat dressage saddle like it was the norm into the 1980s. It still can be done!
Team Germany which placed 6th of 9 teams included a name some know from the able bodied sport: Mona Sophie Bimmel gave her international para debut in Grade V with her shiny black Hanoverian gelding Fabricio von Nymphenburg (by Fürst Nymphenburg x Hohenstein). 
During the opening reception on Thursday evening, >b>Belgians successful riders of the Tokyo Paralympics as well as Quadrille club member, South African Philippa Johnson-Dwyer, got honoured by the organizing club Quadrille which was founded in 1981 by Anne d'Ieteren. Each rider was handed over a framed painting of themselves and their Tokyo mounts, realized by local artist Lisiane Moerman.
Text and Photos © Silke Rottermann
Related Links
Scores: 2022 CPEDI Waregem
Photo Report: Training and Horse Inspection at the 2022 CPEDI Waregem