U.S.A.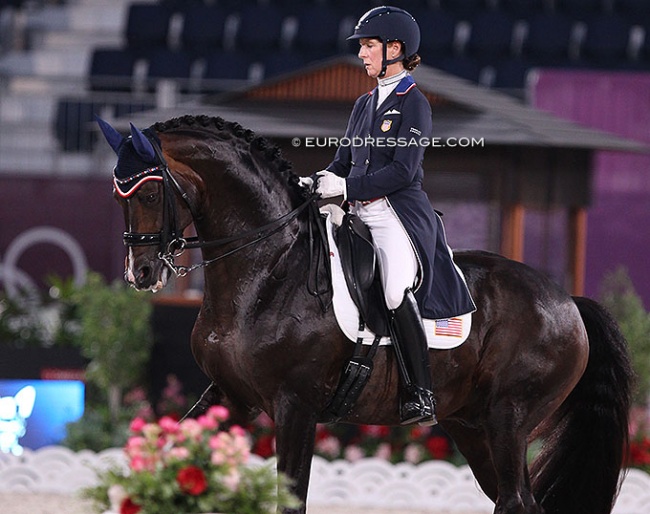 U.S.A Olympic sensations Sabine Schut-Kery and Sanceo have dropped out of the race for U.S. team selection for the 2022 World Championships in Herning. 
No Shows Since Tokyo
Schut-Kery and Alice Womble's 16-year old Hanoverian stallion Sanceo (by San Remo x Ramiro's Son) did not compete in any CDI since Tokyo before the 8 May deadline to be nominated on the short list for U.S. team selection. 
American short listed candidates will be sent to Europe this spring to compete for a team spot at observation shows in Rotterdam and Aachen. 
Sanceo was shipped to Florida for the 2022 Global Dressage Festival in Wellington, but did not compete. In February the rider told Eurodressage that she was preparing him for the CDI Temecula in California at the beginning of May, but the pair will not be appearing there either. 
Sabine first confirmed to Dressage-News.com that they are not ready to compete.
"I made this decision with great confidence knowing that this is in the best interest of Sanceo," she told Ken Braddick of Dressage-News. "It's not always as black and white as we wish when working with horses and a timeline. This is why our sport can give us the highest highs and the lowest lows. The qualification timeline for WEG (world championships) is not in our favor."
To Eurodressage she added, "Sanceo had a health related set back."
Tokyo Sensation
Schut-Kery became the absolute sensation of the 2021 Olympic Games. The quality and talent of the pair was already obvious for years to those who witnessed them compete. In Tokyo all pieces of the puzzle came together and they won Olympic team silver. They became America's highest scoring pair,  finishing third in the Grand Prix Special and fifth in the Kur, and besting team mates Adrienne Lyle and Steffen Peters.
Waiver?
The US selection criteria stipulated that athletes wanting to make the Short List for team selection had to compete at a minimum of three (3) CDI Tryout Events/Qualifying Competitions between September 2021 and 8 May 2022. A ranking list is drafted according to the final average of their FEI Grand Prix tests and up to 8 combinations can be short listed for the observation events in Europe prior to the team announcement.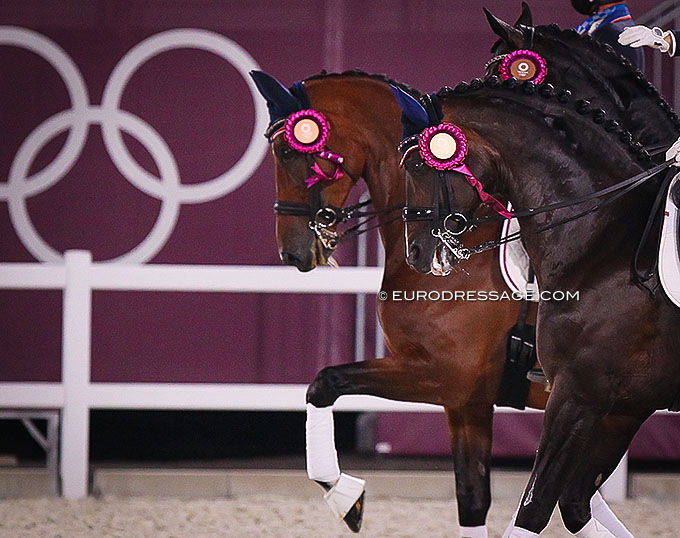 USEF does allow a waiver of the rules (as as happened in similar situations in the past for proven combinations). It stipulates:
In exceptional circumstances, athlete/horse combinations may be selected to the Short List and invited to compete at the Observation Events that have not completed the minimum qualifications outlined in section I.B.2a-d subject to the approval of the USEF Board of Directors or an Ad Hoc Selection Group approved by the Board of Directors.
Additionally, "an athlete named to the Short List may request special consideration for selection without competing in the designated Observation Events by submitting a written request to the Selectors."
For instance in 2015, Laura Graves did not travel to Europe for U.S. Pan Am team selection, but had competed in Wellington and at the World Cup Finals that year. In 2020 two proven team horses received a bye from competing in the first mandatory observation trial in Wellington (CDI 5* in February).
When asked if she applied for a waiver, Schut-Kery appeared not to be considering that route and replied, "the qualification rules and guidelines are that you have to qualify first in the USA to get on the short list . Then, the short list will go to Europe to compete and based on those results they will choose the actual team for WEG."
CDI Temecula
The CDI Temecula in California is the final competition where riders can achieve results to boost their ranking for the Short List. U.S. Olympic team reserve Nick Wagman is scheduled to compete Don John (by Johnson) there. 
The ranking list, so far, including results up to 25 April, features: 
1. Adrienne Lyle - Salvino - 77.533
2. Steffen Peters - Suppenkasper - 76.652
3. Charlotte Jorst - Nintendo - 72.273
4. Ashley Holzer - Valentine - 72.058
5. Ben Ebeling - Illuster van de Kampert - 71.979
6. Alice Tarjan - Serenade MF - 71.565
7. Ashley Holzer - Havanna - 71.156
8. Jennifer Williams - Millione - 70.761
9. Ben Ebeling - Indeed - 70.658
10. Katie Duerrhammer - 70.315
Photo © Astrid Appels
Related Links
U.S. Olympian Sabine Schut-Kery Moves to San Diego
Germany Repeats Supremacy and Clinches Team Gold at 2021 Olympic Games
Von Bredow-Werndl Sets the Standard after Day 1 in 2021 Tokyo Olympic Grand Prix