2022 Bundeschampionate Qualifier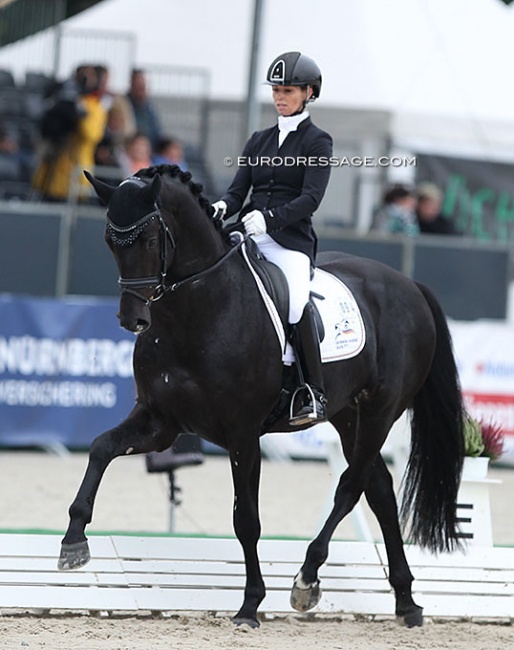 The  5-year olds Fabajo and Total McLaren and the 6-year old Global Player became the winners of the Bundeschampionate qualification classes held at the regional show in Okel on Friday 13 May 2022.
5-YO: Fabajo
In the 5-year old division, no less than 23 combinations were entered and the ranking was split up in two groups. 
The highest scoring 5-year old was Heinrich Giesselmann's Hanoverian gelding Fabajo (by Furst Belissaro x Wolkentanz), who scored 8.5 under Simone Kaiser. The black gelding got 8 for walk, 9 for trot, 8.5 for canter, submission and general impression from judges Hermann Steffens, Christoph Brüseke, and Carola Straube-Thiel. The pair won group 1 and had Ida Reich on Heike Kind's Oldenburg gelding Frauenheld HK (by Feinrich x Bordeaux) in second place with 8.2.
Leonie Richter and Andreas Helgstrand's Oldenbrug stallion Total McLaren (by Totilas x De Niro) topped group two with 8.3 points. The black got 7.5 for walk, 9 for trot and canter, and 8 for submission and general impression. Richter also placed second in group 2 on Schockstrand's Hanoverian stallion Vitalos (by Vitalis x De Niro) with 8.2.
6-YO: Global Player
Thirteen 6-year old combinations travelled to Okel to compete for an entry spot at the Bundeschampionate in Warendorf in September
Eva Möller and the "Schockstrand" owned Oldenburg stallion Global Player (by Grand Galaxy Win x Don Schufro) bested the field with a 9.0 total score. The Oldenburg licensing champion bred in Denmark received 8 for walk and canter, 9.5 for trot, 8.5 for submission and 9 for general impression from judges Christoph Brüseke, Hermann Steffens and Michael Krüger. 
The runner-up was Eike Bewerungen on Hermann Lenders' Westfalian stallion Bon Vivaldi (by Benicio x Vivaldi). The pair received 8 for walk, 9 for trot and canter, 8 for submission and 8.5 for general impression to finish second with 8.5 total points. French Kim Brüning and Felix-Ferdinand Becker's Hanoverian stallion Liam Neeson (by Libertad x Sir Oldenburg) were third with 8.4. 
Results - 2022 Bundeschampionate Qualifier - Okel
5-year olds - group 1
1. 1 Simone Kaiser - Fabajo (by Fürst Belissaro / Wolkentanz) - 9 8 8.5 8.5 8.5 --- 8.5
2 Ida Reich - Frauenheld HK (by Feinrich / Bordeaux) - 8 7.5 9.0 8.5 8.0 --- 8.2
3 Silvia Busch-Kuffner - Bayside AK (by on Coeur / Sir Donnerhall) - 8.5 7 8.5 8 8.5 --- 8.1
5-year olds - group 2
1 Leonie Richter -  Total McLaren (by Totilas / De Niro) - 9 7.5 9 8 8 --- 8.3
2 Leonie Richter - Vitalos (by Vitalis / De Niro) - 9 7.5 8.5 7.5 8.5 --- 8.2
3 Shereena Satzer - Invictus (by Ibiza / Belissimo M) - 8.5 8 8.5 7 8 --- 8
3 Maxi Kira von Platen- Asgard's Indico (by Ibiza / Rohdiaman) - 7.5 8 8.5 8 8 --- 8
3 Iris Hannöver - Flipp Flopp (by Fürsten-Look / Sir Donnerhall) - 8.5 7 8.5 8 8 --- 8
9 Heiko Klausing - Franklin's Love PS (by Franklin / Sandro Hit) - 9 6 8.5 8 7.5 --- 7.8
10 Anna Mitter - Manolo (by Morricone I / Donnerhall) - 8.5 8 8 6.5 7.5 --- 7.7
10 Shereena Satzer - Splendid (by San Amour I / Dream Boy) - 8.5 6.5 8.5 7.5 7.5 --- 7.7
12 Nele Lübbehusen - Evita Gold (by Belissimo M / Serano Gold) - 8.5 6.0 8.5 7.5 7.5 --- 7.6
12 Louisa Marie Engelke  - Four Motion (by Florenz / Rotspon) - 7.5 7.5 8 7.5 7.5 --- 7.6
14 Eike Bewerungen - Extragold OLD (by Belissimo M / Rohdiamant) - 8 7.5 7.5 7 7.5 --- 7.5
15 Catherine Alexa Tempel - Füchtels Indigo (by Ibiza / Roadster) - 7.5 8 8.5 6 7 --- 7.4  
16 Joaquin Elias Aguirre Torres  - Fransson (by Fürst William I / Damsey) - 8 7 7.5 6.5 7.5 --- 7.3
16 Jessica Lynn Thomas - Thomson Beyonce (by Benicio / Sir Donnerhall ) - 7.5 6 8 7.5 7.5 --- 7.3
18 Alvaro Osborne Diez - Bossa Nova (by Benicio / Riccione) - 7 8 7 7 7 --- 7.2
19 Pia Sophie Wahlers  - Bon Avi (by Bon Coeur / Royal Blend) - 7 6.5 7 7 7 --- 6.9
19 Ann-Christin Niemann- Fleur Delacour K (by Finnigan / Locksley II) - 7 6.5 7.5 6.5 7 --- 6.9
21 Jana Kahrs  - Darlings Fenrir (by Danciano / Rubin Magic) - 7 7 6.5 6.5 7 --- 6.8
Imke Stoll - Mogli DS (by Martinez / Ehrenwort) - RET
Cosima von Fircks - Famous Boy (by For Romance II / Hohenstein) - RET
6-year olds
1. Eva Möller - Global Player (by Grand Galaxy Win T / Don Schufro) - 9.5 9 9 8.5 9 --- 9
2.  Eike Bewerungen - Bon Vivaldi (by Benicio / Vivaldi) - 9 8 9 8 8.5 --- 8.5
3.  Kim Brüning -  Liam Neeson (by Libertad / Sir Oldenburg) - 8.5 8.5 8 8.5 8.5 --- 8.4
4.  David Taylor -  Fürstenerbe (by  Fürsten-Look / De Niro) - 8.5 8 7.5 8.5 8.0 --- 8.1
5.  Ida Reich  - Dancing Dietmar (by Dancier / Dr.Doolittle) - 8 7.5 8.5 8.0 8.0 --- 8
5.  Maxi Kira von Platen - Belle Vista (by Bon Coeur / Desperados) - 8.5 8.0 8.0 7.5 8 --- 8
5.  Sandra Kötter - Brighton OLD (by Benicio / Sir Donnerhall) - 8 8.5 8.5 7 8 --- 8
8.  Veronika Steinhof - Balalaika (by Bordeaux / Fürst Romancier) - 7.5 7.5 8.5 7.5 8 --- 7.8
9.  Julian Fetzer - Lord Europe (by  Lord Leatherdale / Ferragamo) - 8.5 7 8.5 6.5 7.5 --- 7.6
10.  Marita Pundsack - QC Dia Dante (by Dante Weltino / Don Schufro) - 7.5 7 7.5 7.5 7.5 --- 7.4
11.  Uwe Stradtmann - Moldavia (by Morricone I / Sir Donnerhall) - 8 8 7.5 6 7 --- 7.3
12.  Alvaro Osborne Diez  - La Bonita (by  Livaldon / Hotline) - 7.5 6.5 7 7 7 --- 7
13.  Lisann Michelle Schmidt - Maybach Z (by Morricone I / Fidertanz) - 7.5 7.0 7.5 6.0 6.5 --- 6.9
Related Link
Eurodressage Coverage of the 2022 Bundeschampionate