2022 Bundeschampionate Qualifier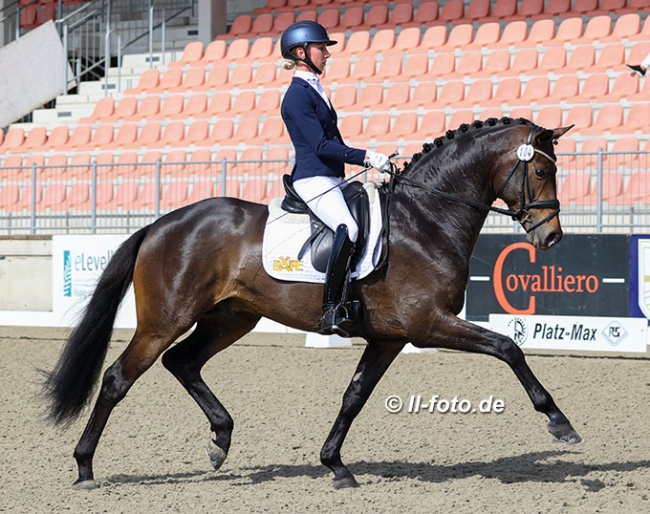 The 5-year old Macchiato and the 6-year old Diaton became the winners of the national Bundeschampionate qualification classes held during the international Horse festival at the Redefin state stud. The CDI Redefin took place 13 - 15 May 2022 
5-YO: Macchiato
Twelve 5-year old combinations gathered in Redefin to earn a ticket to Warendorf. 
Professional Greta Heemsoth and Ingo Pape's Westfalian stallion Macchiato (by Morricone x Just Perfect) were a league of their own in this L-level test and scored a season high score of 9.4. The dark bay stallion, who is bred by Grand Prix trainer Norbert van Laak, received 8 for walk and canter, 9.5 for trot, 10 for submission and 9.5 for general impression from judges Wolfgang Schierloh, Cornelia Hinsch and Patricia Wolters. 
Lena Waldmann and Gisa Löwe's Oldenburg mare Chere Celine (by Governor x San Amour) were the runners-up with an 8.4 score. The black mare posted 8.5 for walk and trot, 8 for canter, and 8.5 for submission and general impression. 
6-YO: Diaton
In the 6-year old division, eight combinations contested the M-level dressage horse test and the winner was Nicole Wego-Engelmeyer aboard Perfect International Equine's Hanoverian stallion Diaton (by Dimaggio x Benetton Dream). The chestnut stallion scored a whopping 9.1 for the victory. Judges Harry Lorenz, Ralph Schmidt and Ute von Platen rewarded the horse with 9s for walk, trot, canter and submission and 9.5 for general impression. 
Tessa Frank and Christoph Wahler's Hanoverian gelding Funrise (by Flanell x Bretton Woods) were the runners-up with 8.9 points. The chestnut gelding received 8 for walk, 9.5 for trot, 8.5 for canter and submission and 9 for general impression. 
Results - 2022 Bundeschampionate Qualifier - Redefin
5-year olds
1. Greta Heemsoth  -  Macchiato (by Morricone I / Just Perfect ) - 9.5 9 9 10 9.5 --- 9.4
2 Lena Waldmann - Chere Celine (by Governor / San Amour) - 8.5 8.5 8 8.5 8.5 --- 8.4
3 Alexa Westendarp  - For Rose (by For Dance / Rosario) - 9 7.5 8 8 8.5 --- 8.2
4 Evelyn Eger - Global Power (by Grey Flanell / Don Frederic) - 8.5 8 8 7.5 8 --- 8
4 Malin Weiß  -  Bea (by Benicio / Sandro Hit) - 8 8 8 8 8 --- 8
4 Kira Goerens-Ripphoff  - Final Dream (by Franziskus / Weltmeyer) - 9 7.5 8 7.5 8 --- 8
7 Mathis Goerens  - Feuerfunke (by Franziskus / Foundatio) - 8 7 8 7.5 8 --- 7.7
8 Grace Kay  - Famosa (by Fürstenball / Sir Donnerhal) - 8 7.5 7.5 7.5 7.5 --- 7.6
9 Ronald Lüders - Bella del Sol (by Bernay / Sancisco) - 7.5 7 8 7.5 7.5 --- 7.5
10 Ana Teresa Pires  - Freenet (by Fürstenball / Londonderry) - 7.5 8 7 7 7.5 --- 7.4
11 Yulia Pantskhava  - Belisimo (by Bernay / Pinatubo) - 7 7 7 6.5 7 --- 6.9
Ana Teresa Pires - Fogel vom Lauf (by Fürstenball / San Amour) - RET
6-year olds
1. Nicole Wego-Engelmeyer -  Diaton (by Dimaggio / Benetton Dream) -  9 9 9 9 9.5 9.1
2 Tessa Frank - Funrise (by Flanell / Bretton Woods) -  9.5 9 8.5 8.5 9 8.9
3 Lena Waldmann - Belinda (by Bon Coeur / Royal Blend) -  9 9 8.5 8.5 9 8.8
4 Dries van Dyck - Fürst Ampere (by Fürstenball / Ampere) -  8.5 7.5 8 8 8 8
4 Ana Teresa Pires - Van Damme (by Vivaldi / Hertug) -  8 9 7.5 7.5 8 8
6 Carina Scholz  - Fienchen F.S. (by Fürstenball / San Amour) -  7.5 8 7.5 7.5 7.5 7.6
7 Ana Teresa Pires - Fürst Romeo (by Fürst Wilhelm / Destano) -  8 7.5 7.5 6.5 7 7.3
7 Carina Scholz - Di Lorenzo (by De Niro / Londonderry) -  7.5 7.5 7 7 7.5 7.3
Photo © LL-foto
Related Link
Eurodressage Coverage of the 2022 Bundeschampionate