Denmark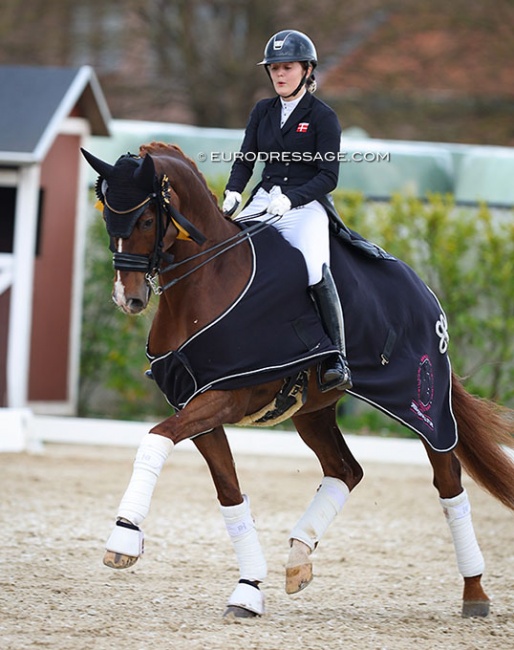 The Danish equestrian federation has announced that the junior and young riders' squads have been split up into A and B-groups.
New results achieved at the CDI Aalborg last weekend contributed to the expansion of the squads by Danish youth team trainer Dennis Fisker.
The A-squad listed riders will receive preference in the consideration for team selection towards the European Championships in Hartpury in July. 
The updated squads includes (horse names added by Eurodressage):
Danish Junior A-squad: 
Sophia Bøje Obel Jørgensen  - Brillant
Thilde Rude Hare - Fred the Red
Johanne Kofod Jensen - Frida Gold
Liva Addy Guldager - Don Caballero
Elisabeth Bonefeld Dahl - Don Furioso
Annabelle Rehn - Vestervangs Garson
Danish Junior B-squad:
Bjørk Schmidt Jefsen
Cecilie Maria Schrøder Dreymann
Dagmar Sofie Oxlund
Emilie Balling Nissen
Fie Dybro Jensen
Freja Oline Skovhus linden leaf
Karla Marillo Skov
Karoline Mathilde Ravnsbo
Katrine Johannsen
Maja Emilie Leth
Margaretha Rosenkilde
Natalie Thomassen
Nina Sønderby Mikkelsen
Theresa Rosenkilde
Valentin Munkedal
Victoria Toft Waksvik
Danish Young Rider A-squad:
Alexander Yde Helgstrand - Belantis
Frederikke Gram Jacobsen - Zaphina
Kristian Würtz Green - Bovbjergs Zhivago
Maria Mejlgaard Jensen - Antango
Sara Aagaard Hyrm - Atterupgaards Cooper
Sophia Ludvigsen - Blue Hors Elliott
Danish Young Rider B-squad:
Amalia Skjold
Amalie Skov Christensen
Camilla Juul Møller
Cecilie Hedegaard
Ida Kirstine Bjørn
Johanne Amby Ubbesen
Josephine Rathje Facius
Lea Andreassen Torabi
Nicole Hartvig Jensen
Rebecca Holm Sylvest