2022 CDI Camarma de Esteruelas
Text and photos © Lily Forado
There is little to say when results speak for themselves. Spanish Under 25 rider Alejandro Oliva has been undefeated since he began his career at this level with Decor.
The student of Juan Antonio Jiménez has been a stand-out rider in the international Under 25 classes at CDI's in Spain and been adding great results to his tally. 
Eight Victories in Three Months
In a space of three months, Alejandro and Decor have surprised, broken records without stopping and above all have gone from much to even more. In his eight international outings, all eight have been wins! Jérez, Le Mans and Las Cadenas have been the places  where their light has shone bright.
In other words, Alejandro riding Decor is a winning machine. Last weekend his pursuit for gold continued, ending with a double win and two new personal records of 73.284% in the Intermediate II and 73.590% in the GP U25 at the 2022 CDI Camarma de Esteruelas.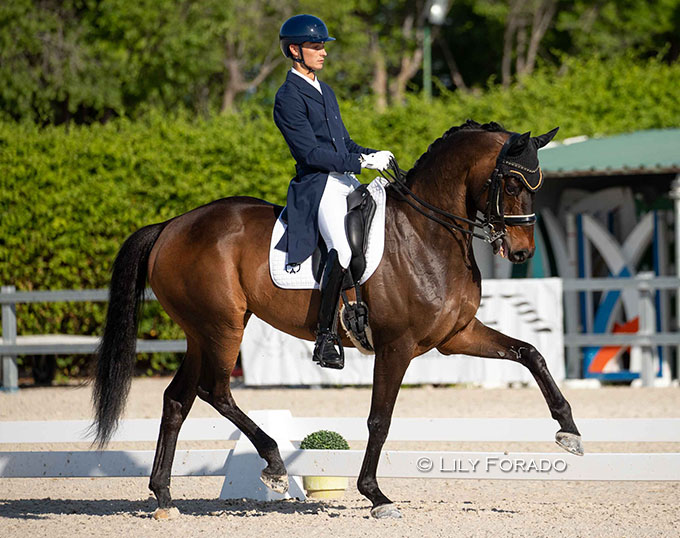 The combination has been unstoppable, from victory to victory. On 19 March 2022 they first  tested the waters in the U25 at the CDI in Jerez, and from that moment his winning streak began. His eight victories are quite a feat; very few athletes can boast that number of victories in a row at the international level.
Grand Decor
Alejandro is down to earth and aware of the great horse he has. The objective this season is the 2022 European Under 25 Championship in Pilisjaszfalu, Hungary,  and with these numbers, he is well on his way.
In late January, Alejandro started riding Décor, an 11-year old Hanoverian gelding by Detroit x Herzensdieb, which originally came from Germany from horse dealers Kerstin Klieber and Stefan Sandbrink. He was previously competed by Joseph Robert Hunt and brought to Grand Prix level by Carlos Bayo Calvo. He is owned by Sylvia Fort Brescia De Mulder in partnership with trainer Jimenez. 
Alejandro describes him as a very energetic horse, who always wants to work and give his best.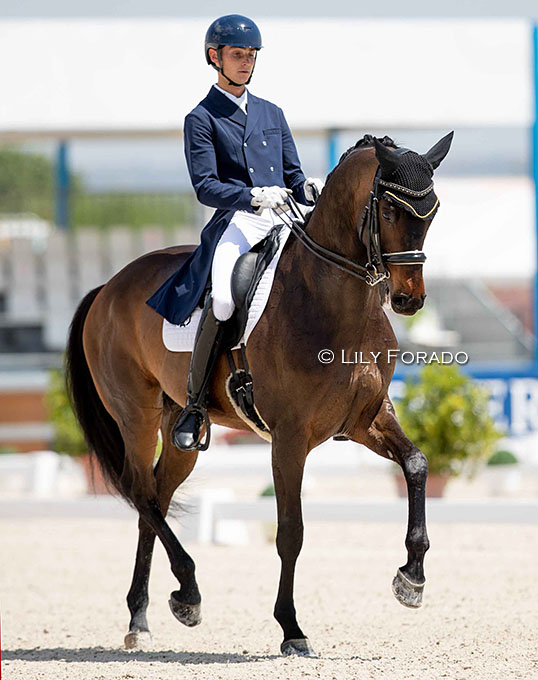 "What I like most about him is precisely that vitality he has, in competition he makes me want to give my all," Alejandro explained. "I've been riding him since the end of January this year. At first it felt like a bit of responsibility because he is a high quality horse and had already achieved great scores in the Grand Prix with Carlos (Bayo Calvo), but with patience and work everything is turning out as he would have never dreamed of. Beyond the results, I am really grateful to Juan Antonio for giving me this opportunity and being able to enjoy him."
When asked what these eight victories make him feel like, Alejandro replied that, the truth is that I have really enjoyed all of them, but perhaps the most special was Inter II in Jerez de la Frontera. After all, it was my debut with the horse, we had only been together for a short time, I was intrigued by what the judges would think. It was nice to debut the horse with those results and in such a special place as the Real Escuela."
Under 25 Growing in Spain
Since 2016, the Under 25 category has been able to mark its competition season highlight with a European Championship. In its first edition, the members of the Spanish team were Juan Matute with Don Diego, Pablo Gómez Molina with Tarpan Ymas and Erik Balasch with Dorado. In the Short Grand Prix test, Juan Matute won the bronze medal, while Pablo Gómez and Juan Matute were among the top 10  of the Kur.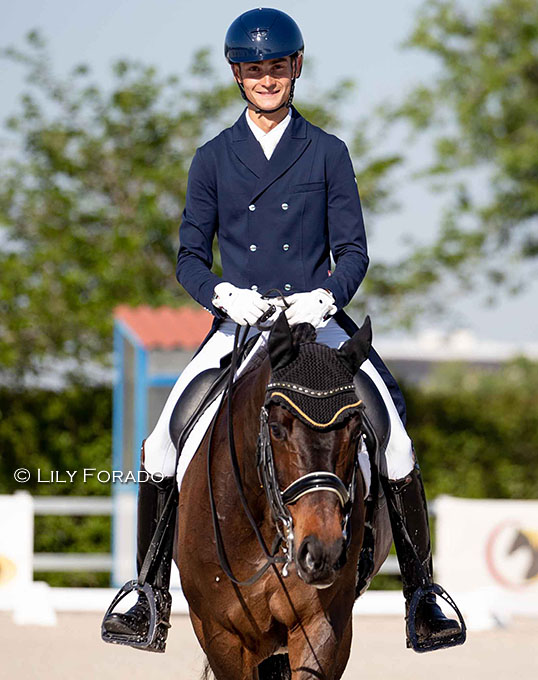 As the years go by, the Spanish participation has been very interesting. In 2017 Matute won bronze again with Quantico and in 2019, Diego Martínez del Moral qualified for the Freestyle, and in 2020 that luck befell Ruben Mengual.
A look at the FEI Under 25 World Ranking shows that a Spaniard is leading: Sergio García Bermejo on Hexagon's Innuendo. With Alejandro Oliva's recent results, Spain has two solid horses for the European U25 Championships.  The 2022 Spanish Dressage Championships in Barcelona the first week of June will be the first official team selection trial and decisive for these Under 25 riders. 
Text and photos © Lily Forado
Related Links
Scores: 2022 CDI Camarma de Esteruelas
Scores: 2022 CDI Jerez de la Frontera
Scores: 2022 CDI Jerez de la Frontera
Anna Jesty in the Flow at 2022 CDI Jerez de la Frontera
Juan Antonio Jimenez: With Self-Made Success and a New Barn Looking Optimistically into 2021