2022 CDIO Compiegne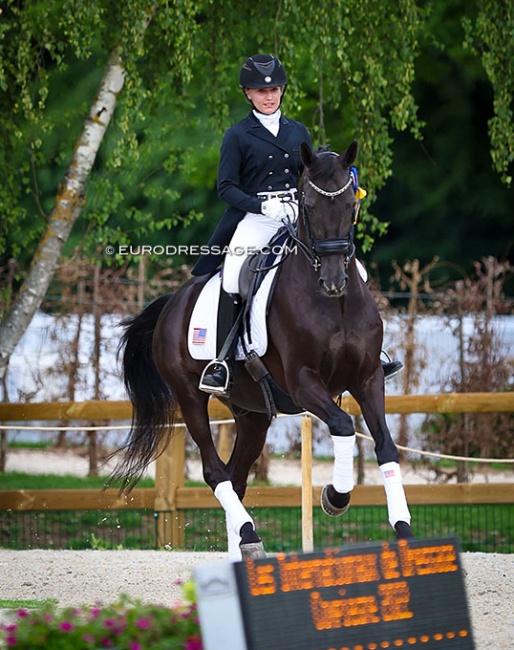 Two American young riders - Mackenzie Peer and Erin Nichols - had their European show debut at the 2022 CDIO Compiegne in France on 20 - 22 May 2022, taking measure of the level of European youth riders competition and gaining valuable mileage and experience along the way. 
Peer and Ansgar
In her European debut, Mackenzie Peer (Leawood, Kan.) rode her own 2005 Dutch Warmblood gelding, Ansgar (by Special D x Formateur), to a 69.951% and eighth-place finish in the Young Riders Team Test which took place during a torrential downpour of rain. The pair returned for the Young Riders Individual Test where they scored an even 70.000% and a sixth-place finish. Peer completed her weekend with a 69.530% in the Young Riders Freestyle Test.
"Ansgar was such a superstar in the crazy weather," said Mackenzie. "We ended in the top 8 to make the awards. The biggest thank you to everyone that helps us reach these milestones, it takes a village."
Peer began her international dressage career as a junior rider in 2017 on American sport pony Macu (by Mushu x Tre Awain Irish Sweeps), having competed at the 2017 North American Junior Riders Championships. Four years later she returned to the international arena at Young Riders' level aboard Lilly Schoeppner's KWPN bred Hernando (by Bretton Woods x Welt Hit II). She began competing Ansgar that same year, having bought the horse from Nicole Polaski. Ansgar was produced and shown at small tour level by Melissa Taylor until 2019. They were the reserve champions at the 2021 U.S. Young Riders Championships.
This trip is not Mackenzie's first time in Europe, having already spent some time training with Stefanie Wolf at Johann Hinnemann's yard Krusterhof in Germany back in 2019.
Nichols and Handsome Rob AR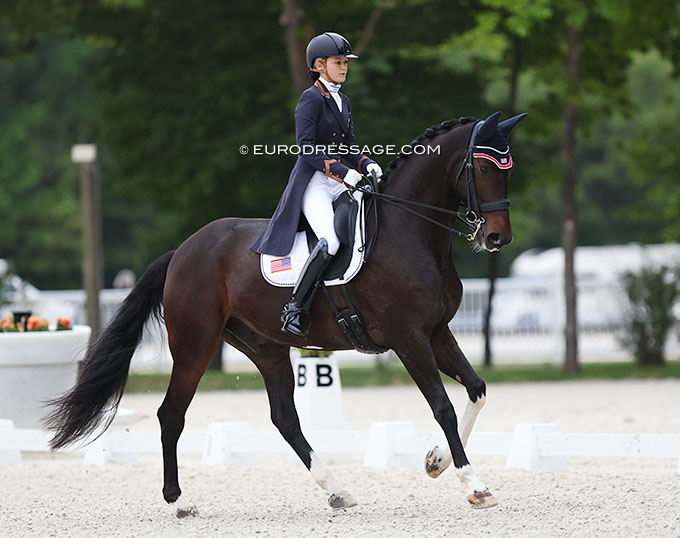 Also competing in her first European event, Erin Nichols (Yorba Linda, Calif.) rode Handsome Rob AR, a 2012 Dutch Warmblood gelding owned by Charmeur x Don Schufro, owned by Diane Nichols, to a 66.911% in the PSG Young Riders Team Test and a 65.343% in the Individual Test. The pair completed their Freestyle Test with a 67.700%.
"I am very proud," Nichols took to Instagram. "We finished 13th against top competition from all over the world today in the Freestyle. Everyday I'm learning something new and valuable. So thankful to have this opportunity!"
Nichols, who was a team gold medalist at the 2021 North American Young Riders Championships and placed 8th in the Kur to Music finals,  combines a budding dressage career with national level show jumping.  
Discover Dressage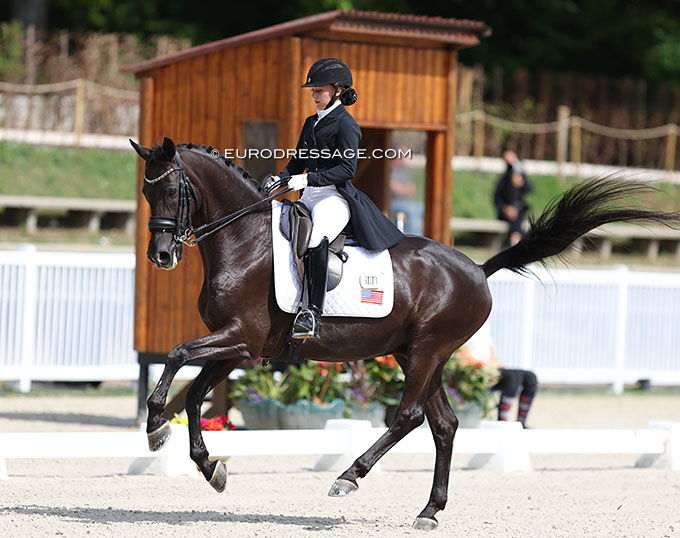 "I was very proud of our young riders and their performances, especially Mackenzie's sixth-place finish in the Individual Test," said U.S. chef d'equpe George Williams. "Overall, it was a super introduction to European competitions for them. We are looking forward to the Young Riders Nations Cup in Hagen."
Peer and Nichols, along with Euro returnee Christian Simonson, will compete in the Youth Nations Cup at the Hagen Future Champions CDIOY in Hagen, Germany, June 14-19. The European Young Rider Tour is generously supported by Discover Dressage, a USEF/USDF program financed by Kimberly van Kampen and aimed at providing strategic guidance and educational opportunities to athletes under the age of 25.
Mackenzie and Erin are currently based at Juliette Ramel's Ivy Farm in Guttecoven, The Netherlands. 
Photos by Astrid Appels - NO REPRODUCTION ALLOWED ! If you want to use our photos on social media, you need to buy them first. Email us to see your pictures. We have photos of almost all riders who were in Compiegne.
Related Links
Riders Named to 2022 U.S. Young Rider European Tour and CDIO Compiegne
New Pathway Program, Discover Dressage USEF/USDF Emerging Athlete Program, Launched
Kimberly van Kampen Moves Sponsorship from Wellington to Ocala