2022 Bundeschampionate Qualifier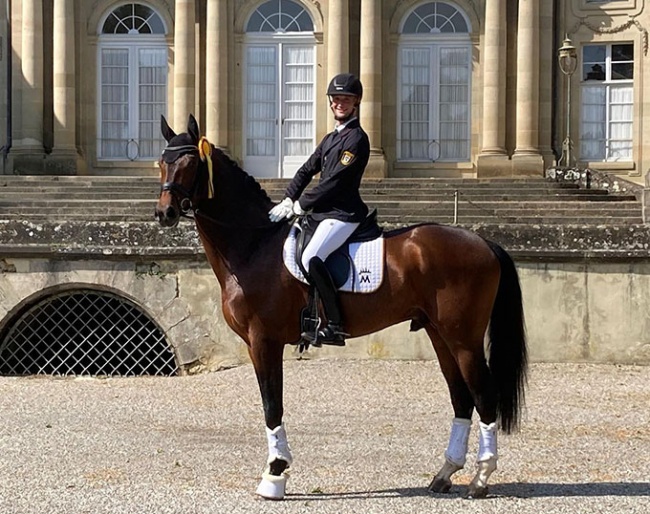 The 5-year olds Vermeer and Furst Friedericus W, and the 6-year olds Bella Benicia and Zampano were the winners of the Bundeschampionate qualification tests held at the regional shows in Aulendorf (4 - 6 June 2022) and Illertissen (5 - 6 June 2022). 
Aulendorf: Vermeer and Bella Benicio
In the 5-year old division, which was judged by Dr. Bernd Reichlen  Sabine Daßler, and Doris Bürger, eight combinations were entered and the class was won by the only pair to achieve a score high enough for a ticket to Warendorf (8.0 or more). Lukas Maier won the class aboard the Hanoverian stallion Vermeer (by Vitalis x Sir Savoy), owned by the Marbach state stud. They scored 8.0 and edged out Stefanie Lempart aboard Claudia Lachenmaier's Oldenburg gelding Benny on the Beach (by Bordeaux x Danone), who scored 7.8 points. 
The same judges' panel assessed the 6-year old category, which was won by Ines Knoll aboard Bella Benicio, a 6-year old DSP mare by Benicio x Zack, with 8.3. Two pairs tied in second place with 8.0: Vera Breidenbach aboard Furstin Primavera (by Furst Fohlenhof x Quando Quando) and Julia Meller-Motzet on Saint Laurent S (by Scolari x Wolkentanz). 
Illertissen: Furst Friedericus W and Zampano
The qualifier in Illertussen took place on 5 and 6 June 2022. A field of 11 competitors started in the 5-year old test, judged by Cornelia Albercht, Sonja Pilton, and Oliver Granicky. Anna-Katharina Gerber steered Dorte Wedewardt's Oldenburg stallion Fürst Friedericus W (by Fürsten-Look / Don Juan de Hus) to the victory in the 5-year old test at Illertussen. The pair scored a winning total of 8.4 points and got  8.5 for trot, 8 for walk, 9 for canter, 8 for submission and 8.5  for general impression.  Austrian Christian Lanterdinger was the runner-up with Pia Zeisberg's Hanoverian mare Ischia L (by Ibiza / Rubin-Royal) on a total of 8.0 points. The liver chestnut mare got 8 for walk and trot, 8.5 for canter, 7.5 for submission and 8 for general impression. 
Eight 6-year olds travelled to Illertissen for the M-level dressage horse test, which was judged by Heinrich Geigl, Oliver Granicky, and Wolfgang Schierloh. Routinier Ramona Ritzel won the class aboard Jozef Ritzel's home bred DSP gelding Zampano (by Zack x Baryshknikov) with an 8.5 score. The chestnut got 8 for walk, 9 for trot, 8.5 for canter, 8 for submission and 9 for general impression. Christian Lanterdingern and Isabelle von Medinger's Westfalian gelding Bon Dias (by Bon Coeur x Delamanga) were second with 8.2 points. The gelding got 8 for walk and trot, 8.5 for canter, 8 for submission and 8.5 for general impression. 
Results - 2022 Bundeschampionate Qualifiers
Aulendorf - 5-year olds
1. Vermeer (by Vitalis / Sir Savoy) - Maier,Lukas - 8.0
2. Benny on the Beach (by Bordeaux  / Danone) - Lempart,Stefanie - 7.8
2. Zenetti (by Zackman M / Spielberg) - Stengele,Ellen - 7.8
4. Forever Disco (by For Romance I / Disco-Boy) - Knoll,Ines - 7.5 
5. Dassia (by Fahrenheit / De Niro) - Hofmann,Nicole - 7.4
6. Sir Skyfall (by Sir Heinrich / Lanciano) - Lempart,Stefanie - 7.2
7. Bozydar (by Benetton Dream / Dancier) - Stengele,Ellen - 7.0
Her Majesty (by Helium / Bordeaux) - Maier,Lukas - RET
Aulendorf - 6-year olds
1. Bella Benicia (by Benicio / Zack) - Knoll,Ines - 8.3
2. Fürstin Primavera (by Fürst Fohlenhof / Quando-Quando) - Breidenbach,Vera - 8.0
2. Saint Laurent S (by Scolari / Wolkentanz) - Meller-Motzet,Julia -  8.0
4. Bastian (by Best of Gold / Hohenstein) - Astfalck,Lisa - 7.5
4. Kleiner Kaiser   (by Kaiserstolz / Quadrofino) - Keck,Daniela - 7.5
6. Zenturion (by Zalando / Rubin-Royal) - Lempart,Stefanie - 7.3
Illertissen - 5-year olds
1. Anna-Katharina Gerber - Fürst Friedericus W (by Fürsten-Look / Don Juan de Hus) - 8.5 8 9 8 8.5 --- 8.4
2 Christian Lanterdinger -  Ischia L (by Ibiza / Rubin-Royal) - 8 8 8.5 7.5 8 --- 8
3 Kristina Olson -  Benderry (by Benicio / Londonderry) - 7.5 8 8 7.5 7.5 --- 7.7
3 Franziska Gerber  - Icatcher (by Ibiza / Fuerstenreich) - 8 8 8 7 7.5 --- 7.7
5 Bettina Schäfer - Divina CIX (by Don Marcello / Rotspon) - 7.5 7.5 8 7.5 7.5 --- 7.6
5 Michaela Förtsch - Scalatore (by Schwarzgold / Boston) - 8 7.5 8 7.0 7.5 --- 7.6
7 Franz Trischberger - Reviano (by Revolution / Sir Donnerhall) - 8 6 8 7.5 7.5 --- 7.4
8 Pia Cristina Gebhard  - Feynman (by Fürsten-Look / De Niro) - 7.0 7.5 7.5 7.0 7.0 --- 7.2
9 Patricia Kornes -  Delicia (by Danone I / Belissimo M) - 7.5 6.5 7.5 7.0 7.0 --- 7.1
9 Christina Jorck-Jorckston - Feingeist (by For Romance I / Souvenir) - 7 7 7.5 7 7 --- 7.1
11 Anja Marie Berngehrer - Van Venn (by Vitalis / Stedinger) - 6.5 6.5 6.5 6.5 6.5 --- 6.5
Illertissen - 6-year olds
1. 1 Ramona Ritzel - Zampano (by Zack / Baryshnikov - 9.0 8.0 8.5 8.0 9.0 --- 8.5
2 Christian Lanterdinger  - Bon Dias (by Bon Coeur / Delamanga - 8 8 8.5 8.0 8.5 --- 8.2
3 Ramona Ritzel - Johny Johnson (by Johnson / Wolkentanz - 8 8 7.5 7.5 7.5 --- 7.7
4 Ayleen Zimmer - Levito (by Le Vivaldi I / Lord Loxley - 7.5 7.5 8 7.0 7.5 --- 7.5
4 Katrin Burger - Bocaccio (by Bon Coeur / Carpaccio - 8.0 6.0 8.0 8.0 7.5 --- 7.5
6 Christiane Maier-Schwärzler  -  Bolesco (by Baccardi / Grafenstolz - 7 8 7 7.5 7.5 --- 7.4
6 Christian Lanterdinger - Bassantino (by Benicio / Fürst Romancier - 7.5 7.5 7.5 7.0 7.5 --- 7.4
8 Patricia Kornes - Decider (by Don Index / Rivero II) - 7.0 8.0 7.0 6.5 7.0 --- 7.1
Related Link
Eurodressage Coverage of the 2022 Bundeschampionate