2022 Bundeschampionate Qualifier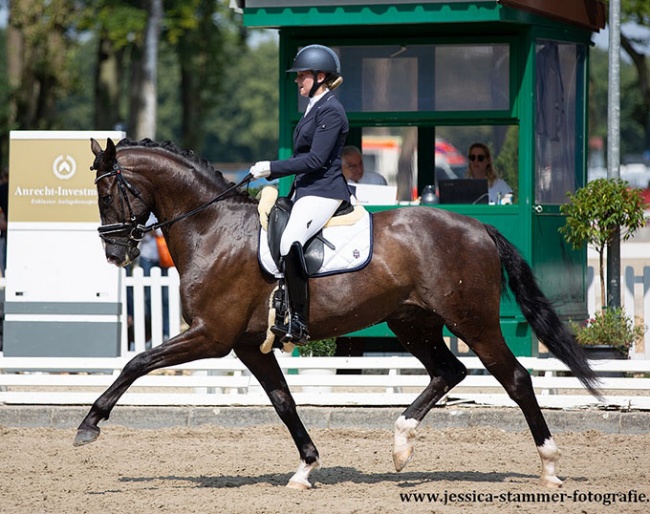 The 5-year old Montepulciano and the 6-year old Floris Grey became the winners of the Bundeschampionate qualification classes held at the regional show in Bargstedt on 9 - 11 June 2022. 
In the 5-year old age category only five pairs lined up to be judged by Gabriele von Appen, Marret Maucher and Anna von Holten-Jungheit. Malte Kalus and Jens Meyer's Oldenburg stallion Montepulciano (by Morricone x Damsey) won the class with 8.1 points. The bay got 8 for walk and trot, 8.5 for canter, 7.5 for submission and 8.5 for general impression. Maxi Kira von Platen and Helgstrand's Oldenburg stallion First Rock Star (by For Romance x Rock Forever) followed in second place with 7.6, not enough for a ticket to Warendorf. 
Six combinations were entered for the 6-year old dressage horse test, which was judged by Jurgen Bockmann, Alyona Bilan and Bianca Simon-Schön, and won by Melanie Klein aboard Steffen Brunkhorst's Hanoverian gelding Floris Grey. The Floris Prince x Stedinger gelding scored a winning 8.7 mark with 8.5 for walk and canter, 10 for trot, 7.5 for submission and 9 for general impression. His 10 for trot was the first 10 given this 2022 Bundeschampionate qualification season! Malte Kalus and Gerrit Holzle's Hanoverian mare So Easy (by San Amour x Don Bosco) tied in second place on 8.1 points with Peter Koch and Herbert Schlüter's Hanoverian gelding Furst Friedrich (by Furstenball x Donnerhall).
Results - 2022 Bundeschampionate Qualifier
Bargstedt - 5-year olds
1 Malte Kalus - Montepulciano (by Morricone I / Damsey) - 8 8 8.5 7.5 8.5 --- 8.1
2 Maxi Kira von Platen - First Rock Star (by For Romance I / Rock Forever) - 8.5 7.5 8 6.5 7.5 --- 7.6
3 Marco Bührig -  Royal Lady G (by Revolution / Rubin-Royal) - 7.5 7.5 7.5 7 7.5 --- 7.4
4 Christiane Peters - Florentina (by Floris Prince / Wolkentanz) - 7 8 7 7 7 -- 7.2
Mathis Goerens - Feuerfunke (by Franziskus / Foundation) - RET
Bargstedt - 6-year olds
1 Melanie Klein - Floris Grey (by Floris Prince / Stedinger) - 10 8.5 8.5 7.5 9 -- 8.7
2 Malte Kalus -  So Easy (by San Amour I / Don Bosco) - 8.5 7.5 8.5 8.0 8.0 -- 8.1
2 Peter Koch - Fürst Friederich (by Fürstenball / Donnerhall) - 8.5 8 8.5 7.5 8 -- 8.1
4 Mathilde Klausberger - Bonheur Ici Bas (by Bon Coeur / Antibes) - 8 8.5 7.5 8 8 -- 8 
5 Annika Korte  - empleton Growth (by Top Gear / De Niro) - 7 8 8 8 8 -- 7.8
6 Ines Reyer - Desperanda (by Dante Weltino / Charon) -  8 6.5 7.5 7 7.5 -- 7.3
Photo © Jessica Stammer
Related Link
Eurodressage Coverage of the 2022 Bundeschampionate