2022 CDIO-PJYR Hagen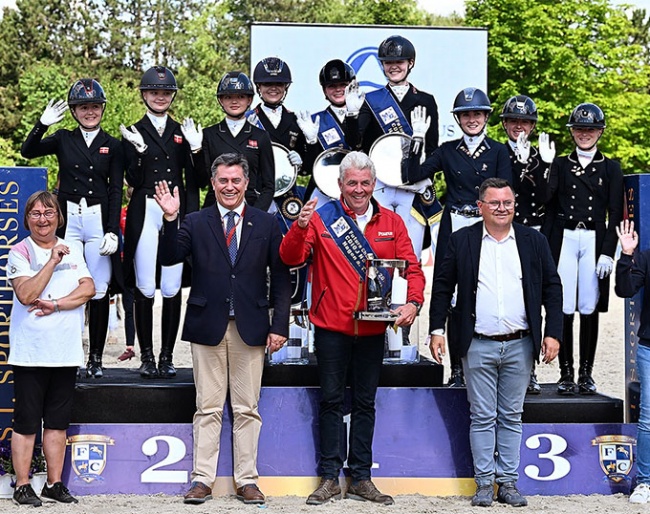 The German Junior and young rider team both won the nations' cup competition at the 2022 CDIO-PJYR Hagen "Future Champions" competition hosted annually at Hof Kasselmann.
The 2022 edition is taking place 15 - 19 June 2022 and for home country Germany is the final qualifier for team selection for the 2022 European Junior/Young Riders Championships which will take place in Hartpury (GBR) in July.
The competition kicked off with the CDIO Nations' Cup competition for junior and young riders. Only two combinations are required to make up a team per country, but several nations were represented by three riders.
The Nations Cup for juniors and young riders was presented by the Liselott and Klaus Rheinberger Foundation and Germany won both divisions. The winning German junior team included Allegra Schmitz-Morkramer, Lana-Pinou Baumgürtel and Rose Oatley, while victory in the Young Riders' U21 age group went to the team with Lucie-Anouk Baumgürtel, Helena Schmitz-Morkramer and Jana Schrödter.
Lucie-Anouk Baumgürtel spoke for her teammates when she said after the prize giving ceremony: "I am very grateful to be able to ride here. The conditions are simply top and the participants are really great, coming here from all over the world."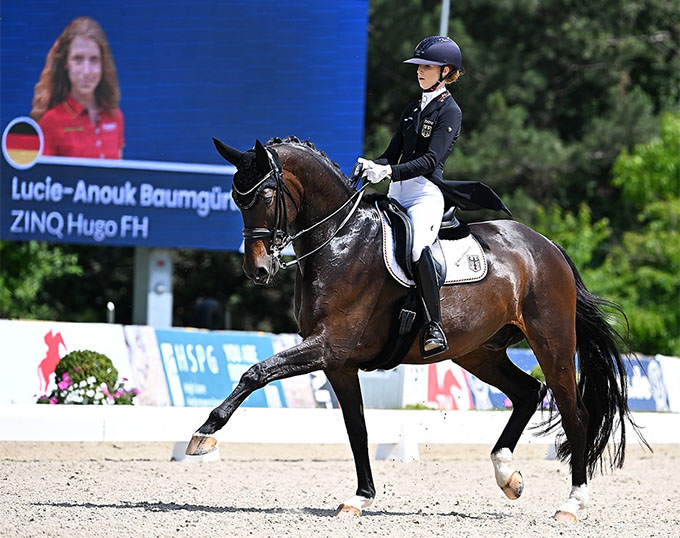 Close on the heels of the German riders in both Nations Cups was the competition from Denmark. Sophia Ludvigsen, Frederikke Gram Jacobsen and Kristian Würtz Green competed in the young riders competition. The junior team for Denmark was represented by Johanne Kofod Jensen, Sophia Boje Obel Jorgensen and Thilde Rude Hare.
The French team also placed among the juniors: Mathilde Juglaret and her team mates Anna Dupuy Pelardy and Lucie Planchet were delighted with their third place.
In the young riders competition, however, the riders of the Spanish team around their national coach Jenny Eriksson were jubilant. Sergio Moron Basoco and his team mate Natalia Bacariza Danguillecourt rode under the Spanish flag.
Related Link
Scores: 2022 CDIO-PJYR Hagen