Great Britain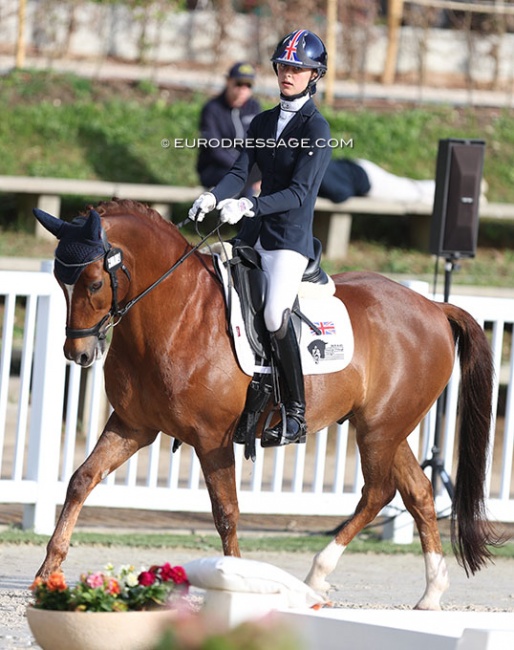 Following results and progress throughout the spring campaign, the British Dressage U21 Selectors released their short lists of riders in contention for team selection at the 2022 European Youth. Championships.
The 2022 European Junior and Young Rider Championships take place in Hartpury, Great Britain, 25 – 31 July. The 2022 European Pony Championships in Strzegom, Poland, 03 – 07 August, and the 2022 European Children Championships in Pilisjászfalu, Hungary, 24 – 28 August.
With short lists now released, teams and reserves are expected to be announced during the week commencing 20 June.
Children 
Crystal Robinson-Long (14) with her own Evita Ronia (dark bay mare, 2009, Westpoint x Oscar, KWPN).
Ponies
Mette Dahl (15) with Fiona Bigwood's George Clooney BS (grey gelding, 2011, Caesar 171 x Santano, KWPN).
Sofia Games (13) with Janet Oliver and Katie Oliver-Games' Mister Snowman (liver chestnut gelding, 2006, The Braes My Mobility x Llanarth Most Triton, OLDBG) and Katie Oliver-Games' Next Black Magic (black gelding, 2008, Nabucco R x FS Pour l'Amour, WESTF).
Lauren Geraghty (16) with her own WS Jackson (chestnut gelding, 2011, Chiskin Jaguar x His Highness, AES).
Myles Graham (14) with Caron Roberts' Dresscode Cocktail (dun gelding, Top Carlos Cassini, WESTF).
Demi Howard-Cartwright (14) with her own Fin C WE (chestnut gelding, 2003, Famos x Eiger III).
Ruby Hughes (14)  with Shirley Rixon's Hilkens Showgirl (palomino mare, 2013, Dreidimensional x Champion De Luxe, WESTF).
Juniors
India Durman-Mills (17) with Verity Saul's Escade (bay gelding, 2009, Jazz, KWPN).
Myles Graham (14) with Caroline Bell's Nibeley Union Hit (dark bay mare, 2007, Nibeley Union Jack x Sandro Hit, AES).
Ruby Hughes (14)  with Lucy Amy's Extra Time P (dark bay gelding, 2009, Goodtimes, AES) and Nancy Scott's Bee Gee 8 (bay gelding, 2006, KWPN).
Isobel Lickley (17) with Emma Blundell's Mount St John Furstin Fugger (dark bay gelding, 2011, Fürst Heinrich x Weltmeyer, WESTF).
Annabella Pidgley (17)with Sarah Pidgley's Sultan des Paluds FRH (liver chestnut gelding, 2010, Soliman de Hus x De Niro, HANN) and Sarah Pidgley's Espe (bay mare, 2014, Escolar x Dimaggio, WESTF).
Sophie Wallace (15) with Laura Tomlinson and Ursula Bechtolsheimer's Rosalie B (black mare, 2006, Rubin Royal x Newcastle. WESTF).
Young Riders
Caitlin Burgess (20) with her own Chocotof (brown gelding, 2007, Lord Leatherdale, KWPN).
Anna Dalrymple (19) with Maxine Vainio's Vagabond de Massa (bay gelding, 2009, Reito x Xaquiro, LUSIT).
Maddy Frewin (19)with Hannah Dovey's Eagle Nouvelle (bay gelding, 2009, Singapore, WBS). 
Lilah Gibbs (20) with her own and Sarah Millis' Dude III (black gelding, 2011, Dancier x Rubinstein, HANN).
Jessica McConkey (19)  with her own Lady Gaga (bay mare, 2009, Quaterback x Solos Landwind, DWB) and her own Wilson Stensvang (black gelding, 2010, Wilkens x Blue Hors Don Schufro, DWB).
Sophie Taylor (19) with her own Jerrydale (bay gelding, 2014, Everdale, KWPN).
Photo © Astrid Appels
Related Links
Eurodressage Coverage of the European Junior/Young Riders Championships
Eurodressage Coverage of the European Pony Championships
Eurodressage Coverage of the European Children/Under 25 Championships