2022 CDIO-PJYR Hagen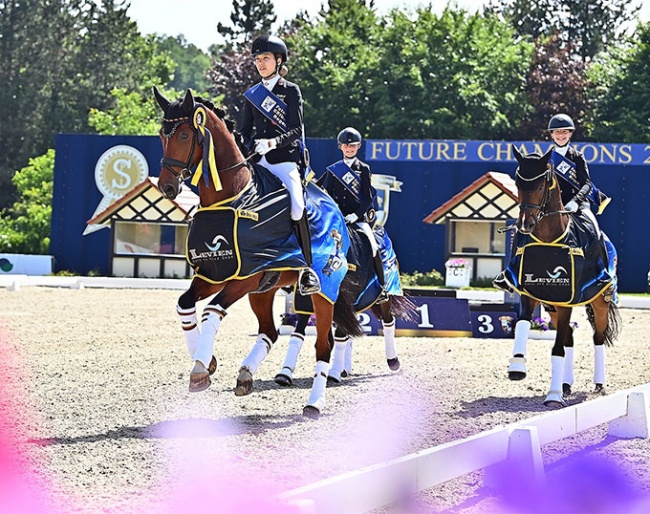 "The early bird catches the worm" must have been the motto for the German young riders on Friday morning at Future Champions. Just like on Thursday, the riders with the eagle on their jackets dominated both the Children and the Juniors.
Children
In the Children's Nations Cup, Prize of Levien Sails & Drive, the team around national coach Hans Heinrich Meyer zu Strohen secured the coveted sashes and winner's rugs. First and foremost Zoe Marie Hachmeier and her gelding Sir Piccolino, who also secured the golden ribbon in the individual classification with 79.300 %. Teammates Lotta Plaas on her Trakehner Balsamico (73.625 %) and Martha Raupach on the Oldenburg Francis Drake OLD (75.075 %) also delivered strong performances in the arena.
The Belgian team ranked second in the Children's Nations Cup and the Dutch team came third.
Oatley Tops Junior Class
Also on course for gold in the individual classification of the Junior Nations Cup, presented by High Score Performance Ground, was Rose Oatley with her Westphalian-bred gelding Rock Revolution. The final score for the pair was 73.137%. British rider Annabella Pidgley and her Hanoverian gelding Sultan des Paluds FRH finished in second place, as they did on Thursday. Today the result was 72.794 %. The winner from the previous day, Allegra Schmitz-Morkramer and her stallion Libertad secured the last place on the podium with 72.304 %. Team mate Lana-Pinou Baumgürtel came fifth with 70.637 %.
-- Hof Kasselmann press release
Related Links
Scores: 2022 CDIO-PJYR Hagen
Germany Wins Junior and Young Rider Nations' Cup at 2022 CDIO-PJYR Hagen