Australia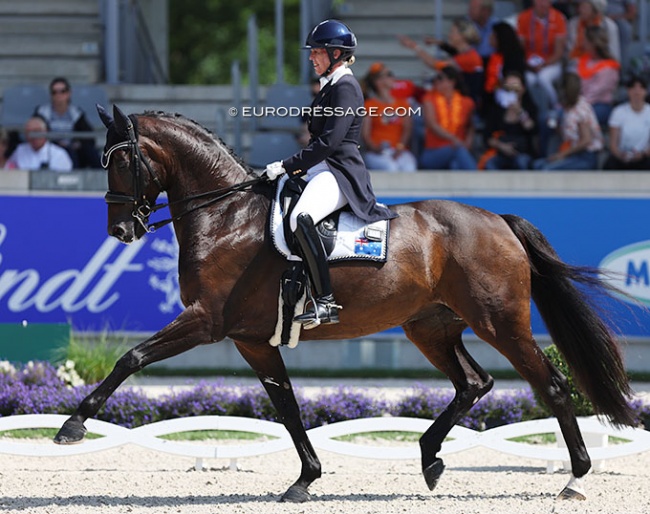 The Australian equestrian federation has announced a short list of riders which are in the final stretch towards team selection for the 2022 World Championships Dressage. 
On 4 July 2022 the nominative entry list had to be announced and Australia has put six riders and eight horses on the list. 
Following the 2022 CDIO Aachen, the Australian Dressage Selection Panel selected these pairs
Lyndal Oatley - Eros and Elvive
Mary Hanna - Calanta and Syriana
Simone Pearce and Fiderdance
Warwick McLean and Hendrix 
Jayden Brown and Sky Diamond
Kristy Oatley and Rosenlorbeer  
Lyndal Oatley has been the most consistently scoring Australian rider of the moment. Simone Pearce and her new ride Fiderdance scored 69.761 and higher at the three shows they ride. Mary Hanna and her Olympic mount Calanta went from 67.609% to a 69 and 70%, while Syriana had marks over 70 in Australia this year, but in Europe her Grand Prix high score is 67.935%.
The fourth spot seems to be a wide open battle between McLean, Brown and Oatley. McLean and his Johnson offspring Hendrikx posted 70.609%, 66.652%, 68.457%, 64.913% in the Grand Prix this year. Jayden Brown has only shown Sky Diamond at CDI's in Australia and received 69.674%, 68.684%, 68.804%, 69.894% there. Kristy Oatley posted two starts with Rosenlorbeer and got 66.674 and 67.978% in the Grand Prix.
On 11 July 2022 the National Dressage Selection Panel will select four (4) combinations to compete at the 2022 World Dressage Championships in Herning on 6 - 11 August 2022. The National Dressage Selection Panel will also name up to four (4) reserve combinations that will not be ranked. 
Photo © Astrid Appels
Related Link
Eurodressage Coverage of the 2022 World Championships Dressage