Belgium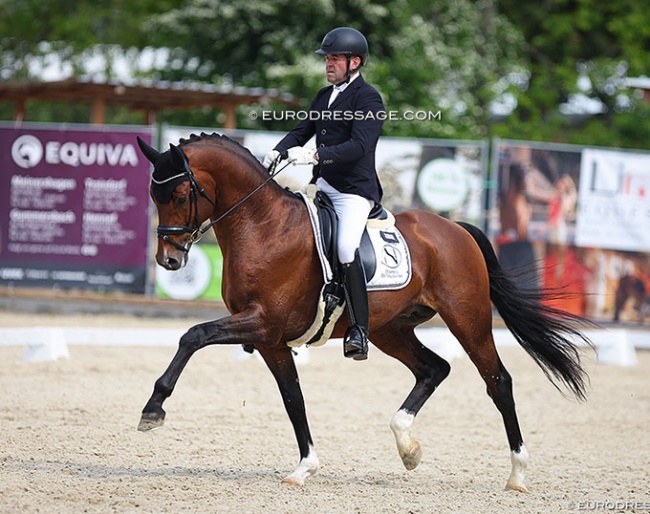 The first of two Belgian selection trials for the 2022 World Young Horse Championships kick off today, 13 July 2022,  in Vrasene. 
In order to be eligible to ride in the selection trials combinations had to score at least once 78% (7-year olds 73%) at a CDN or CDI in the FEI young horse classes this 2022 spring show season. 
At the first Belgian WCYH selection trial, the horses are assessed by judges Dominique Rimanque and Didier Deschauwer and Belgian-German trainer Jan Nivelle.  
The second trial will take place in Hannuit on 3 August 2022. 
Entered to compete in Vrasene are:
5-year olds
Debo Nils - Rigoletto Ballante (OLDBG 'by Revolution x Sir Donnerhall)
Swinnen Celine - Rolex 'W' van Prinsenhof's (BWP 'by Bon Coeur x Metall) => THROUGH TO ROUND 2
Niessen Zoe - Rashida Van De Kempenhoeve (BWP 'by Revolution x Blue Hors Zack) => THROUGH TO ROUND 2
Heidbuchel Amber - Rianta Van De Kempenhoeve (BWP 'by Indian Rock x Quarterback) => THROUGH TO ROUND 2
Verreet Katrien - Reese (BWP 'by Fuerst William x Coraggio Vh Bloemenhof)
Schneiders Jerome - Escada (OLDBG 'by Escolar x Fürst Romacier)
Mannaerts Patricia - Dalton (KFPS by Alwin  x ?)
Bosman Kara - Rookie Blue de Tamise (BWP 'by Toto jr x Rubinstein)
Loos Franka - Racoon (BWP 'by Heros Begijnhoeve x De Niro) => THROUGH TO ROUND 2
6-year olds
Schulkens Roger - Lord Heros CL (KWPN 'by Heros Begijnhoeve x San Remo)
Visser Tommie - Quinten Begijnhoeve (BWP 'by Heros Begijnhoeve x Ferro) => THROUGH TO ROUND 2
Heylen Tom - Quberon van het Beukenhof (BWP 'by Johnson x Don Renoir) => THROUGH TO ROUND 2
Verboomen Justin - Zonik Plus (HANN 'by Zonik x Hohenstein) => THROUGH TO ROUND 2
Verreet Katrien - Liviah Diar (KWPN 'by Johnson x Florestan) => THROUGH TO ROUND 2
Schuurmans Cindy - Lazlo (KWPN 'by El Capone x Special D)
Van De Keere Frederik - Kiara (KWPN 'by Everdale x Westpoint)
7-year olds
Van Laer Nick - Jack Daniels N (SBS 'by Apache x Welt Hit II) => THROUGH TO ROUND 2
Meisch Linda - Patty's Mistake (BWP 'by De Niro x Tuschinski) => THROUGH TO ROUND 2
Verwimp Jorinde - New Berry Z (ZANG 'by Negro x Weltmeyer II) => THROUGH TO ROUND 2
Waelkens Tahnee - Kumami ADQ (KWPN 'by Fidertanz x Riant) => THROUGH TO ROUND 2
Van De Keere Frederik - Kosmo (KWPN by Havanna II x Clint Eastwood)
Photo © Astrid Appels
Related Link
Eurodressage Coverage of the 2022 World Championships Young Dressage Horses