2022 European Junior and Young Riders Championships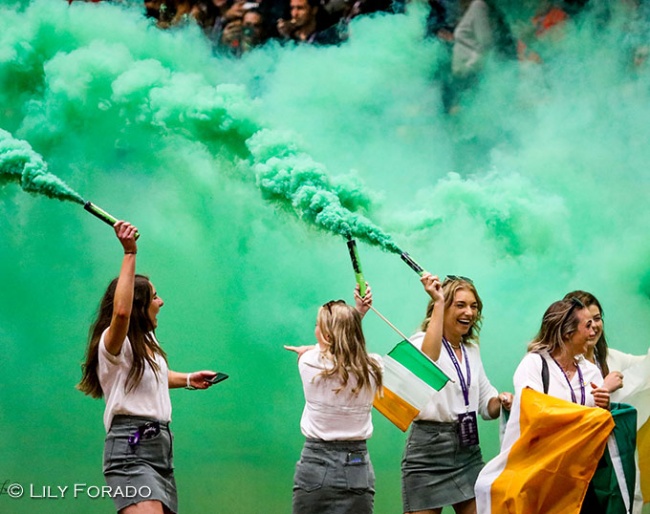 As I am sitting in my hotel room at The Mooring Post, a stone's throw from Hartpury Equine College on the eve of the 2022 European Junior and Young Riders Championships, I am torn between two choices: go to bed and have a good night sleep after a nervous tossing-and-turning night, or blog about my travels. 
I feel a ramble coming on. My hair is wrapped in an oversized towel, washed now so I don't have to waste time in the morning, and pyjamas are already on. My horse show companion, man-at-arms, and room mate - the ever so clever and bubbly Lily Forado - is pounding away on her keyboard to finish up her story of the opening ceremony, which I skipped as I decided to spend it productively in my hotel room writing five news articles for the upcoming days.
Last year after the 2021 Youth Europeans in Oliva Nova, I told myself to skip this event in the future and cover it via live stream from home. Much cheaper, much more effective, and probably more quick than actually being at the show itself. With a gaggle of photographers running around the arena capturing many of the social media obsessed kids from all angles and corners, I started to feel slightly obsolete in the whole process, as the equestrian photographer who finds sport photos more interesting than posed promo shots. And then the usual scenario happens.. A few weeks before the show, you start feeling the buzz, and the "Fear of Missing Out" (FOMO) is creeping up on you. Then the mental process of convincing myself starts: I have never been to Hartpury before, Gloucester is a nice area, I love covering the youth divisions, where is my sense for adventure? And here I am in Hartpury. While my hotel room was booked a year in advance, my plane ticket was not and turned out to be more expensive than a flight to Florida!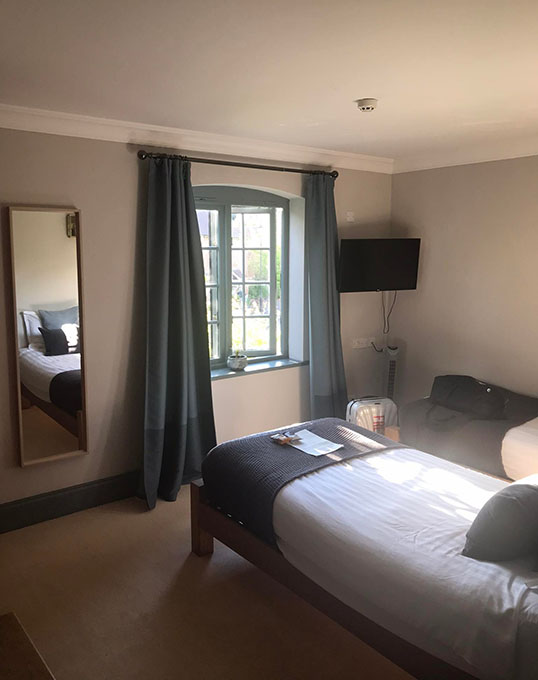 I slept dreadfully last night, worried that I will get even more behind on work, worried about my 35-year old pony who suffers from a severe bout of asthma, worried that I might be queueing for three hours with all the airport drama going on. A sore back from cutting branches five days ago to clear the fence line has turned into a gift that keeps on giving. And still, as soon as I arrived at the airport I knew I made the right choice: bring it on European Championships !!
I cruised through Brussels airport, no massive lines, and had plenty of time to kill as I arrived early. I worked a bit on the computer, posted the Estelle Wettstein story and instead of napping on the plane I started reading a new book, my first in five months. Stefan Zweig's Magellan fascinated me the entire one-hour flight. 
Arriving in Birmingham, I saw signs for the Commonwealth Games which start on Friday. It gave the airport an Olympic feel with fast track lines. The immigration in Birmingham, however, was reminiscent of the horrendous process in the U.S.A.: "what's the purpose of your visit?" At BHX it did go faster. Still, Brexit, another gift that keeps on giving...
My Uber driver greeted me with a smile and as I stepped into the car I was reminded of how Ubers are the same all over the world: they all have that smell of sweet, artificial bubble gum. Also my driver fit the Uber mould: speeding everywhere, but I never felt unsafe. When your bum hits the backseat of a taxi you make the pertinent decision:  shall I have a one-hour conversation or choose to spend the ride  in silence. I opted for the latter and and my driver conceded without making an effort to break it.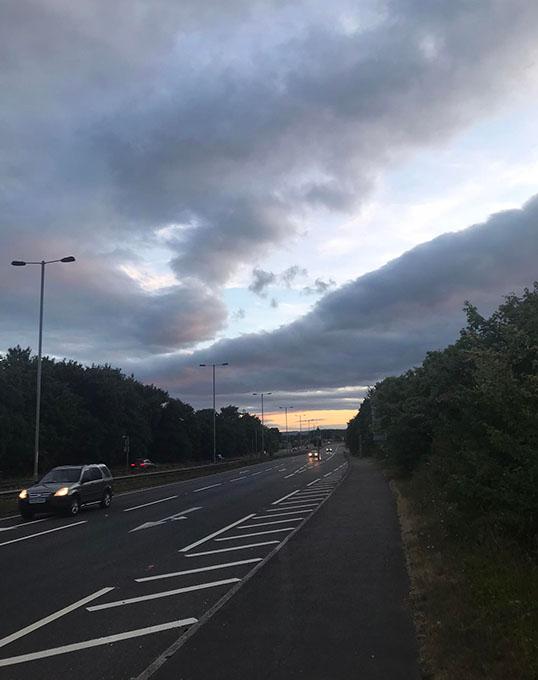 I just watched the landscape roll by, saw the same yellow ragwort in bloom as at home. Britain is beautiful with so much more sense for land preservation than Belgium where string buildings blocks the view. I saw signs for Tewkesbury Abbey and Gloucester Cathedral, all sights I want to visit this week if time allows it. 
I settled into the hotel and re-arranged the room. A tiny work table which held the Nespresso machine and water boiler will serve as our office desk. Lily returned from the opening ceremony which she says the beginning of it was chaos. It took place indoor and several teams had brought coloured smoke guns to represent their country's flags, but instead it filled the entire indoor with an irritating fog that made the fire alarm go off and advised the spectators to leave the indoor. The microphone also failed intermittently but that didn't dampen the spirit. The arena was packed for the ceremony with dressage and eventing youth riders and these 2022 Europeans are promising to be good ones. 
When Lily arrived at the hotel we first chatted before we decided to find some food. No Uber cars available in Gloucester, so we walked to the nearest place - Toby Carvery - where they told us the kitchen had closed three minutes ago. No flexibility, no food. So we stomped back to our hotel and I ordered my first "Uber Eats": Pad Thai and chicken satays. We had no plates, no cuttlery, so improvised. After our late night dinner, it was back to work (me writing this blog). 
No FOMO for me, I'm here now and ready for tomorrow's action. 
by Astrid Appels
Related Link
European Junior/Young Riders Championships