2022 European Pony Championships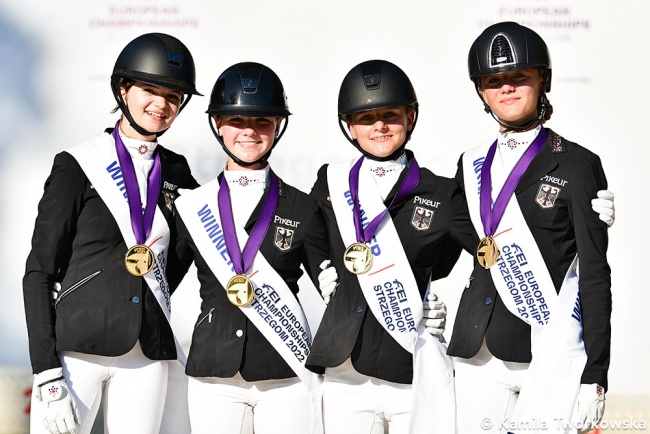 Julie Schmitz-Heinen led the charge of Team Germany to win gold in the nations' competition at the 2022 European Pony Championships in Strzegom, Poland, on 4 July 2022.
The Pony Europeans are in their third year running in Strzegom: first held in 2019, they were transferred to Pilisjaszfalu (HUN) in the 2020 corona year, but returned again to Poland for two back-to-back editions in 2021 and 2022. Hosted at the Morawa hippodrome of the Stragona Equestrian Centre, these European Championships started on Wednesday 3 July with the first group of riders going in the team championship, while the second group rode  on Thursday.
The Team Championship test was judged by Alban Tissot (FRA), Agnieszka Majewska (POL), Carlos Lopes (POR), Barbara Ardu (ITA), and Isobel Wessels (GBR). 
Team Gold for Germany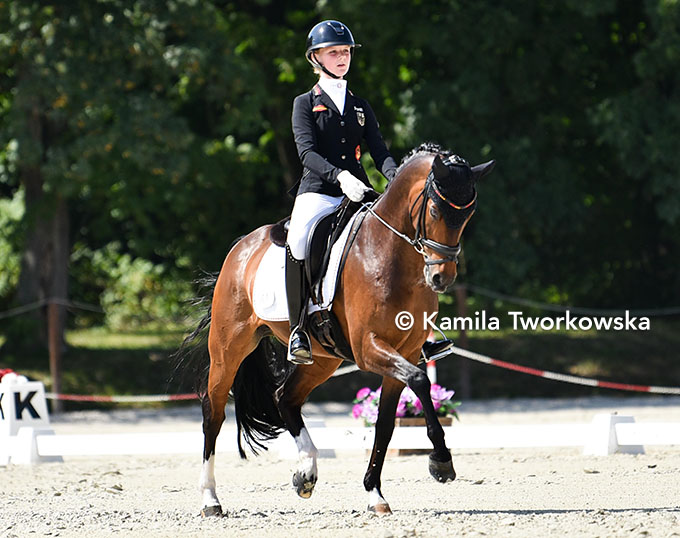 Team returnee Julie Schmitz-Heinen was instrumental in piloting the German team to the gold medal step of the podium with a total score of 226.371. Julie and  her 12-year old bay gelding Carleo Go (by Constantin x Weltmeyer) scored the day high score of 77.943%, placing first with four judges and second with one judge. Her individual marks ranged from 76.286% to 80.571%.  
The overnight leader after group 1, team newcome Mia Allegra Lohe and the 13-year old Tovdals Golden Future Imperial (by CJ Chargon Bredager x Ryyterbjergets Imperial), ranked second in the end with 75.400%. The judges were not in unison as the individual marks had a massive point difference, with the judge at C having her at 73.000% (15th), while the judge at E rewarded the test with 79.286%.
Germany's third team score came from team rookie Lilly Marie Collin on Cosmo Callidus, a 7-year old Westfalian stallion by Cosmopolitan x Cyriac), who placed 11th with 73.028%. Germany's scratch score was still a respectable 72.943% produced by rookie Franziska Roth on the experienced medal winning pony Daily Pleasure, an 11-year old stallion by HB Daylight x Dressman.
Silver for The Netherlands
The Dutch team of captain Imke Schellekens-Bartels returned to Strzegom on strong form and finally bested long-time rival Denmark for the silver medal. They scored a team total of 223,298 points.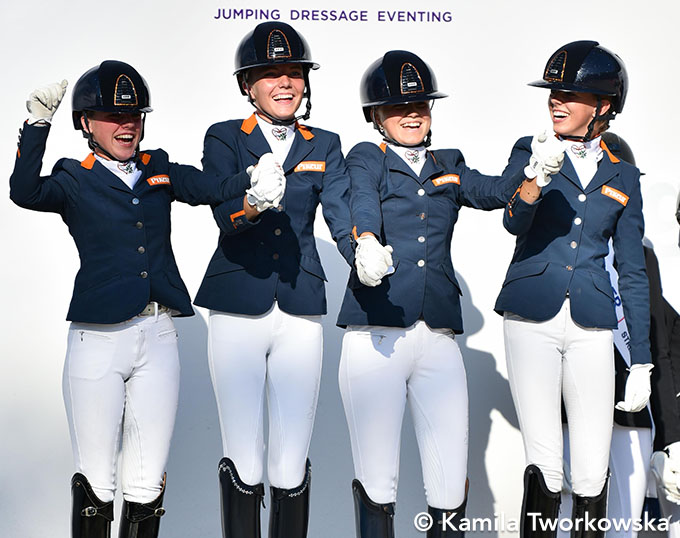 Holland's strongest performing duo was Esmee Boers aboard the 7-year old Dutch Welsh bred stallion Beauty (by Orchard Boginov x Sjapoer ox). They were fourth in the team test ranking with 74.772% with the judges split between a 72/143% low score and a 76.143% high score. 
Three Dutch riders landed in the top 10 with Morgan Walraven producing the second best Dutch score of 74.429% on her long-time equine partner, 10-year old Dutch bred Devill's Kiss Naoni (by Don Cremello du Bois), while Bridget Lock was right on Walraven's heels in seventh place with 74.097% on her 10-year old Dutch bred Don Davino (by Don Carino du Bois x Don't Worry).
The fourth score for Holland was a very strong 73,343% achieved by Maddy Dijkshoorn on the seasoned FEI pony Boogie de l'Aube, a 15-year old Don Worry x Varello offspring who has already taken two other riders to international FEI pony level. 
Only Lock boasted previous team experience, Holland's other three riders are all newcomers to the team.
"I'm mega proud," said team trainer Imke Schellekens. "All four showed what they got and even more. Everyone rode a personal best and are in the top 10 of Europe. The team atmosphere is fantastic. I'm a proud coach."
Bronze for Denmark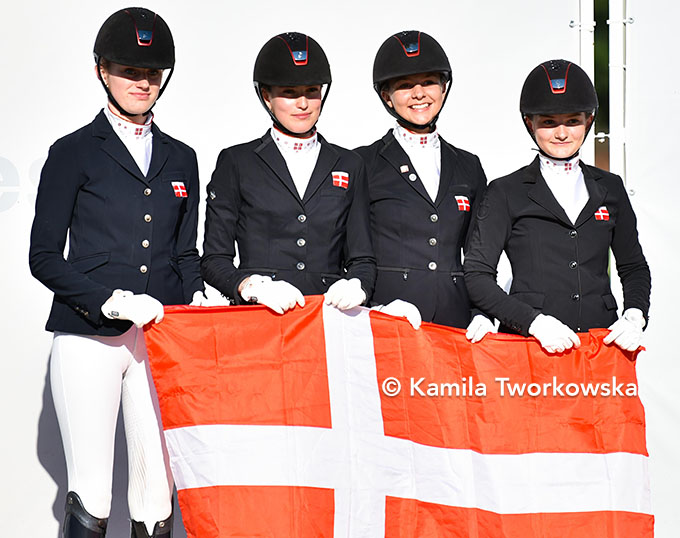 Last year they were on silver, this year it is bronze for the Danish team with 221.800 points in total.
Denmark's team anchor is Cornelia Munch Sinding on the 13-year old Dutch bred Terbofens Charico (by Charivari x Contendro). They slotted in third with 74.857% and were closely followed by experienced pony team rider Josephine Gert Nielsen on her new pony, Kastanienhof Crimson Gold, an 8-year old German bred offspring by Kastanienhof Cockney Cracker x Tetworth Crimson Lake. Nielsen and her chestnut were fifth with 74.457%, but their ride puzzled the judges as she had 71.857% as low score and 77.857% as high score. 
Denmark's third best scoring team rider was rookie Andrea Hamann Sand on the 8-year old Golden Spring Gh (by Golden State x Gentleman). Their 72.486% earning score placed them 16th, while Selma Ludvigsen and Pernille Orum's 12-year old Egelykkes Perfetto (pedigree unknown) were the scratch score with 71.743% (18th).
Two in Top Ten
Two riders from non-medal winning nations were able to capture a spot in the top 10 of the team ranking. 
Belgium's Liezel Everars and her 11-year old Rhinelander gelding FS Capelli de Niro (by FS Champion de Luxe x FS Don't Worry) placed 8th with 73.972%. The duo has been almost undefeated this show season with double and triple victories at the CDI Opglabbeek, Compiegne and Meerle. They are expected to climb the board even more as the competition progresses in Strzegom.
Britain's Mette Dahl returned to the British pony team this year after having represented the U.K. at the 2021 European Junior Riders Championships on her horse Florina. Aboard the 11-year old British bred and KWPN registered grey pony gelding George Clooney B.S. (by Caesar x Santano) she placed 10th with 73.057% and assisted in Team GB to place fourth in the nations' ranking. 
Photos © Kamila Tworkowska
Related Links
Scores: 2022 European Pony Championships
Eurodressage Coverage of the 2022 European Pony Championships