2022 European Pony Championships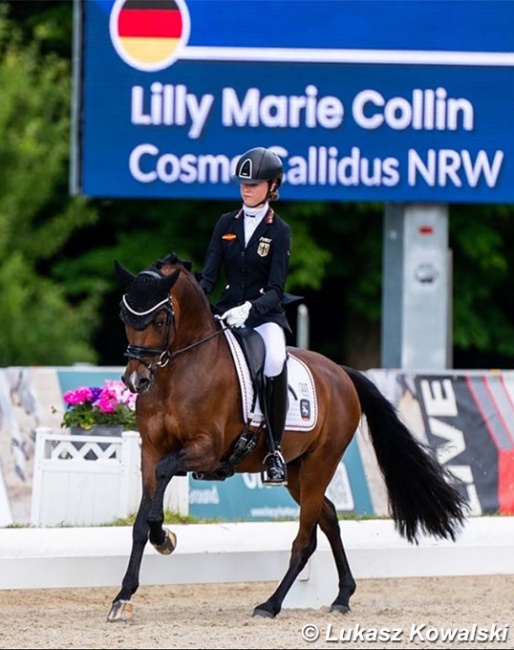 Lilly Marie Collin and her stallion Cosmo Callidus became the winners of the individual test gold medal at the 2022 European Pony Championships in Strzegom, Poland, on 6 August 2022. It was an all German podium today as the silver went to Mia Allegra Lohe, while the bronze was for the winner of the team test, Julie Sofie Schmitz-Heinen. 
The 14-year old Lilly Collin and her 7-year old Westfalian stallion Cosmo Callidus (by Cosmopolitan x Cyriac) were the overnight leaders, having ridden the individual test in group 1 on Friday 5 July. Judges Carlos Lopes, Barbara Ardu, Alban Tissot, Isobel Wessels, and Agnieszka Majewska rewarded her ride with 77,865% and this score was not bested by her rivals today. 
"Lilly really found herself at this show and produced a very strong and sovereign performance. The trot and canter tour she really highlighted," said German pony team trainer Caro Roost. 
Team mate Mia Allegra Lohe also rode in the first group and was second provisionally with 76.243%. Also this score was not improved by any rider frol the second group and Lohe scored the silver medal with her 13-year old Tovdals Golden Future Imperial (by CJ Chargon Bredager x Ryyterbjergets Imperial).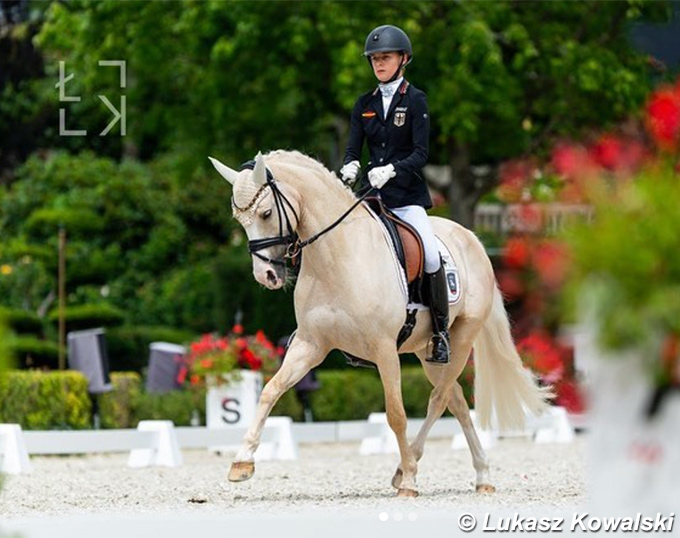 "Mia gave her pony a lot of trust with her feeling and the mare was very motivated," Roost explained. "It was top class how both achieved this feat."
Julie Sofie Schmitz-Heinen and her 12-year old bay gelding Carleo Go (by Constantin x Weltmeyer) ended up with bronze. The pair had won the team test and led Germany to team gold earlier in the week, but in the individual test, they lost valuable points when Carleo Go had a poo-stop in a volte. They scored 75,460% to finish third.
"Julie Sofie stayed on top of this situation and continued her ride unphazed in order to score the necessary points," Roost explained. "Something like this can happen in our sport." 
Riding on Schmitz-Heinen's heels was Denmark's Josephine Gert Nielsen with her 8-year old German bred Kastanienhof Crimson Gold (by Kastanienhof Cockney Cracker x Tetworth Crimson Lake). She was neck-to-neck with the third placed pair and only scored a fraction less to finish fourth with 75,081%.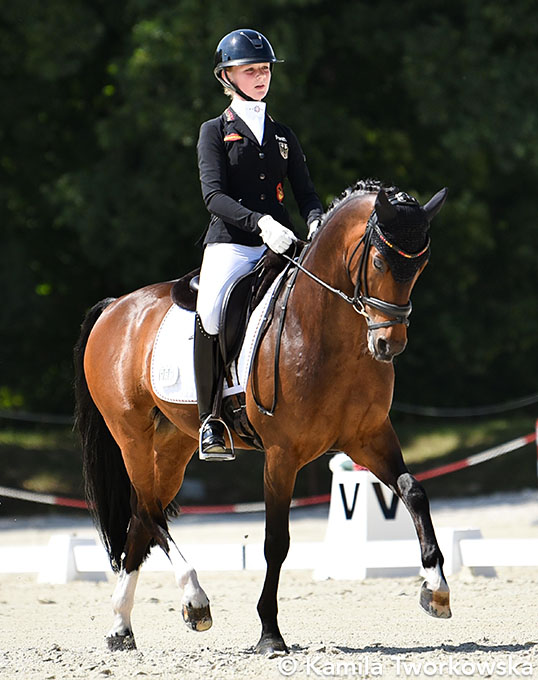 The judges did not really agree on the scores for Nielsen's ride. The judge at C ranked her first with 77.568%, while the judge at E had her 10th with 72.973%
Holland's Maddy Dijkshoorn and the 15-year old Boogie de l'Aube (by FS Don Worry x Varello) completed the top five on a 74.784%. Her individual marks ranged from 72.973% to 76.081%
The 2022 European Pony Championships come to a conclusion on Sunday with the Kur to Music finals. 
Photos © Lukasz Kowalski (archive photos) - Kamila Tworkowska
Related Links
Scores: 2022 European Pony Championships
Eurodressage Coverage of the 2022 European Pony Championships