2022 European Pony Championships
The cards were completely reshuffled for the Kur to Music finals on the last day of competition at the 2022 European Pony Championships in Strzegom, Poland, on Sunday 7 August 2022. 
Instead of an all German podium like in the individual test, a Dutch and Polish riders worked their way onto the podium for silver and bronze, while German Mia Allegra Lohe climbed from individual silver to Kur gold. Maddy Dijkshoorn slotted in second, while German based Polish pony champion Veronica Pawluk brought special glory to the country organizing these Pony Europeans for the third time (2019 and 2021). 
Kur Gold for Germany
Germany still took the majority of the spoils with a third gold medal of the week. As last rider to go in the class, Mia Allegra Lohe and her 13-year old Tovdals Golden Future Imperial (by CJ Chargon Bredager x Ryyterbjergets Imperial) received the high score of the day from the judges with a whopping 80.355%. Four judges on the panel - Barbara Ardu, Alban Tissot, Isobel Wessels, and Agnieszka Majkewska, saw her first, while Carlos Lopes had her second.
"One needs to have good nerves to produce such a rider as last rider to go," said German team trainer Caro Roost about the gold medal winning Lohe. "Mia Allegra and her mare even improved today. Both were incredibly focused mentally and could really deliver at the end."
 Silver for Dijkshoorn with Up and Down Judging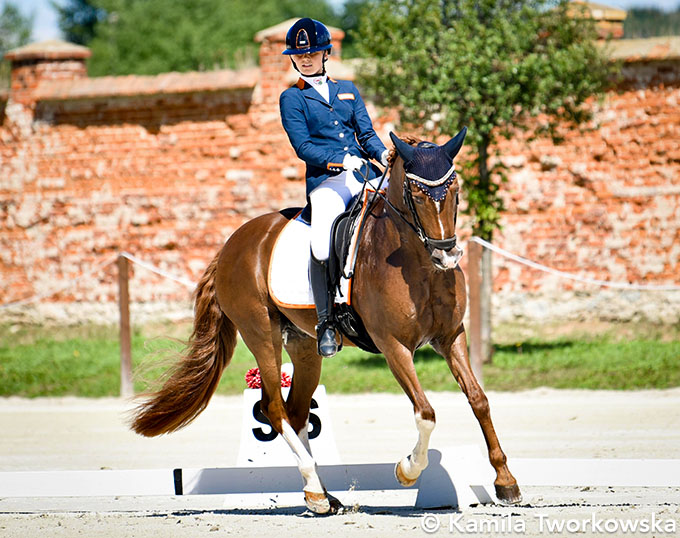 Dutch Maddy Dijkshoorn and the 15-year old Boogie de l'Aube, a 15-year old Don Worry x Varello, landed second place with 77.795%, a highly celebrated feat for Team The Netherlands. 
The judges, however, were all over the place in the assessment of her ride with the low score being 72.825% (12th placce) from Isobel Wessels, while her high score was over 10% more, 83.875% from judge Carlos Lopes (1st). 
Maddy was thrilled with her medal. "He was fantastic in the warm up. When we went into the arena, I had the feeling that I really had to ride him, but it apparently didn't look like that. I was very happy after my test. I used to be in show jumping sport and only a few years ago I made the definite transition to dressage. I used to think there was little challenge in dressage, but now that I'm riding at this level, I notice that it is not true. There is a lot of challenge in dressage. It does pay off that I still jump, it makes me more handy."
Dijkshoorn will be riding the Dutch Championships in ten days. 
Bronze for Pawluk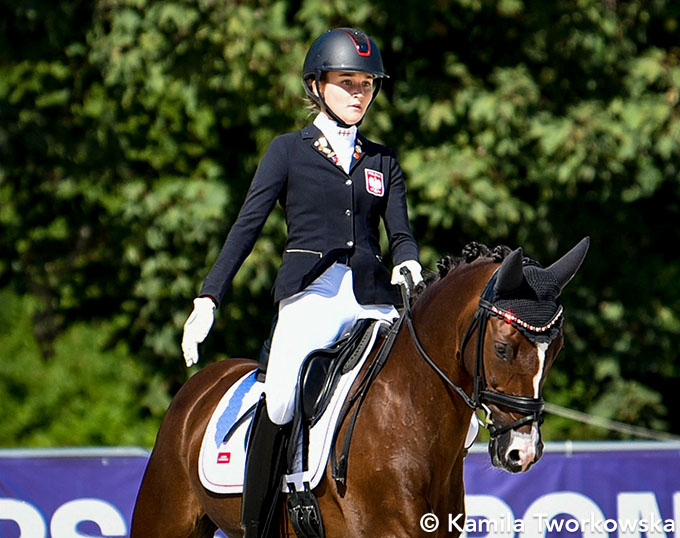 The Polish home crowds were thrilled when Veronica Pawluk wrote history for Poland as she secured the first individual medal for her country in a European Pony Championships.
The German based Pawluk, who trains with Ton de Ridder, piloted her 12-year old German bred D'Artagnan (by FS Don't Worry x Colano) to a third place with 77.490% and stayed a fraction ahead of Dutch Esmee Boers on stallion Beauty, who placed fourth with 0.005% less, 77.485%
The winner of the individual test gold, Lilly Collin and Cosmo Callidus, were fifth with 77.445%, while the winner of the team test, Julie Sofie Schmitz-Heinen on Carleo Go had a few mistakes and dropped to 13th place with 72.795%.
Photos © Kamila Tworkowska
Related Links
Scores: 2022 European Pony Championships
Eurodressage Coverage of the 2022 European Pony Championships