2022 World Para Dressage Championships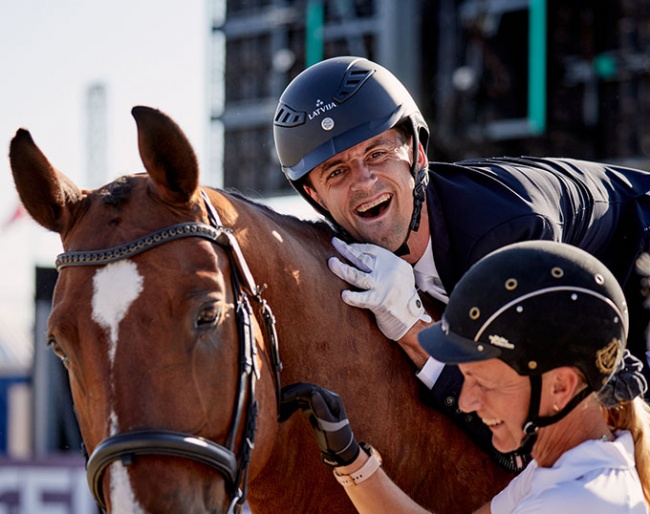 Rihards Snikus, Katrine Kristensen, Tobias Thorning Jørgensen, Sanne Voets, and Michele George have won the individual gold medals in their respective divisions at 2022 World Para Dressage Championships in Herning (DEN) on 10 and 11 August 2022.
The World Para Dressage Championships kicked off on 10 August 2022 with the individual medal deciding classes for Grade I, II and IV. 
Grade I: Rihards Snikus Bests Them All
Latvia Rihards Snikus won Latvia's first ever equestrian gold medal at a European, World, Olympic and Paralympic competition in Herning.
On King of the Dance, Snikus scored 78.535% to take the gold in the Grade I Individual competition, narrowly ahead of defending champion Sara Morganti (ITA), at her third World Championships on Royal Delight, with 78.393%.  And in moment of history, Ireland won its first ever World Championship Para Dressage medal, with Michael Murphy taking the bronze on Cleverboy with 74.143%.
An exhilarated Snikus said: "There are no words. Wow! It's a historical moment. The halt was great and the free walk was not perfect, but it was very good."
An accomplished deejay when he's not riding, he added that if he had to choose a song from his collection to play tonight it would be The Black Eyed Peas' I've Gotta Feeling. "Tonight's going to be a good night," he laughed.
Grade II: Homeside Victory for Katrine Kristensen
As World Championship debuts go, they don't come much better than that enjoyed by Denmark's Katrine Kristensen.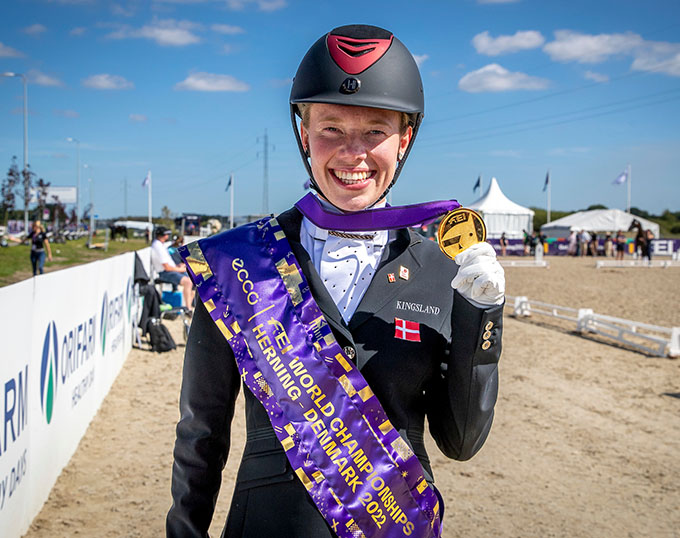 In front of an enthusiastic home crowd and in only her second global championships, she took the gold medal in the Grade II Individual competition. Riding Goerklintgaards Quarter, she scored 75.778% to finish ahead of two of the biggest names in Para Dressage, Austria's Pepo Puch, and Great Britain's Sir Lee Pearson.
Puch, riding Sailor's Blue, scored 75.333% to take the silver, just a whisker ahead of bronze medallist Pearson, on Breezer, who scored 75.091%.
"It was fantastic, and the Danish audience was amazing," Kristensen said after receiving her gold medal. "It was a very big experience. We will celebrate a little bit later, but we have riders competing tomorrow and we have the team competition around the corner, so maybe a little celebration.
"It's hard to put words on it – maybe tomorrow when I've slept on it I will be able to. But it's huge. For a para dressage rider, it's the biggest goal to reach and it's amazing," said Katrine Kristensen (DEN)
Grade III: Tobias Thorning Jørgensen
Home favourite Tobias Thorning Joergensen (DEN) gave his fans what they wanted when he won the Grade III Individual title.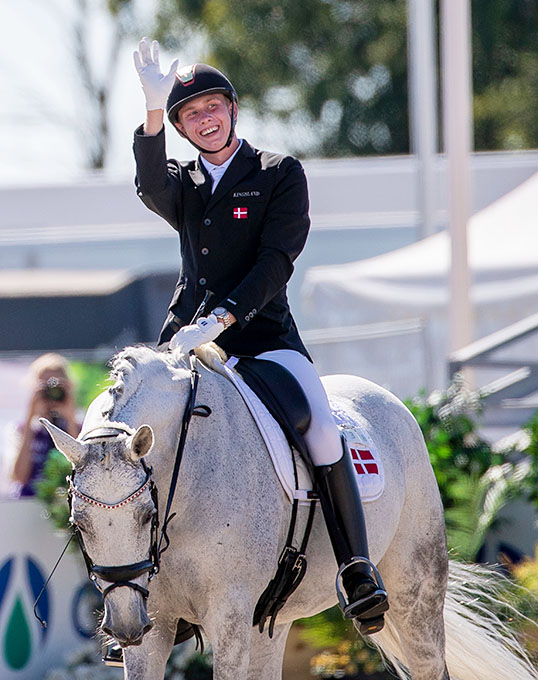 Riding the beautiful grey mare Jolene Hill, the pair scored 78.676% to take the gold, the fifth of his short career so far and his first at a World Championship. Silver went to the multi-European and Paralympic champion Natasha Baker (GBR) on Keystone Dawn Chorus with 73.970%, while the bronze was won by Rebecca Hart (USA) on El Corona Texel, with 73.147%.
Grade III took off with a kick-start as several combinations rode very well scoring 70 percent and above. Early in the class Rebecca Hart showed her skill with El Corona Texel and scored well with 73.147 percent, in the lead until home rider Tobias Thorning Jørgensen entered with lovely grey mare Jolene Hill. The combination gave their all and a little more in the warm and sunny afternoon. The test was fluent, and the scores went up and up all through his test to land on 78.676 percent closing in on his personal best score.  
Speaking after his win was confirmed, Thorning Joergensen said: "I'm feeling great. I think I had a pretty good ride and I'm so, so happy. It's amazing to do it at my first World Championships and on home soil. I told Jolene 'now you are in a special club. Not many horses have done this, pretty much three tournaments in a row." 
Tobias reflected on his gold medal after the ceremony, and said: "It was amazing to finally get into the arena and finally get this medal. You have all these expectations from others and yourself and you want to do good, but you never know with horses, so I am very happy to finally have accomplished what I was fighting for, to get the gold in all three championships Europeans, Paralympic and now the Worlds". 
British rider Natasha Baker and Keystone Dawn Chorus were showing well but perhaps not up to their usual level due to a short time for preparation after health issues for Natasha in the previous months. The combination has so much quality that even after short preparation they performed very well and scored 73.9740 percent landing a bronze medal for Great Britain. Medals were distributed to Denmark, Great Britain and USA.
Grade IV: Reining Champion Sanne Voets Prolongs Title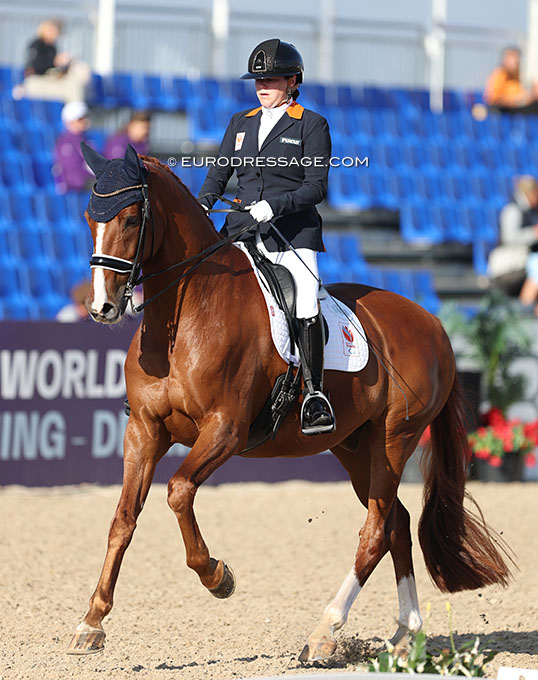 The first competition of the day saw The Netherlands' Sanne Voets win her 13th European, World and Paralympic individual or team gold medal in the Grade IV Individual test.
Riding Demantur, she scored 76.750% to take the title in a blistering competition which saw her pushed by her new teammate, Demi Haerkens. She scored 76.000% on Daula to take silver, with Tokyo 2020 silver medallist Rodolpho Riskalla from Brazil picking up the bronze medal, riding Don Henrico to score 74.925%.
"I'm just really pleased with how he felt," she said. "He was really so soft and so focused. He always tries to give me the feeling of 'Hey, we got this. We're a team, we did this before, we can do this again'. It's still special, and the horse is really special. It's different every time and every championship has its own story, and every medal has its own story"
She continued, "When I got out of the arena I didn't see any cheering like in Tokyo and I didn't know they couldn't see the live scoring so I was like 'OK, I might be happier than the scores are but if that's the case then that's the case. And then the scores came up and I was like 'Oh no, never mind'."
Grade V: Michele George Recovers Gold
Michèle George (BEL) regained the Grade V Individual title  in Herning (DEN), eight years on from when she last won it at the 2014 World Equestrian Games™ in Caen (FRA).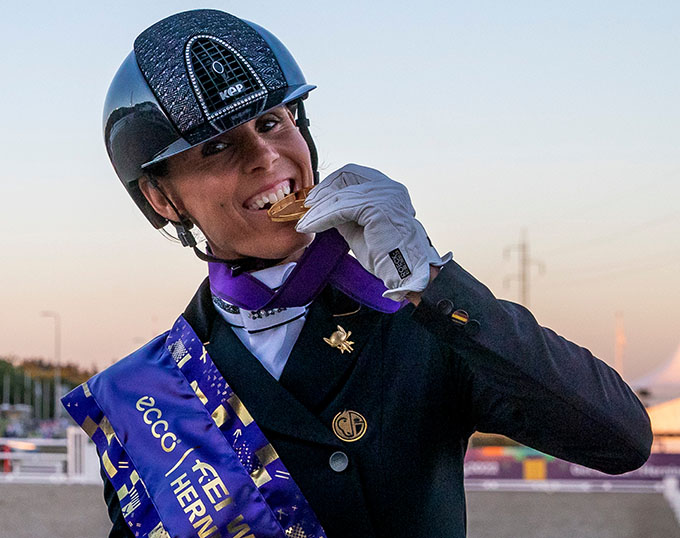 Riding Best of 8, she scored 76.419% to take the gold medal ahead of her erstwhile rival Sophie Wells (GBR), who rode Don Cara M to 75.279%. That was just 0.023 points ahead of The Netherlands' Frank Hosmar in bronze, on Alphaville N.O.P with 75.256%.
First to go was Keving van Ham (BEL) with Eros van Ons Heem and they kicked off the competition with a really good score for 71.977 percent, pleased with their result. The good results kept coming and when world number one Michèle George (BEL) rode her elegant mare, the spectators looked on in awe. They made good scores and landed a 76.419 percent keeping them in the lead throughout the class ending up on the podium with a gold medal.
Speaking after her ride, George said: "I'm very pleased with the mare. I think it's a very difficult competition because there are a lot of things that she sees and hears so she was quite tense, but I tried to manage it and I'm really proud. I really enjoyed it even if it was difficult in moments because she was a little spooky."
"It still feels amazing to have the gold around my neck!" she said after stepping off the podium. "I am speechless, honestly. We worked so hard for this and as I told you it is a new competition and a new start and I'm just so proud of her." When comparing this title to those she has won before, she added: "It is even better. I am happy, but I always feel I can do better so we train hard and when you win you feel like it wasn't for nothing".
-- FEI press release by Rob Howell and Stinna Tange, Herning press release snippets, edited by Eurodressage for this article. 
Photos © FEI/Lizz Gregg / Sharon Vandeput for Hippofoto.be / Astrid Appels
Related Links
Scores: 2022 World Para Dressage Championships
Eurodressage Coverage of the 2022 World Para Dressage Championships