2022 North American Junior / Young Riders Championships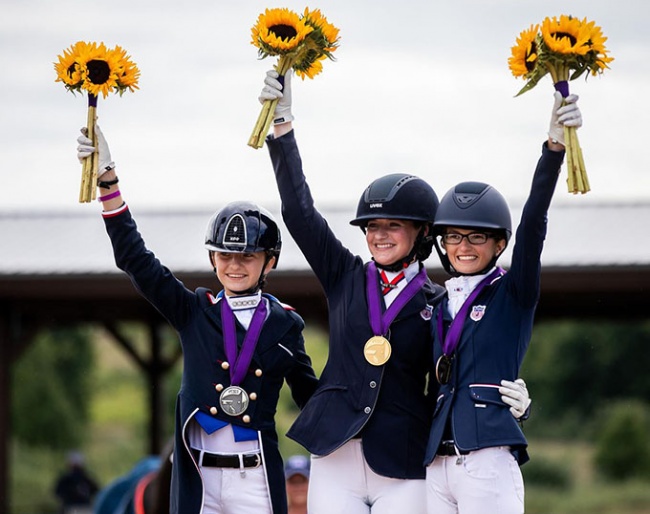 - USEF press release, edited by Eurodressage
Ella Fruchterman (Woodbury, Minn.) and Holts Le'Mans struck gold in the Kur to Music finale at the 2022 North American Junior Riders Championships held in Traverse City, MI (USA) on 14 August 2022. 
Nerves Leading Fruchterman to Third Gold
Fruchterman and her own 2011 Danish Warmblood gelding (by L'Espoir x De Noir) added a third gold medal to their collection today after winning team and individual gold earlier in the week, but she admits that the nerves were still with her leading into the final test of the competition.
"I'm honestly a little overwhelmed," said Fruchterman. "I was super nervous this morning. Even to the last minute in the warmup, my stomach was turning, and I was just like, 'You need to calm down. You need to go in and have some fun.'"
Fruchterman's music was created by a friend of her brother, who happens to be a music producer.
"The vocals on the freestyle are actually his, and they're also some of my cues," she explained. "Whenever they come up, I get excited because I know I'm on the music. That always makes me happy."
Silver for Sumner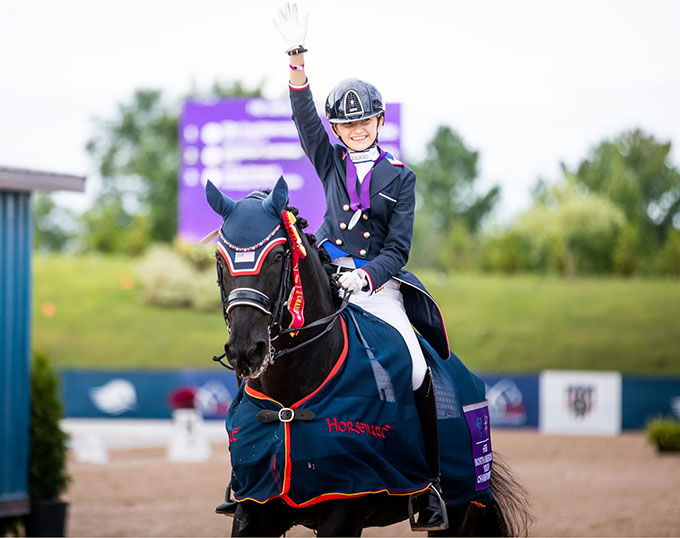 Madison Sumner (Wellington, Fla.) turned in an excellent test with her stunning black 2007 KWPN gelding Briar, to score a 71.515% and win the silver medal.
"I've had him for about a year and a half now," said Sumner. "We've built such an amazing partnership over such a short amount of time, and it really affected my test. We had some really good parts, and he really trusts me in the test, so I was really happy."
The black Briar was imported into the USA from Poland, after he was discovered in the Netherlands as a 3-year. Although there is no paperwork, Briar's conformation suggest Friesian blood in his pedigree. 
Bronze for Sister Lexie Kment
Lexie Kment (Palmyra, Neb.) returned to the podium after an expertly ridden freestyle with Laureen Van Norman's 18-year old Trakehner gelding, Montagny von der Heide (by Hibiskus x Munchhausen-. The pair earned a 71.385% for the bronze medal. Earlier on the weekend, sister Kylee Kment won bronze in the individual test
"The feeling to be up on the podium is pretty amazing," said Kment. "Coming into this year I did not have super high expectations for medals at all. I didn't even know if I was going to make it here. Getting here, getting gold the first day, not quite making the podium the second day, and then making the podium today is so amazing, and I'm so thankful."
Friendships
Over the week at NAYC, the athletes built friendships across regions, and Fruchterman explained how that brought an extra dimension to the experience.
"It's absolutely amazing sharing the podium with Lexie and Maddie and on Friday my teammate Kylee was up here with me," she said. "It's just so special to be up here and see them blossom and you get to share this incredible experience with people who understand it and are going through the same emotions."
Related Links
Scores: 2022 North American Junior/Young Riders Championships
Erin Nichols on Handsome Rob AR Wins Individual Test Gold at 2022 North American Young Riders Championships
Region 3/9 Grabs the Team Gold at the 2022 North American Young Riders Championships
Ella Fruchterman on Holts Le'Mans Wins Individual Test Gold at 2022 North American Junior Riders Championships
Region 4 Wins Team Gold at the 2022 North American Junior Riders Championships