2022 Dutch Dressage Championships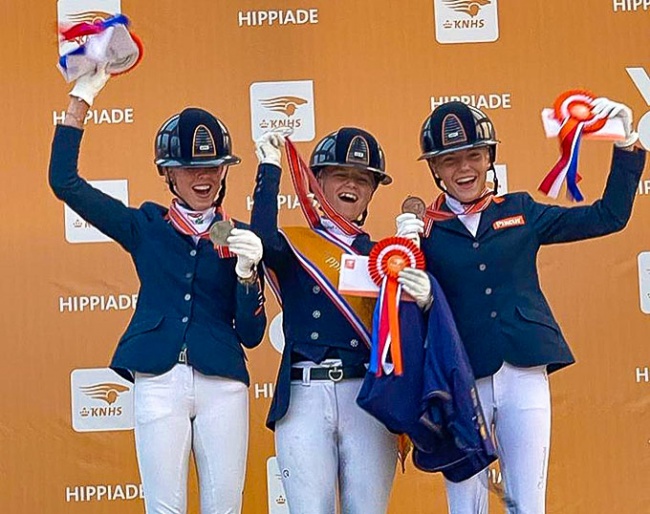 Maddy Dijkshoorn and Boogie de l'Aube became the winners of the 2022 Dutch FEI Pony Championships held during the "Hippiade" at the KNHS headquarters in Ermelo on 16 August 2022. 
The Format
The Dutch pony championships are contested at Dutch national Z2 level which corresponds with FEI pony level. Remarkably they do not take place during the traditional Dutch Dressage Championships, where children, juniors, young riders and Under 25 riders are joined by the senior small and big tour riders. The Dutch pony championship is part of the KNHS Championships for lower level competition.
Two groups of combinations (17 and 20 pairs) competed in the warm-up round and the 10 best scoring pairs moved on to the Kur to Music finals which decided the medals.
Gold for Dijkshoorn
After having won team and Kur silver at the 2022 European Pony Championships in Poland at the beginning of August, Dijkshoorn now added the national title to her string of achievements. It was a close fought battle with her team mates Morgan Walraven and Esmee Boers, but in the end Maddy and her 15-year old Boogie de l'Aube (by FS Don Worry x Varello)  prevailed and got the champion sash. After placing second in the warm-up round in her group behind Morgan Walraven, the duo scored a winning 76.558% in the freestyle.
"The Dutch championships are very special. The Europeans were great and Boogie never went better than there, but we were able to hold onto that form and winning here is the icing on the cake," said Dijkshoorn. "The whole competition went very well. In the first test in the morning I had no mistakes and the kur went fluently and easy. I had hoped for a top three spot but didn't expect to become champion."
Dijkshoorn is trained by Marlies van Baalen. The chestnut pony made his international show debut under the Belgian based Danish rider Emilie Thornby Ffinch and then sold to Austrian Felicita Simoncic before coming to The Netherlands. 
"The next month he can take it easy and then we'll pick up training again for a few international shows later this year," said Maddy. 
Silver and Bronze
The silver went to Esmee Boers on the 7-year old Dutch Welsh bred stallion Beauty (by Orchard Boginov x Sjapoer ox).They posted 75.242% for their freestyle. Morgan Walraven and the 10-year old Dutch bred Devill's Kiss Naoni (by Don Cremello du Bois) slotted in third for bronze with 74.258%
Results - 2022 Dutch Pony Championships
Kur to Music
1. Maddy Dijkshoorn -  Boogie De L'Aube - 76,558
2. Esmee Boers - Beauty W  -  75,242 
3. Morgan Walraven -  Devill's Kiss Naoni  -  74,258 
4. Sanne Glissenaar -  Filippo  -  71,258  
5. Kyra Hingstman -  Goldwyn  -  70,842 
6. Isa Hollands - Mabeline's Floran -  70,783
7. Nina Van Rooij -  Le Formidable -  70,742
8. Evolet van Westing -  Beekzicht's Keano  - 70,492 
9. Robin Van Vugt - Need for Speed  -   68,883
10. Doutsen Jansen -  Dulce Evita's dance -  68,333
Complete scores here.
Related Links
Evi Van Rooij Wins 2019 Dutch Outdoor Pony Championship
Thessa Gilbers Wins 2018 Dutch Pony Championships
Marten Luiten Concludes Final Pony Year with 2017 Dutch Pony Champion's Title
Daphne van Peperstraten Wins 2016 Dutch Outdoor Pony Championships
Daphne van Peperstraten Wins 2015 Dutch Outdoor Pony Championships
Zoutendijk Ends Pony Career with 2014 Dutch Outdoor Pony Champion's Title
Lisanne Zoutendijk Wins 2013 Dutch Outdoor Pony Championships
Van Zwambagt and Dr. Watson Win 2012 Dutch Outdoor Pony Championships
Sanne Vos and Champ of Class Win 2011 Dutch Pony Championships
Te Riele Concludes Pony Career with 2010 Dutch Pony Champion's Title
Antoinette Te Riele, 2009 Dutch Outdoor Pony Champion
Te Riele and Danny Boy B Win 2008 Dutch Outdoor Pony Championships
Angela Krooswijk, 2007 Dutch Pony Champion
Michelle van Lanen, 2006 Dutch Pony Champion