2022 CDI Ludwigsburg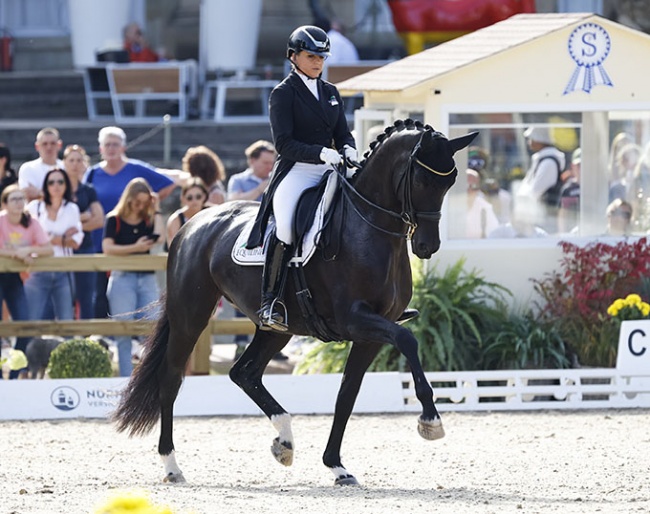 Ludwigsburg — Anyone who has been following the World Championships in Herning, Denmark with excitement over the past few weeks and is now hungry for a live experience on their doorstep should definitely mark the following date in their calendar. The International Ludwigsburg Dressage Festival will be held in Ludwigsburg, Baden-Württemberg, from 22 to 25 September 2022.
This event will celebrate dressage sport in all its facets and spectators will be able to get up close and personal. Admission is free on all four event days and "best seating" is virtually everywhere. The Monrepos Park, which is always open to the public, provides a magnificent backdrop for the dressage arena built especially for the event.
A Touch of Herning
There will be a touch of Herning in the international competitions at one- and four-star level. The top riders will compete in Grand Prix, Grand Prix Special and Freestyle of the CDI4* Tour. Last year, championship contenders Frederic Wandres (Hagen a.T.W.), Patrik Kittel (SWE) and Lyndal Oatley (AUS) rode for the winning ribbons and a top-class starting field is expected again this year.
The 5-star dressage judges Elke Ebert (Berlin) and Mariette Sanders-Van Gansewinkel (NED) were also part of the World Championship Ground Jury and will bring their expertise to Ludwigsburg. The freestyle will be ridden under floodlight on Saturday evening and is guaranteed to give you goose bumps!
Promoting young talent
All championship success has its beginning in the promotion of young talent and in equestrian two well-known series have particularly made their mark. The Nürnberger Burg-Pokal for seven to nine year old dressage horses has already produced more than 155 four-legged medal winners at national and international championships. In 2021, team Olympic champion and German champion Dorothee Schneider (Framersheim) competed with two youngsters, but was beaten in the final qualifier by Nicole Wego-Engelmeyer (Hagen a.T.W.). Ludwigsburg is the last chance to secure a coveted final ticket for Frankfurt and thus promises to be a highly exciting competition for dressage connoisseurs.
The Piaff-Förderpreis series was created to pave the way for dressage riders under 25 years of age to enter the Grand Prix sport. Ludwigsburg is hosting the series for the first time and, like the Nürnberger Burg-Pokal, is the last competition before the season finale. From Baden-Württemberg, Anna Casper, Ann-Kathrin Lachemann, Jeannine Merit Pelzer and Victoria Rohrmuss have been nominated for the Piaff Prize. "Aki" Lachemann celebrated her first Grand Prix win in Ludwigsburg last year and certainly wouldn't mind a repeat!
Baden-Württemberg's best juniors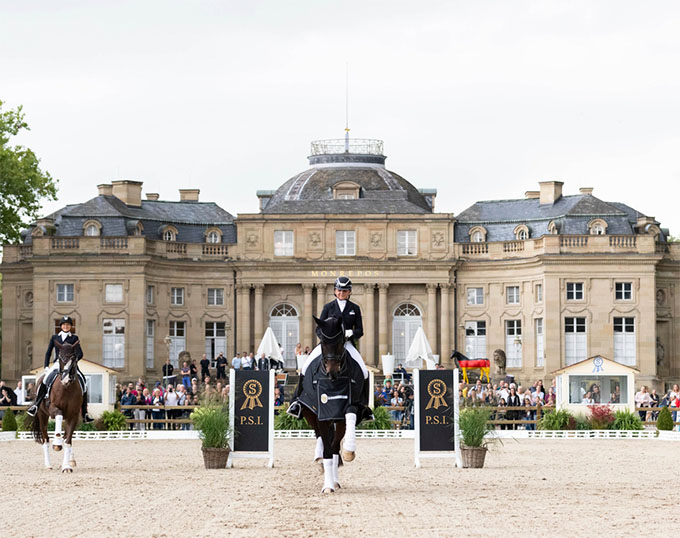 Equestrian minis can also look forward to their turn in front of the Monrepos castle: The Nürnberger Burg-Pokal lead rein competition is specially designed for four to eight-year-olds, while the Nürnberger Burg-Pokal for juniors is open to youngsters up to the age of 17. The Baden-Württemberg juniors will compete in their final at L** level in Ludwigsburg. The Pony Dressage Master final also promises to be really exciting on Sunday: Jana Reichl and her Belagio are leading the overall ranking of the series, but a qualification in Weilheim is still pending and only the top twelve pairs are allowed to compete in Ludwigsburg.
New on the program will be a Ü60 Short Grand Prix and Freestyle. Here, only riders over the age of 60 are allowed to compete and will show that equestrian sport keeps you young!
Close to the action
At the premiere in 2021, horse enthusiasts and curious onlookers came in large numbers and packed the spectator terrace right next to the arena. Organiser Ulli Kasselmann emphasises:
"Our Horses & Dreams event in Hagen a.T.W. is known for the fact that visitors can be very close to the action. We want to enable this in Ludwigsburg as well! It is also important to us to show and celebrate the sport in its entire spectrum – from the competitions for the very young to the professionals in the International Tour. Equestrian sport is attractive to everyone and the connection to the horse is something very special!"
The host RV Ludwigsburg-Monrepos and all local horse lovers are looking forward to four days of equestrian sport at its best and to the Ludwigsburg audience.
For more information, visit the official website