2022 U.S. Dressage Championships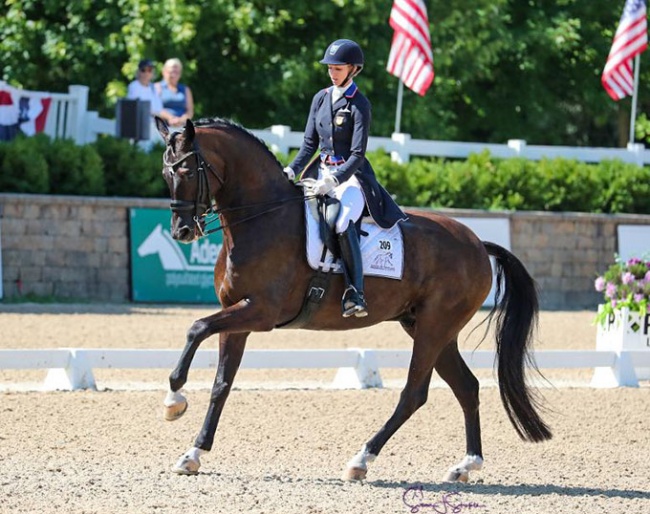 Laura Graves and SenSation HW maintained their lead atop the Intermediaire I Championship leaderboard at the 2022 U.S. Dressage Championships which are taking place this week, 22 - 28 August 2022, at Lamplight Equestrian Centre in Wayne, ILL.
Fourteen combinations competed in the Intermediate I Test for the small tour championship.
Graves On Top
Laura Graves and SenSation HW delivered another winning ride after yesterday's victory in the Prix St Georges. Graves (Geneva, Fla.) and Carol and Scott McPhee's 2013 Westphalian gelding  (by Sunday x Dancier), who are in the Kundrun USEF Dressage Development Program, rose to the challenge of the more difficult test and earned a score of 74.793%.
"It felt pretty good after yesterday, knowing that the judges liked the ways we were going with things," said Graves. "It felt maybe a little bit more tense. It is a little bit more difficult of a test with things on centerline and some different transitions. [There was] a little mistake in the two-time tempis. But I think other than that, it was really a clean test."
When asked if there is anything she will work on before the freestyle, Graves replied: "We'll see. He will have tomorrow completely off. We'll just walk him. He has been so good. For me, the freestyle has always been a finale—a real time to celebrate. Even though it is still a part of this championship and obviously I come to win, I want to enjoy it. I want him to feel like it is a little bit more free since it is a freestyle. Just have a good time and enjoy our awesome music made for us by Terry Gallo. It is music that has been made in mind with looking forward to the future, so something we can turn into a Grand Prix Freestyle. I am excited to see how he does in a bigger atmosphere with music. This is all just kind of a test run for us at this point, and it is going well."
Miles and Rigdon Follow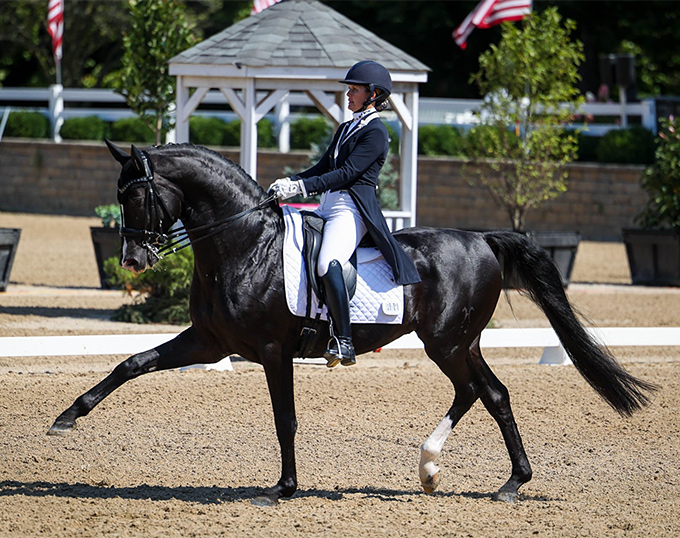 Kundrun USEF Dressage Development Program members Emily Miles (Paola, Kan.) and Daily Show, Leslie Waterman's 2014 Hanoverian stallion  (by Danciano de Malleret x Stockholm), finished second with a score of 73.440%.
Rebecca Rigdon (Cardiff by the Sea, Calif.) and Iquem, her 2013 KWPN mare  (by Charmeur x Moreno), were third with a score of 72.234%. Both of these combinations competed in the 2021 U.S. Developing Prix St. Georges Horse Championship and showed their continued growth over the past year.
Changes on the Board
The runner-up pair in the Prix St Georges - Nick Wagman and Beverly Gepfer's 10-year old KWPN gelding Heatcliff (by Florencio x Olivi) - dropped to 10th place in the Intermediaire I with 66.528%. Issues in the canter half passes rattled the pair and mistakes in the tempi changes followed. Also the unpolished final halt affected the score. They are currently still standing in fifth place and can try to climb the board again in the freestyle.
Monday's Prix St. Georges Test counts for 40 percent of the overall score, while the Intermediate I Test on Tuesday counts for 45 percent. The division will conclude on Thursday with the Intermediate I Freestyle Test, which counts for 15 percent.
Quick Links: Watch the winning ride - Overall championship standings
Text USEF Press Release, edited by Eurodressage - Photos © Sue Stickle and US Equestrian
Related Links
Scores: 2022 U.S Dressage Championships
Laura Graves and Sensation HW Top Prix St. Georges on First Day of 2022 U.S. Dressage Championship