2022 European Children/Under 25 Championships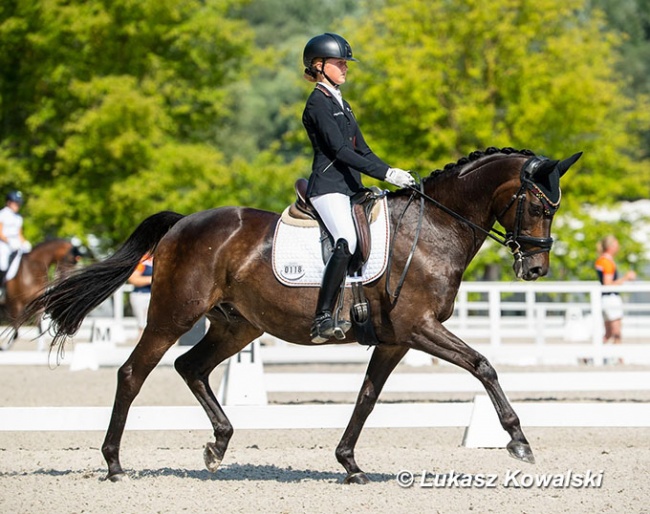 Lotta Plaas and Balsamico have put Germany in the lead of the team championship competition at the 2022 European Children Championships in Pilisjaszfalu, Hungary. 
Hosted at Stable Unikornis located 30 km north of Budapest, the 2022 European Children Championships started on Wednesday 24 August with a warm-up class for the children combinations, the preliminary test. The four German team riders captured the top five places with only Dutch Sophie van Norel able to break their dominion, ranking second. The preliminary test results gave a good taste of what is to come for the team championship competition, even though all riders started from zero in the team test. 
The class is split into two with the first group of riders going on Friday 26 August and the second on Saturday 27 August after which the team medal ceremony will take place .
Germany Leads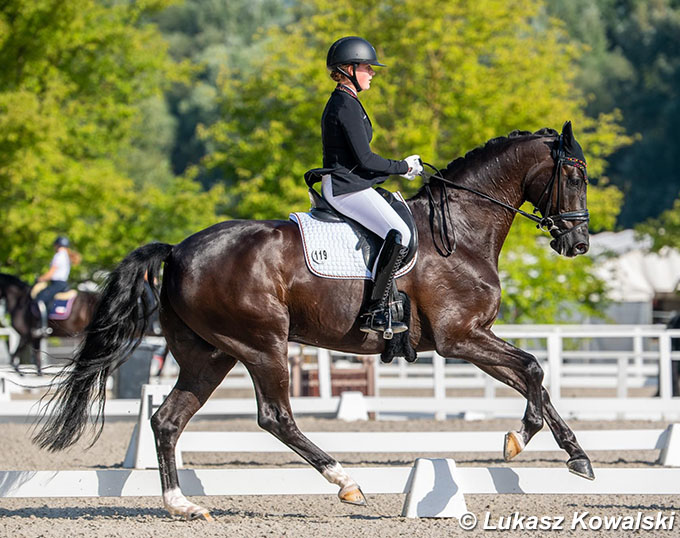 Lotta Plaas and her 20-year old Trakehner gelding Balsamico (by Hertug x Anduc) became the overnight leader after group one and put Germany in a provisional first place in the team ranking. The pair received 81.150% from the panel of judges consisting of Elisabeth Max-theurer (AUT), Cesar Torrente (COL), Magnus Ringmark (SWE), Maria Colliander (FIN, and Thomas Kessler (AUT). Plaas piloted her evergreen Balsamico, who is bred by  Ursula Mittermayer and owned by Eva Plaas & Peter Zieglwalner, to a technical score of 72.800% and the petite rider got 9 for seat, 8.8 for aids and 9 for precision and general impression. This resulted in a quality score of 89.500%. Worth mentioning is that Plaas was Germany's team reserve rider and only called up for duty after Zoe Hachmaier and Sir Piccolino dropped out last week.
Germany's second score of the day was 73.984% achieved by Eve Bartels on the 11-year old Oldenburg gelding Freispiel (by Feuerspiel x Dream of Glory). This put them fourth so far. Their technical mark was 66.467% and their quality score 81.500% with 8.5 for seat, 7.9 for aids, 8.0 for precision and 8.2 for general impression.
Holland in Runner-Up Position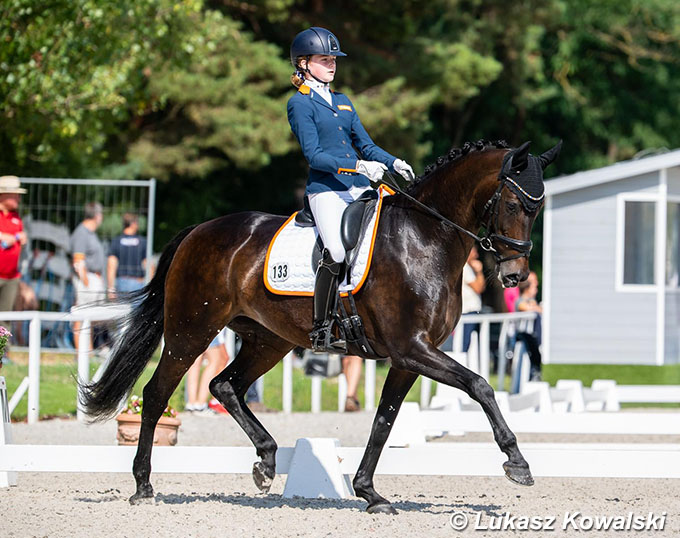 Sophie van Norel and her 11-year old KWPN mare Itrina (by Dream Boy x Vincent) are currently standing second with 79.684%. Sophie and her bay mare, who is owned by John and Corine Bambacht, posted a 73.867% technical score and an 85.500% quality score with 8.5 for seat and aids, 8.8 for precision and 8.4 for general impression. 
Holland's second score of the day was 70.625% achieved by Isabella Karajkovic on the German riding pony mare Wert's Snowflake (by Casino Royale K x Golden Moonlight). They currently stand 11th after receiving a technical mark of 66.00% and a quality score of 75.250% with 7.8 for seat, 7.3 for aids, 7.8 for precision and 7.2 for general impression. 
Hubackova Puts Czech Republic Third so Far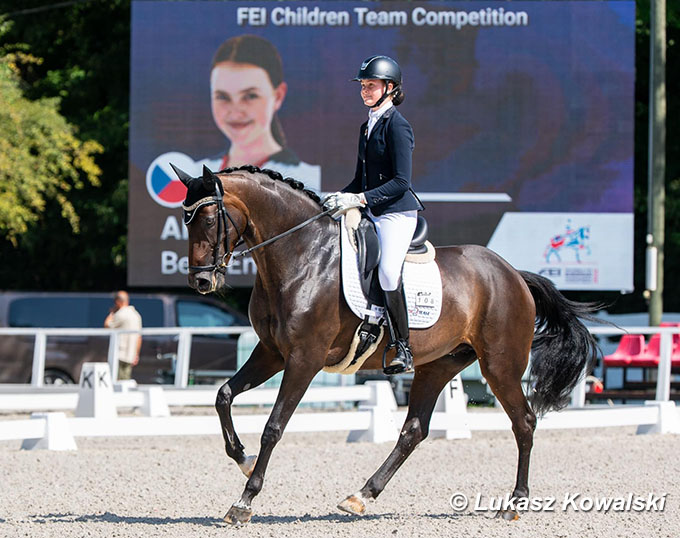 The Czech Republic's Alice Hubackova rode the 16-year old KWPN mare Belle Ennie (by Don Gregory x Grafiet) to a total score of 74.309% which ranks her third provisionally. The pair produced a technical score of 69.867% and a quality score of 78.750% with 7.5 for seat, and 8.0 for aids, precision and general impression. The dark bay mare Belle Ennie is a seasoned competitor in the children's division, having previously been shown by Eva Vavrikova in the international children and junior classes. 
The Czech children team only has three riders and the other two competitors are drawn to go on Saturday. They are Veronika Sedlackova on Givesta MH and Anna Marie Krizova on Diamantina. 
Belgium Fourth
The Belgian Children team is ranking fourth so far with a strong performance by Anna van den Eynde on the 8-year old Belgian warmblood mare Olympic Aroma Krack (by Ampere x Don Romantic). With 73.325% the duo has slotted in fifth in the provisional team championship test ranking. The pair posted a technical score of 69.400% and a quality score of 77.250% with 7.8 for seat and 7.7 for aids, precision and general impression.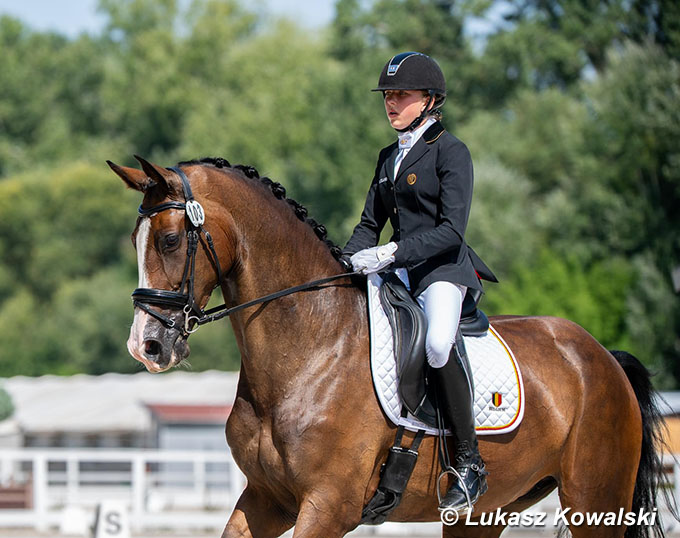 Belgium's Max van Durme and the 9-year old KWPN mare Imke Niki V.S. (by Amazing Star x Houston) were 8th with 71.909%. In 2020 and 2021 Van Durme competed Dijon internationally and the bay mare Imke Niki is his new ride for 2022. This young duo got 68.067% as a technical score and 75.750% as a quality score with 7.2 for seat, 7.8 for aids, 7.7 for precision and 7.6 for general impression. 
The Team Championship competition will conclude on Saturday when all team riders have gone. The three highest scores per team count. Teams of four riders have one drop score. 
Text © Astrid Appels - Photos © Lukasz Kowalski
Related Links
Scores: 2022 European Children and Under 25 Championships
Eurodressage Coverage of the 2022 European Children/Under 25 Championships